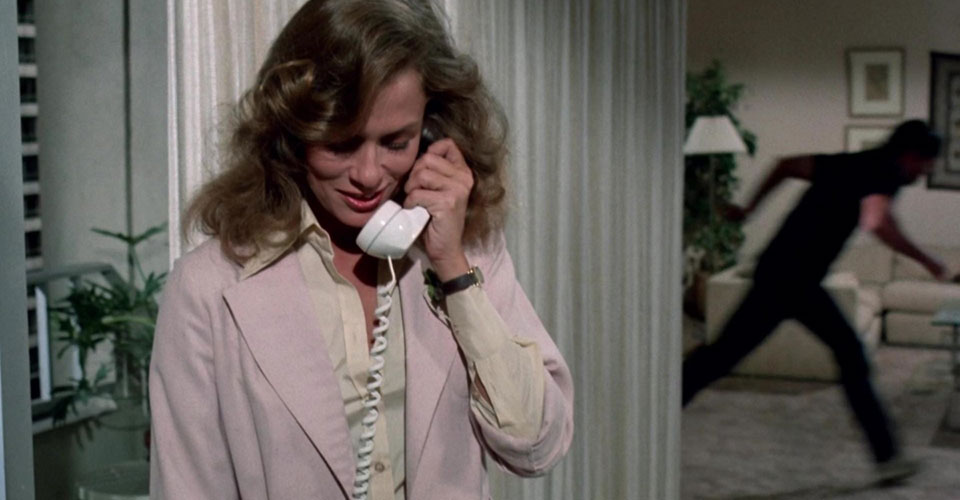 January 16th 2021
Completed just two weeks before shooting on Halloween began, John Carpenter's 1978 made-for-TV movie Someone's Watching Me! bears little immediate resemblance to the slasher classic, although some of the themes — and suspense — are already present in this early, under-seen gem. On the strength of a number of television scripts, Warner Bros. hired Carpenter to adapt a recent true-crime incident for the small screen; the resulting film is both an homage to Hitchcock and a notably feminist thriller.
A lonely woman named Leigh Michaels (Lauren Hutton, in incredible silk layers throughout) moves into a very nondescript, very beige apartment in a massive complex. The rental manager lists a capacity for "5,000 guests," automatic air conditioning, and a wedding chapel amongst the amenities, recalling David Cronenberg's 1975 all-inclusive apartment-of-the-future nightmare, Shivers. (It's worth noting that this film was originally titled High Rise.) The threats appear almost immediately: as Michaels leaves the complex's echo-y garage, a car follows her out onto the sunbaked, exposed streets of LA; after her first day on the job, Leigh receives a call from a creepy voice; a colleague, Steve, threatens that he "won't give up" after she very politely refuses him four times. Michaels is accosted by date-seekers, drunk prognosticators, and coworkers — and these are just the men she can see. Disturbing phone calls at home and at work, mysterious gifts from a non-existent company called "Excursions Unlimited," nude photos of herself, a telescope aimed into her window: not only are people watching Leigh, she's being listened to, recorded, and relentlessly harassed. Predictably, the police can't do anything until "he does something" — California didn't criminalize stalking until 1990, after all, and was the first state to do so. The threats escalate, and Leigh is left to defend herself with the assistance of her paramour Paul (a man she selected and picked up at a bar) and her colleague Sophie, played by Adrienne Barbeau (her first collaboration with future spouse Carpenter).
From the opening credits' nods to North by Northwest, to the lush orchestral soundtrack (alas, Carpenter didn't score this one), the telescopes, and the peeping, the Hitchcock references are fairly explicit, peaking in an incredibly tense sequence in which Leigh, in the place of Rear Window's Grace Kelly, enters the enemy's lair while Sophie watches. Someone's Watching Me! updates the reference material with the soundless, sunbaked modern apartment complex, a very strong female lead, and modern devices (a collection of surveillance equipment brochures discovered in the villain's home recall the trade fair in 1974's The Conversation). For Leigh Micheals, like Rosemary Woodhouse and Alison Parker before her, the paranoia is decidedly gendered, thoroughly domestic, deeply personal, and all-encompassing. The resulting film is frightening and perfect for watching from home, as originally intended.