Featured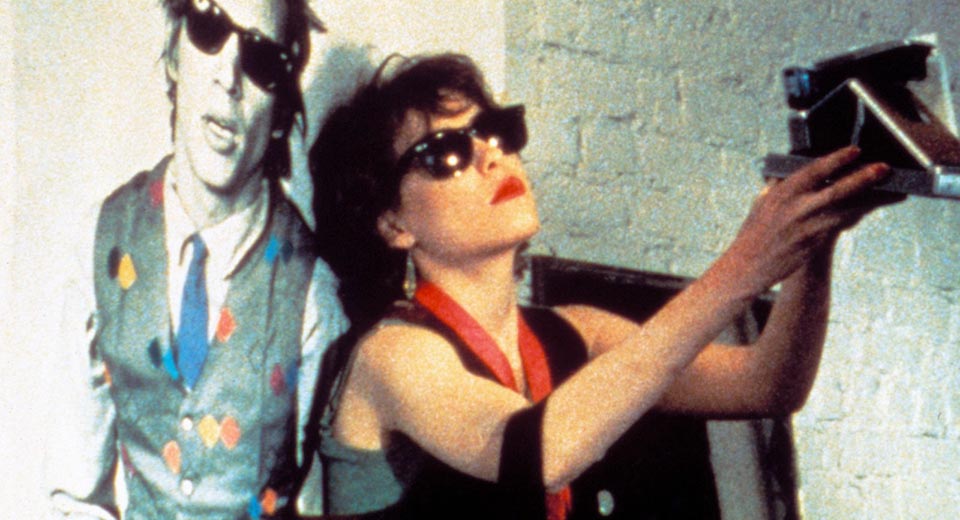 July 31st 2016
Metrograph is mid-run of a new 35mm print of Smithereens, Susan Seidelman's extraordinary downtown punk drama overdue to claim its reputation as one of the truly essential American independent films. Although it was the first American indie invited to compete for the Palme d'Or at Cannes in 1982, its profile has been unfairly overshadowed by others' debuts, which mostly look like curios in comparison to Seidelman's assured direction and unbelievable, mostly one-off performances. Despite the low budget and punk ethos, there's nothing clumsy about it.
Susan Berman fully embodies the role of Wren, a spritely young punk on the lam from the suburbs of New Jersey cultivating an aura of mystery around herself through xeroxing, coloring, and wheat pasting her picture around the city. She's got the confidence, the look, the drive, and the DIY elbow grease to be a rock star, which seems to be about enough. While plastering her face on the subway, she meets crude with Paul (Brad Rijn), whose dirty clothes fail to conceal that he's essentially a soft, All-American midwestern transplant—which basically makes him nuclear waste to the brand Wren is trying to cultivate. But when she finally caves and agrees to a date, we learn that her real kryptonite is established punk rock star Eric (proud, open Screen Slate subscriber Richard Hell, robbed of his Oscar for natural charisma alone), with whom her infatuation zeroes out all her carefully constructed self-assurance and manipulative cunning: he has her wrapped around his finger with a smile and puppy dog glance. (Offering her toasted leftover pizza and Budweiser as a romantic prelude doesn't seem to hurt, either.) When she's locked out of her apartment, Wren pinballs between a future with Paul in New Hampshire while lobbying hard to hitch a ride with Eric to Los Angeles. (The movie's grandest metatextual joke is that you and everyone else are weighing the same dilemma this very second.) (Shoutout to all the expats who remain subscribed to Screen Slate.)
Seidelman's writing nails the irrational magnetism of both the city and of dysfunctional romance. Smithereens is frequently hilarious, but mix of narcissism, masochism, manipulation, and anti-social behavior at the root of its relationships—not simply romantic, but to all manner of personal and creative aspirations that New York seems to fulfill—is soberingly real. For all the pornographic nostalgia, lived or simply imagined, inspired by listening to ESG while playing Pac-Man or seeing 3 Teens Kill 4 on the marquee of the Peppermint Lounge, the burnt-out Lower East Side of Smithereens is a Hellhole trap; the only viable solution to the film's deeply moral quandary seems to be escape—to anywhere but the midwest.
Smithereens is streaming on Criterion (August 2020).