Featured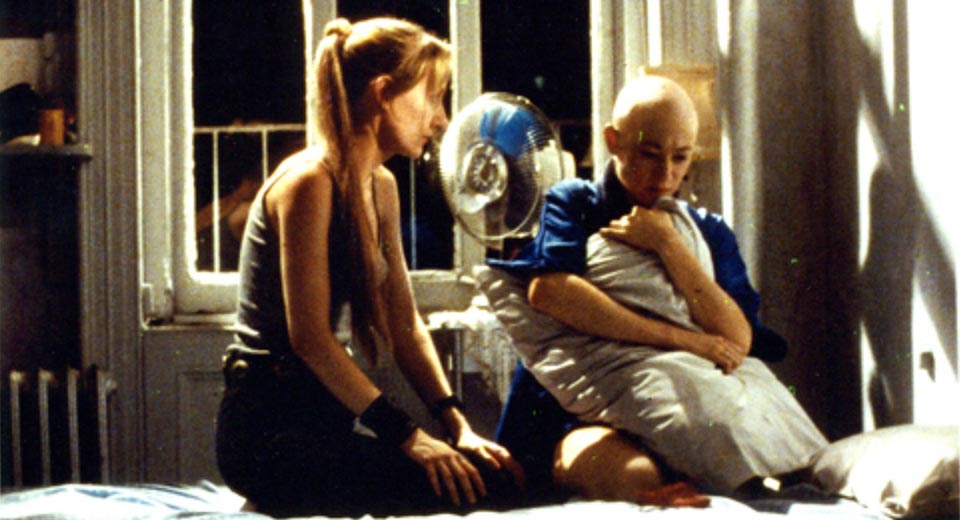 August 20th 2019
Sara Driver's New York is empty. Empty in an Eyes Wide Shut way, in a Denis Lavant barreling down the streets of Paris in Mauvais Sang way. Nearly every time we see an exterior shot of Manhattan in Sleepwalk (1986) it's lit by violent gashes of too-bright moonlight. Even interstitial wides of the city, as lensed by Driver's partner and frequent collaborator Jim Jarmusch, convey strangeness within a landscape that should look familiar. Too few cars dot the Manhattan Bridge. The Twin Towers look like cardboard in front of an eerie matte painting, simmering with a greenish electric glow. Nicole (Suzanne Fletcher), deadpan and gaunt, has her most human interaction on the street with a lone dog—it glances at her disinterestedly—while on a separate street a businessman barks at her as she passes.
This No Wave fantasy is Driver's first feature-length film. Much like the work of Nan Goldin—Driver's friend and the film's still photographer—Sleepwalk sometimes feels like the artist's attempt to canonize her own urban loneliness, to elevate the act of staring dead-eyed at a whirring Xerox machine after midnight into something mythic and classical that can fit neatly between a Chinese folk tale and a cosmopolitan ghost story by Henry James or Edith Wharton. Like Nicole, Driver also moonlit at a downtown copy shop that harbored ratty young artists looking for an easy gig and a free printer, including Sonic Youth's Kim Gordon. One such sleep-deprived employee is played onscreen by a near-wordless Steve Buscemi, his eyes bulging from his head like a mannequin warped from the summer heat.
Nicole is tasked with working overnights, translating and transcribing a Chinese scroll that unwittingly sets into motion a series of unnervingly inscrutable events: a brutal murder, a kidnapping, some hair loss. The mordant, mystic chaos is never really resolved. It fades as daylight finally breaks and the scroll turns to ash, leaving the viewer with the impression of an especially droll nightmare and a yearning that Driver had continued to churn out such inimitably dreamy work over the last few decades.