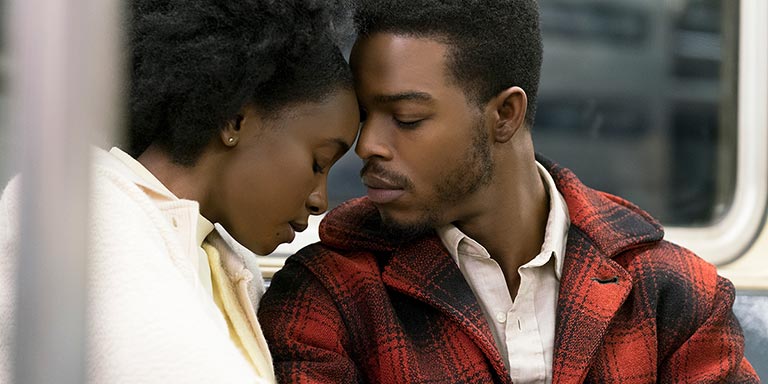 September 20th 2018
The Toronto International Film Festival has the dual distinction of being one of the world's largest film festivals as well as one of the most accessible. This is Screen Slate's first time covering it, which we believe is of-interest to our readers for its proximity and doability – Toronto is a short, cheap flight from New York, you can get into screenings (with students paying as little as $10), and it's not hard to find a place to crash or get around in a major city. TIFF is also the best place to catch a mix of major world premieres, North American debuts, and other highlights, with particularly strong feature film selections from around the world – offering us a chance to tip readers on anticipated releases and discoveries. As noted below, we've also covered a number of titles showing in the New York Film Festival starting September 28.
With a tiny staff and but a single press pass to our name, Screen Slate did its best to carve its own niche out of the festival. Below, a selection of noteworthy titles. And stay tuned for a separate recap of Wavelengths, TIFF's experimental film & video sidebar.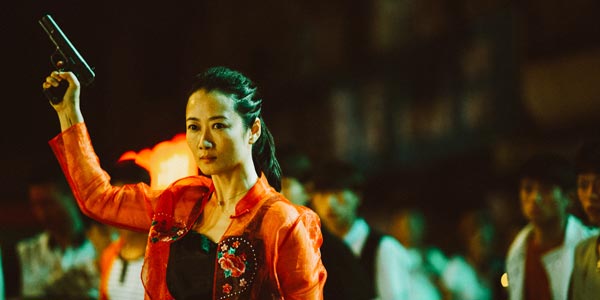 ASH IS PUREST WHITE
Dir. Jia Zhang-ke. 141 min.
North American Premiere.
Also showing at NYFF
Jia's latest traces a circular, broken path around China at the peak of its rapid development, following Qiao, gutsy girlfriend of mid-level gangster Bin, as she tries to catch up in a world that left her far behind. She starts secure amid insecurity in 2001, commuting from her dying coal town to Bin's successful gambling den, known and mostly respected but unable to get her father out of public housing, despite Bin's boss working a crooked construction operation. It's the first hint of Bin's real feelings towards her - actions speak louder than words and for all Bin's bluster about being part of the jianghu (a brotherhood of outsiders with skills instead of rank), it's Qiao who acts and adapts. She's even the one to toast with their crew's "Five Lakes and Four Oceans" jungle juice, also the name of a jianghu handshake symbolizing equality among men throughout the vast domain of China.
Bin's boss is suddenly taken out, making Bin the focus of rival gang attention. The Killer is a touchstone; once when the entire gang watches it slack-jawed on TV, and again as stylistic reference for the film's hinge point - a tense two-shot action scene where a whim of distant dumplings (anything is possible in this grand age) turns into a crisis point. Qiao takes action and later, the blame, spending five years in prison. Around her everything is moving at a pace so breakneck negative repercussions lag like a sonic boom, and even incarcerated she's not immune - finally tearing down her old, outdated prison also means she's relocated to a remote location, definitively precluding visitors, including Bin, that never came.
Five years later she's out and determined to talk to Bin in person. She glides through the Three Gorges as a guide notes which sections will soon be underwater. Scammed on the tour boat out of what little she had, Qiao begins the tempering hinted at in the title - that which burns hottest becomes purest. Rolling with the situation she begins scamming others herself, doing whatever it takes to confront Bin directly.
This being the sole Jia I've seen, I can't speak to how this film treads back over his own mapped territory - others have said it better elsewhere. He did say living in China the last decade is a surreal experience, change on a scale so far beyond human it must have superhuman origin. So when Qiao finds herself in the hinterlands in the middle of the night, leaving behind an opportunity to align her identity with yet another mediocre man, should we be surprised she sees a UFO? At her furthest, in a place where modernity's barely touched, futurism is already there waiting. She circles back, but the future catches up with her even as she re-mires herself in her past. Security cameras bring modern tech to the old gambling den, a monitor in her apartment letting her see everything except Bin leaving on New Year's Day 2018, the present finally catching up. It's like The Giving Tree of gangster films: Qiao keeps sacrificing out of duty and Bin keeps taking without thinking; but even at the end of that horrible book the man sat on the stump - here, the moment Bin recovers he walks away, leaving Qiao as she always was - sure but uncertain. (Danielle Burgos)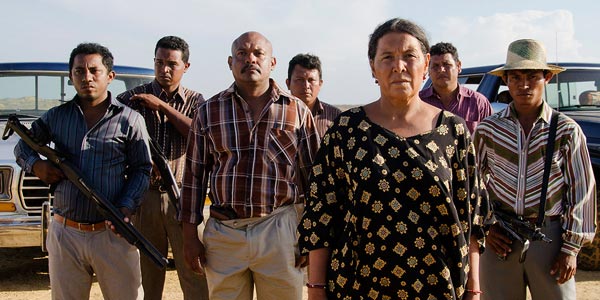 BIRDS OF PASSAGE
Dir. Cristina Gallego & Ciro Guerra
Canadian Premiere. Released by The Orchard.
For their follow-up to the Oscar-nominated Embrace of the Serpent, Ciro Guerra and Cristina Gallego continue their heady examinations of Colombia's indigenous people and the ravages of invasive civilizations — and this time, they've made a narco movie. Set among the Wayuu people, it considers the internationally little-known period of Colombia's "Bonanza Marimbera," roughly a decade beginning in the mid-70s during which Colombia was supplying as much as 80% of the U.S. demand for marijuana. Birds of Passage dramatizes the origin of the drug trade on intimate terms: Raphayet (José Acosta) is a Wayuu man with a foot in the alijuna (normie) world who needs to meet the dowery set by the family of his yet-to-be-betrothed. While plying the coffee trade he meets some peace corps hippies, ostensibly there to fight communism, who are more interested in free love, guitar-strumming, and blazing. Thanks to a Wayuu family connection's farm, Raphayet and his alijuna partner are able to supply it to the gringos in pounds, then tons - until treachery, greed, and warped family dynamics place the business on a terminally violent trajectory.
Passage is best when it manages to balance a perceptive and sensitive approach to Wayuu customs with the trappings of smart genre cinema, offering a damning deconstruction of the drug trade and its cancerous effect on indigenous people and their traditions. The hippies are portrayed as a shallow leisure class who are complicit in demand-driven neocolonial bloodshed, which is slathered all over the film's later acts. But by that time, the more piercing aspects of the initial approach give way to mildly trite Shakespearean power struggles and familiar betrayals. But the film contains at least one indelible image: smoke rising from an oasis of flame above a besieged modernist palace, a tacky monument of pointless capital accumulation and abdication of heritage, in the middle of an arid desert. (Jon Dieringer)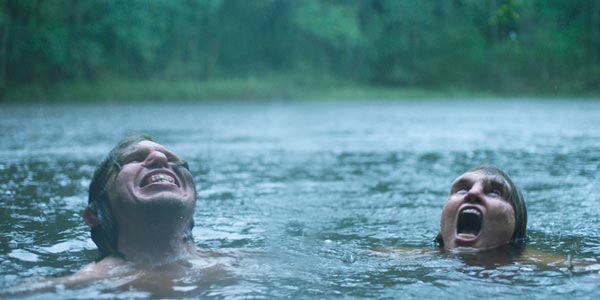 BORDER
Dir. Ali Abbasi. 110 min.
Canadian Premiere. Released by NEON.
Also showing at NYFF
Ugliness takes on many forms, and one was audible audience discomfort with the physical appearance and sexuality of the main characters in Ali Abbasi's tale of cultural and personal repression. The film doesn't sugarcoat their neanderthal appearance or downplay any potential revulsion, but it's their patent difference that's the butt of the joke (when it's a joke); Abbasi never mocks them.
Border guard Tina is preternaturally great at her job, able to pick out smugglers and illicit goods that elude her fellow agents. Heavyset with thick facial features, she literally sniffs out emotions, particularly fear and guilt. She's reconciled herself to dull routine - sensing the occasional drugs, visiting her father, coming home to a neutered relationship with her dog-breeding obsessed boyfriend; her few pleasures communing with animals and natural tactility. Until one day, a traveller named Vore strangely resembling Tina walks through, eager to be examined. Tina can't get a read on him. Still unsettled and intrigued, she sniffs out child pornography on a clean-cut businessman's phone.
The two encounters change Tina's life, altering her perception of humanity and herself completely. Allegory for the trauma suffered by indigenous people stripped of identity, Tina's rage realizing the scope of what was taken from her and confrontation with horrors from her adopted culture are balanced by her growing relationship with Vore. The film's otherworldly elements never feel too fantastical, grounded by Eva Melander giving genuine heft to Tina's emotional journey as she grapples with a newfound identity outside the world she tried conforming to. (Danielle Burgos)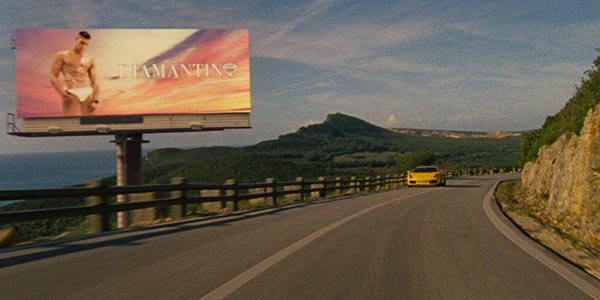 DIAMANTINO
Dir. Gabriel Abrantes, Daniel Schmidt. 97 min.
North American Premiere. Released by Kino Lorber.
Also showing at NYFF
Slapping together hot-button topics into a sub-Lubischian plot, this self-consciously zany movie squeaks by on charm. Diamantino is Portugal's star footballer, his professional edge his complete naivete – the film's finest moments show his point of view on the field, opposing players replaced by long-haired puppies romping in candy-pink fluff. While sunning on his yacht one weekend he encounters raft-bound refugees whose plight pops his innocent bubble, causing him to lose the World Cup and become an international laughingstock. From there it's a melange of lesbian government operatives, evil twin sisters, genetic modification and nationalism, as Diamanto's unwittingly embroiled in a scheme to Make Portugal Great Again through sports deification. Carlotto Cota's sweetly vapid performance sells a lot but can't quite make up for a paper-thin romance, and some of the CGI towards the end seems more mistake than stylistic choice. Still, despite including nearly every politicized issue of the day, the film never pretends a depth it doesn't have, making this ostentatiously oddball comedy enjoyable as a desktop folder full of puppy pictures. (Danielle Burgos)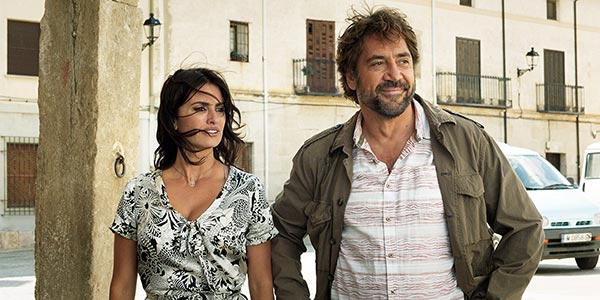 EVERYBODY KNOWS
Dir. Asghar Farhadi. 133 min.
North American Premiere. Released by Focus Features.
Lies, scandal, betrayal, and desire drag on forever in Farhadi's latest, but fortunately Everybody Knows is filled with attractive people to look at as the presumptively unexpected twists are trotted out. Laura (Penelope Cruz) returns from Argentina to her sleepy Spanish hometown for a niece's wedding with standard-issue Angelic Young Son and Reckless Teen Daughter in tow, her wealthy husband Alejandro (Ricardo Darín) conspicuously remaining behind. Former flame Paco (Javier Bardem) and his wife have spent the intervening time working land Laura sold them years ago into a fruitful vineyard employing numerous migrant workers, a success Laura's family resents because Paco was the son of the family servant - this movie doesn't miss a telenova beat. Family members are pitied or envied in idle gossip as the extended clan gathers for festivities, the teen daughter runs rowdy with local boys, and Paco and Laura vaguely rekindle their spark. During the wedding the power goes out, the daughter goes missing; though there was an infamous past kidnapping in town, this one begins to look like an inside job. Emotions theoretically simmer and blame is bandied about from workers to family to locals as secret after secret comes to light with the titular line uttered frequently enough to feel ridiculous. The latter half mistakes repetition for tension as money once again proves the root of banal evil. (Danielle Burgos)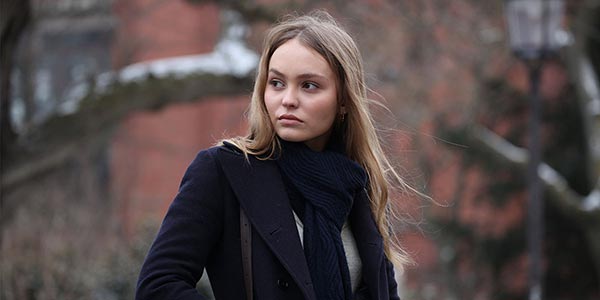 A FAITHFUL MAN
Dir. Louis Garrel. 75 min.
World Premiere.
Also showing at NYFF
Garrel's latest trifle is harmless enough, a near-sexless story of desire set in Paris that serves well as cautionary tale on idealizing crushes. Live-in boyfriend Abel (Garrel himself) is hit with a double-shock in the film's first minutes; girlfriend Marianne (a cool, earthy Laetitia Casta) is pregnant… with his best friend's child. Taking the news with nonchalance, Abel bows out and focuses on his career. Years later the friend suddenly dies, and at his funeral, at the graveside, Abel realizes he's still obsessed with Marianne. He finagles his way back into her life, once again becoming her live-in pet, but this time contends with her creepy, cop-friendly son who thinks nothing of recording his mother's sex life (we're supposed to find this cute). None of this sits well with now not-so-little sister Eva (Lily-Rose Depp), who also spent her brother's funeral musing on her crush Abel. She declares her intentions and Marianne decides if you love something, set it free. Abel manages to complicate what should be the world's simplest hookup, and the movie's remainder is everyone realizing what they actually want but being too passive to get it. The film is bizarrely edited, with unnecessary zooms interrupted as often as music cues suddenly cut out. From Why Not Productions, A Faithful Man begs the question, why care about characters so absorbed in their own immediate desires? (Danielle Burgos)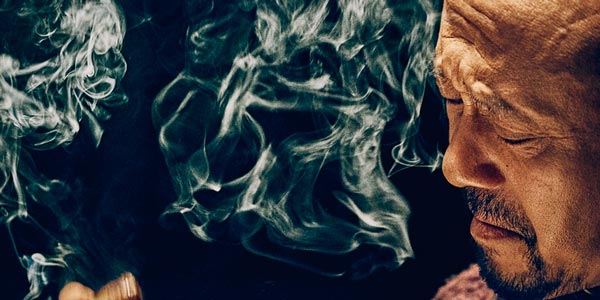 HIDDEN MAN
Dir. Jiang Wen. 134 min.
International Premiere.
Occasional outrageousness can't compensate for a convoluted plot in Jiang Wen's third historical gangster epic. The film opens strong with a kinetic catalyst - refusing to collude with Japanese operative Namoto and former disciple Zhu (Fan Liao) to grow opium, a kung-fu master and his entire family are brutally slaughtered, the only survivor young student Li Tianran, shot in the back after miraculously dodging point-blank bullets.
Adopted by an American doctor, trained as a spy in the deadly and medical arts, and maturing into total snack Eddie Peng, Tianran returns to China serving three masters - the U.S. Government, his home country, and overcoming his perceived moment of childhood cowardice through revenge. Somehow this involves a ludicrous amount of roof-running, though Tianren also invents BMX biking to a knockoff Batman theme, appropriate as his alias 'Bruce' invokes both Wayne and Lee. Visually it's the worst of both worlds - Chinese overluminous CGI and Hollywood choppy action shooting undermine stunt work, a shame as Peng's a physical delight and Liao's physical prowess matches his acting chops. Racist jabs at invading Japanese and Jiang casting his own wife in a mother-whore dichotomy maneuvering Bruce also sit awkwardly, though Yun Zhou and Qing Xu as crippled tailor and gangster moll respectively bring depth, humor and grace to women with their own agendas who refuse to be mere witnesses to history.
The film's shining moments of physical flair, winking references, and jokes with literal punchlines get lost amid muddled intrigue and distanced by foregrounding historical happenings. This might be partly due to reshooting and downsizing the role of an intelligence officer originally played by Kevin Spacey; the "American" replacement is a refreshing inverse shrug of Hollywood's cultural indifference. (Danielle Burgos)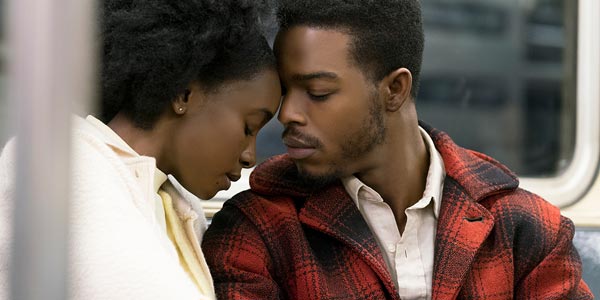 IF BEALE STREET COULD TALK
Dir. Barry Jenkins. 117 min.
World Premiere.
Also showing at NYFF
With his third feature Jenkins creates the best and warmest of all possible nests for the two young lovers at the heart of the story. 19-year old Tish realizes she's in love with childhood friend Fonny; Fonny's always known he loved Tish and discovers a clarity and joy in sculpture. They've both managed to avoid the disease plaguing their generation, a feeling of worthlessness reinforced by looking around at the world. Tish becomes pregnant, and just as they begin to secure their life together, Fonny is arrested for a rape he didn't commit. Determined to have him released before their baby is born, Tish and her family push against infuriating odds as Fonny struggles with the unfairness of his situation.
Tish and Fonny have (mostly) understanding and supportive family, neighbors willing to step up to injustice, and friends able and willing to be emotionally open and honest. Exhausting struggle just to exist is the norm – finally securing a loft apartment after weeks of blatant racism and disappointment, Fonny has to ask the young landlord – why? He bashfully says he must be his mother's son; he's a sucker for romance. Yet gestures of kindness are fragile protection in a brutally antagonistic world; we spend the entire film terrified for them, the stakes all the higher because the love present is so strong. Jenkins performs a miracle avoiding bathos while baring raw emotion, presenting the cruelty of the world and its bitter fruit without dulling the love that makes living worthwhile. And all the while giving each character genuine depth, refusing to flatten even Fonny's holy-roller mother into caricature. To call it a romance would do disservice to the honesty Jenkins brings to bear on all their lives. (Danielle Burgos)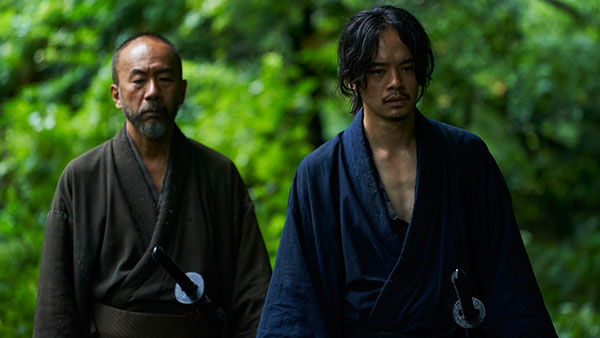 KILLING
Dir. Shinya Tsukamoto. 80 min.
North American Premiere.
A pacifist period piece from the man behind the Tetsuo series and Bullet Ballet seems heterodox, but Shinya Tsukamoto's latest doesn't stint on violence even as it prods the queasy vacillation of desire and denial behind it. He continues a career-long streak of destructive triangles pitting reticent talent, driven professional, and hard woman, this time moving the action to 19th century Japan. Young ronin Mokunoshin Tsuzuki, useless in peacetime, works among farmers and trains their young son in the sword. Anxious to move on, trained to kill, Tsuzuki's unwilling to act - when roving bandits unnerve the villagers, Tsuzuki has a heart-to-heart and advises kind words towards them, leading farmer's daughter Yu to call him a coward. Tsukamoto casts himself well as older ronin Jirozaemon Sawamura, seeking swordsmen for the coming civil war to join him in Edo, but Tsuzuki's psychosomatic illness on the eve of departure triggers a chain of bloodshed leading to deadly confrontation between the men. It wouldn't be a Tsukamoto film without entangled brutality and sexuality, frustrations taken out in furtive masturbation, physical assault as lust, and other attacks on the flesh. Handheld camerawork avoids the stuffiness plaguing most period pieces, pulling viewers out of history and into the story's present-tense. The film gets literally darker with each slice of the sword, its emphasis of futility a long way from Tetsuo's full-blown nihilism. The film ends on a perfect note of horror asking, with a kill completed, what exactly died? (Danielle Burgos)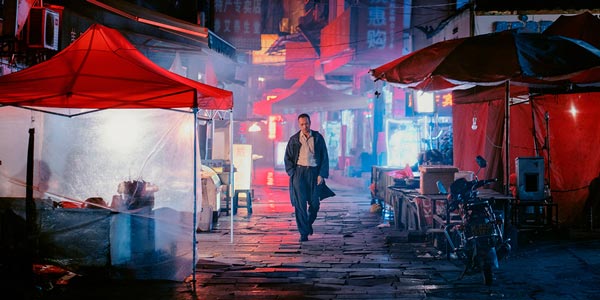 LONG DAY'S JOURNEY INTO NIGHT
Dir. Bi Gan. 140 min.
North American Premiere. Released by Kino Lorber.
Also showing at NYFF
Long Day's Journey Into Night has been declared a masterpiece before most audiences have had a chance to see it, but that does disservice to Bi Gan's risk-taking in what's only his second feature, where oblique dialogue is secondary to slowly unfolding set pieces reverberating and overlapping time and desire. Not all of his choices work, and at heart it's a mildly mawkish love story, but his boldness in telling is fascinating. The "masterpiece" label should be saved for whichever future work tempers tweeness and retains the audacity.
Returning to Kaili after 12 years for his father's funeral kicks off Luo Hongwu's Proustian, bisected tale of regret and longing as he searches for Wan Qiwen, the woman he's been unable to forget. The first half is ellipsed noir staged in supersaturated greens and reds. Relationships are stated but unclear. Is this their younger selves? A mother and son? Sprawling parallel possibilities? Longing is palpable but characters remain distant – in just one dense shot a snake strikes repeatedly at its glass cage as Luo stands near a window, a reflection reflected in a reflection of a train in the background that may not even be there.
Elegant silhouetted compositions give way to a single hour-long 3D shot; not gimmickry but a way to simultaneously put viewers in the film within the film while forcing an awareness that they're still watching one. Time stretches as characters move towards their desires, with several obvious plants – including spinning rooms and apples eaten whole – coming to bear, but ultimately, a moment of bliss holds its own brief eternity. (Danielle Burgos)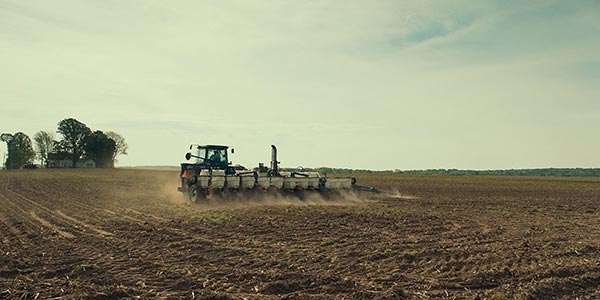 MONROVIA, INDIANA
Dir. Frederick Wiseman. 143 min.
North American Premiere. Released by Zipporah Films.
Also showing at NYFF
Frederick Wiseman's overlong survey of small-town Midwestern life opens with a montage of static views – fields, roads, houses, shops – as if flipping through a god-view cable package devoted solely to the title town. There's an intense sense of community, from a packed gymnasium of parents listening to an off-rhythm version of The Simpsons theme to a multigenerational montage of men getting (far too) high-and-tights at the barber shop. Throughout his career, Wiseman's genius has been presenting viewers with enough footage to draw their own conclusions, and giving subjects space enough to hang or reveal themselves. Here he's a little too generous, lingering on rituals and infrastructure that define lives without digging into any underlying beliefs. The first dip into the day-to-day, a high school history class where unmoved students hear a hagiography on the town's place of pride in basketball lore, suggests strong priorities that might not align with viewers'.
But in his attempt to neutrally present the dominating institutions of church, school, social clubs and sports, Wiseman overcompensates, only hinting at existing negatives. "Anti-PC" culture gets a brief sticker montage near the end, and racial relations are only inferrable by the few faces of color in the two-hour runtime. A tail-docking surgery at a veterinary office might be placeholder for casual slaughterhouse mutilation, scarcely suggested from the few herded cows and pigs shown. The finest moments are hearing actual opinions at a heated planning committee meeting. Still, anyone watching will feel like they've been to Monrovia, the best compliment for a documentary dodging judgements. (Danielle Burgos)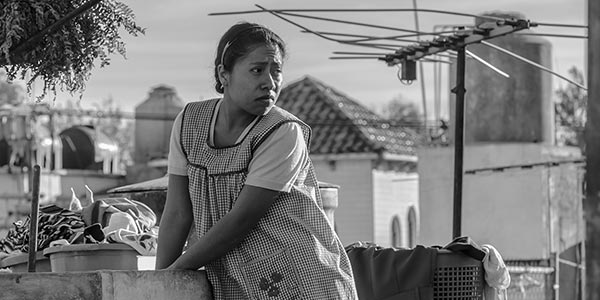 ROMA
Dir. Alfonso Cuarón. 135 min.
Canadian Premiere. Released by Netflix.
Shot in black and white and deeply autobiographical, Cuarón's latest could lazily be compared to Fellini's 8 1/2. But instead of navel-gazing, Cuarón mines his memories to tell the story of two women of different means coping with abandonment under the same roof, while 1970 Mexico changes rapidly around them. At a TIFF Q&A, Cuarón explained all decisions, including working as his own cinematographer and shooting on 65mm, were made to convey childhood memories as if he were a ghost revisiting his own past at a distance. He often hovers just behind Cleo, live-in housekeeper and nanny of an upper-middle-class family. Stories like hers are often erased from history, and it is a painful joy to see them told with dignity and loving detail, capturing the difficult dynamics of straddling bifurcated roles of hired help and beloved family member. Sibling fights, hurled insults, earthquakes, riots: Cleo bears them with quiet fortitude, her control so great she alone is able to hold the miracle stance a hundred government-backed Halcones stumble trying in training. Playing Cleo is Yalitza Aparicio, a preschool teacher in Oaxaca with no previous acting experience who lets emotion break through Cleo's placidity like sun through clouds. She balances Sophie, woman of the house, whose raw nerves over her husband's jilting Cleo sees but can't break social boundaries to comfort. Herself pregnant and abandoned by her arrogant boyfriend, Cleo's stomach swells alongside the unrest sweeping through Mexico, as the two women face uncertain futures. (Danielle Burgos)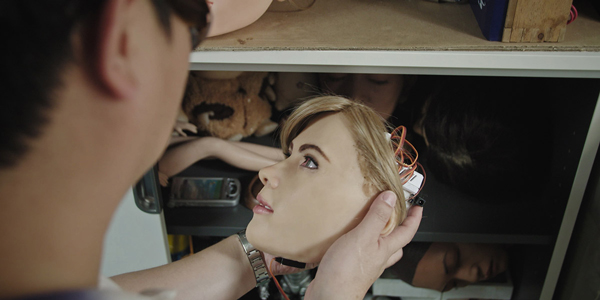 THE TRUTH ABOUT KILLER ROBOTS
Dir. Maxim Pozdorovkin. 83 min.
World Premiere.
Is it too much to ask filmmakers to do a modicum of research on a subject before presenting their case? Insinuating there's a collective willful ignorance or conspiracy brushing the titular truth under the rug, Pozdorovkin offers weak proof for his premise robots are killing jobs and humans in the name of a progress that will ultimately enslave us. The gimmicky setup includes a cyborg-narrator straight from Uncanny Valley speaking from a presumably robo-dominated future, detailing how their kind slowly ingratiated themselves into human lives. The takeover started with welcome handling of hazardous tasks, moving through to those requiring increasingly fine motor skills, all while humans molded to robot likeness through repetitive, mindless jobs. For anyone paying attention it becomes quickly clear the issue isn't robots, it's capitalist priority of maximized profit above all, including morality and quality of life.
There's an interesting aside about Shinto animism paving way for Japan's easy cultural embrace of robots, but it's barely explored. A segment suggesting a Dallas bomb-defusing robot crossed the ultimate threshold - actively taking human life - doesn't hold up at all; every decision was human-made, the robot a human-operated weapon with no agency. All it demonstrates is police and the military-industrial complex are streamlining murder and automating war, improving stats and efficiency, again ultimately for profit. The film ends on a cheeky alarmist note hinting robots won - if this is the best humans can muster on what should've been a fascinating topic, bring on the rise of the machines. (Danielle Burgos)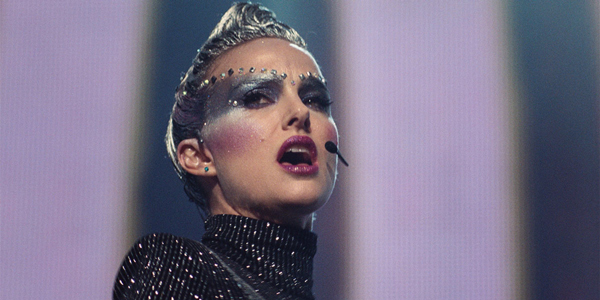 VOX LUX
Dir. Brady Corbet. 112 min.
North American Premiere. Released by NEON.
At the North American premiere of Vox Lux, director Brady Corbet joked that the "elevator pitch" for the film was difficult – but to a certain niche, a violent pop-goth musical psychodrama with tunes by avant-dad-rocker Scott Walker and multi-platinum songwriter Sia might be the ticket that sells itself. Unfortunately, the film's exploration of the fault lines between turn-of-the-millennium traumas is thornier business that's ultimately derailed by a failed structural gambit that sees the movie flatline in its second half.
Celeste, first played by the excellent Raffey Cassidy, is a 14-year-old survivor of a 1999 school shooting. In the hospital she takes up songwriting with her older sister, Eleanor, which at a time of national mourning generates an unexpected hit. Enter Jude Law, a sleazy yet well-meaning chart svengali who launches their star. But the morning after Celeste trysts with a doom metal musician in an LA hotel room, the planes hit the Twin Towers—and then we smash cut to 2017 and Portman as a 31-year-old Celeste poised for a post-burnout career rebound.
Tonally, Vox Lux is predicated on a thread of aestheticized nihilism that invokes the new wavey malaise of 80s Bavarian art sleaze like Der Fan, Angst, and Christiane F. I loved its looming first half, in which Celeste's story is a timely and unsettling exploration of the burden of expectations society places on survivors. Cassidy plays her as a precocious young woman trying to stay centered in the face of trauma, survivor's guilt, stardom, and the temptations of the latter's trappings. It's therefore jarring that crop-topped Portman, who seems to act almost entirely with her bopping shoulders and a Staten Island accent, presents her adult iteration as Gozer the Gozerian doing an Andrew Dice Clay impression. But worse, her section of the film is meandering and pointless, underlining previously nuanced themes and dramatizing Celeste as the human trainwreck we might have inferred she'd become without meaningful development nor surprises. Most curiously, Corbet suggests Celeste's post-shooting trajectory is a result of a faustian bargain – as if a teenager needs to make a deal with the devil to want to shout out, do drugs, and fuck. (Jon Dieringer)