Featured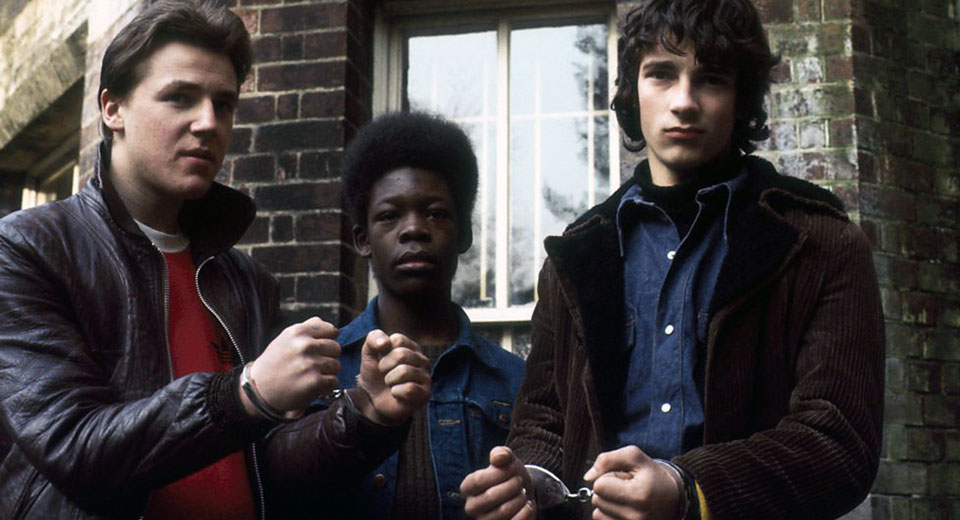 June 11th 2017
Among English TV-maverick Alan Clarke's generally agreed-upon top-three—which includes the ethically complex nazi skinhead character study Made in Britain (1982) and the foaming-at-the-mouth soccer hooligan group portrait The Firm (1989)—the least typical of what became his mature style is Scum (1979), an exposé of juvenile detention in the UK.
Reticent, ruddy-faced Carlin (Ray Winstone) and two other fresh inmates arrive at a Borstal institution, where they're quickly coached in its hard discipline. (Borstals, named after the first such institution established in 1908, are youth reformatories run by the British Home Office.) They're told they're being detained "for her Majesty's pleasure" and that "leadership means order"—i.e. that obedience is all that's required of them, not reform with a view to future social integration. Further evidence of this is that Archer (Mick Ford)—the director's playfully anarchistic stand-in—requests Dostoevsky from the library but discovers that only "trash westerns and hack adventure stories" are available.
There's also informal authority; the "daddy"—a belligerent big-boy named Banks (John Blundell)—enjoys special privileges, being served by hench-boys and running a black market. They mess with Carlin too until he blows his fuse, which is also the moment at which Clarke decides to raise his directorial head. As Carlin marches purposefully down the corridor, into the recreation room to slip a billiard ball into a sock, out into the hall again, then finally into the bathroom where he batters Banks into a bloody pile of quivering meat, Clarke performs his soon-to-be signature shot, following the swift-footed Carlin for a good three minutes in medium close-up and tense silence. Sequences like this have garnered Clarke his reputation as an aestheticizer of male brutality, notably in the various inter-fanclub assaults in The Firm (starring a psychotic but strangely affable Gary Oldman) and in the minimalist Elephant (1989), which near-wordlessly depicts two dozen anonymous murders in Northern Ireland. (Gus Van Sant paid tribute to the latter's relentless scrutiny of the impersonal mechanics of deadly firearm assault by borrowing its title for his 2003 Columbine movie.)
Scum was originally shot as a TV movie in 1977, the "year punk exploded"—with the release of Suicide's debut album, Richard Hell and the Voidoids's Blank Generation, and Dead Boys's Young Loud and Snotty, among many others—and much of the same nihilism and social alienation is evident in it. (When it was withheld from release, Clarke re-shot the film as a theatrical feature in 1979.) The back-of-a-paddy-wagon opening shot that tilts from Carlin's morose face down to his shackled wrists is a near-exact replica of the opener of Tony Richardson's The Loneliness of the Long Distance Runner (1962), an earlier study of the futility of Borstal discipline that includes long scenes of urban drifting by proto-punk misfits. Like Made in Britain's Trevor (played by a bug-eyed young Tim Roth), Carlin sees little future for himself in British society, but at least his capacity for solidarity is not completely extinguished; when Davis (Julian Firth)—a slighter, more sensitive, less assertive fellow inmate—is bullied and finally raped by some of the boys until he commits suicide, Carlin leads all his comrades in a cafeteria riot. The scenes of Davis's rape and subsequent humiliation at the hands of the brutal Mr. Greaves (Philip Jackson)—who, instead of punishing Davis's attackers or offering any kind of consolation, berates him and tells him to "keep [his] subnormal head down"—are so painful that they achieve a degree of sympathy that cinema is all-too-rarely capable of. These alone make Scum one of the most ethically revelatory films I've seen in a long time.