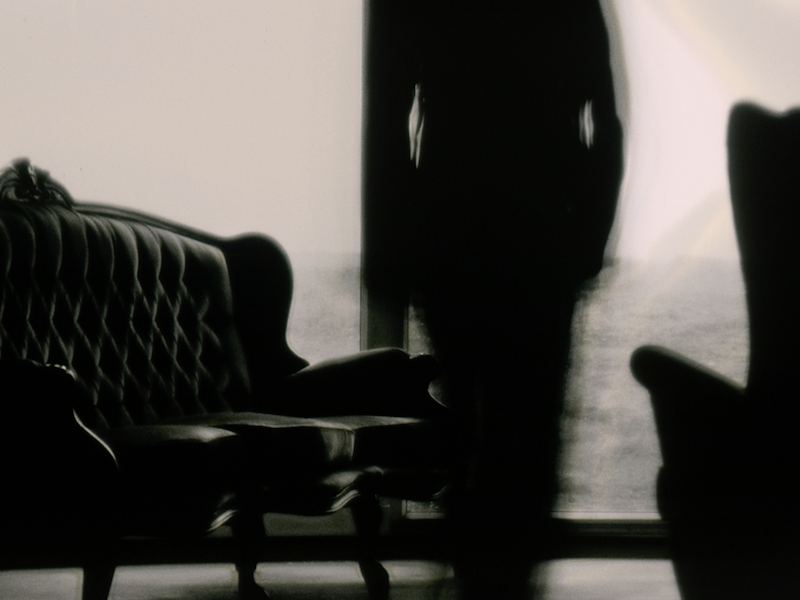 May 7th 2023
The camera studies autumnal trees. Multiple exposures of green, yellow, and red leaves superimpose so that movement in the breeze and any movement of the camera yield a teeming field of translucent forms. Suddenly, a man in the foreground appears to be gazing out at this view through windows, and then a cut reveals him walking across the room to sit down on a sofa or grip a bannister. These contained and yet expansive domestic activities in Alexandre Larose's scènes de ménage (2022) are not naturalistically presented, nor are they digitally stretched or stultified. Instead, they are subjected to intricate film processing and complex choreographies that enrich each shimmering composition and silently invite viewers into a novel way of looking.
In the sections with a human figure, the man's body swirls in serene gyres, recalling the motion studies of early photography but declining to present material that resembles a scientific or colonial project. Both dream and data, the multiple interlaced chronologies in scènes de ménage elegantly convey the impression that what lags behind is catching up to the present and what juts out ahead is finding its way back.
Congealed into vibrating, recognizable forms or dispersed as if smoke, the images are like recollections that are also fantasies, reenactments that are also memorials. Continuing with (un)easy dialectics, the cycle of three 35mm shorts are both technically sophisticated and deceptively simple, conveying a robust sense of impermanence and unknowability. Contrary to some of Larose's earlier work, which wandered outdoors and took the movement of the cameraperson as a significant artistic engine, scènes de ménage discovers vastness and absence within the eerie stasis of home.
As the Closing Night presentation of Prismatic Ground, scènes de ménage concludes five days of adventuresome programming across six venues. This morning, Wu Tsang's one emerging from a point of view (2019) wrings two overlapping projections into a poetic journey of hybridity far beyond the confines of a single home, intermingling myth with landscape documentary and queer storytelling. This afternoon, Jodie Mack's 16mm stop-motion garden grief film M*U*S*H* (2022) transmutes flower petals and other colorful organic debris into a silent melange that, like Larose's films, tinker with the mechanics of the camera to create confounding patterns of movement, revealing both figure and ground to be provisional, illusory, and beautiful.
Later, Onyeka Igwe's The Miracle on George Green (2022) examines a real treehouse in a chestnut tree in East London, calling upon histories of the commons, collective action, and what it means to make a dwelling in the eyes of the law or in the lens of a camera. Samuel R. Delany, who lived in a commune in the East Village of Manhattan in 1967, is credited at the end of Igwe's film, and I can't help but think of a line from Delany's novel Stars in My Pocket Like Grains of Sand, which speaks to dilating perception of moving images such as those produced by the filmmakers discussed here: "I saw her at a distance as a point-time event. I saw her up close as ten seconds' history made synchronous by its multiple shadows."
Speaking on Friday at his ongoing Lincoln Center retrospective, Apichatpong Weerasethakul remarked, "When you think you're telling the truth, everything looks real." How can a framed image or story be anything but fiction? The films Inney Prakash have assembled in this year's iteration of Prismatic Ground exemplify this generative tension.
Prismatic Ground 2023 continues today, May 7, at Anthology Film Archives. scènes de ménage screens tonight on 35mm as the Closing Night selection. The director, Alexandre Larose, will be in attendance.