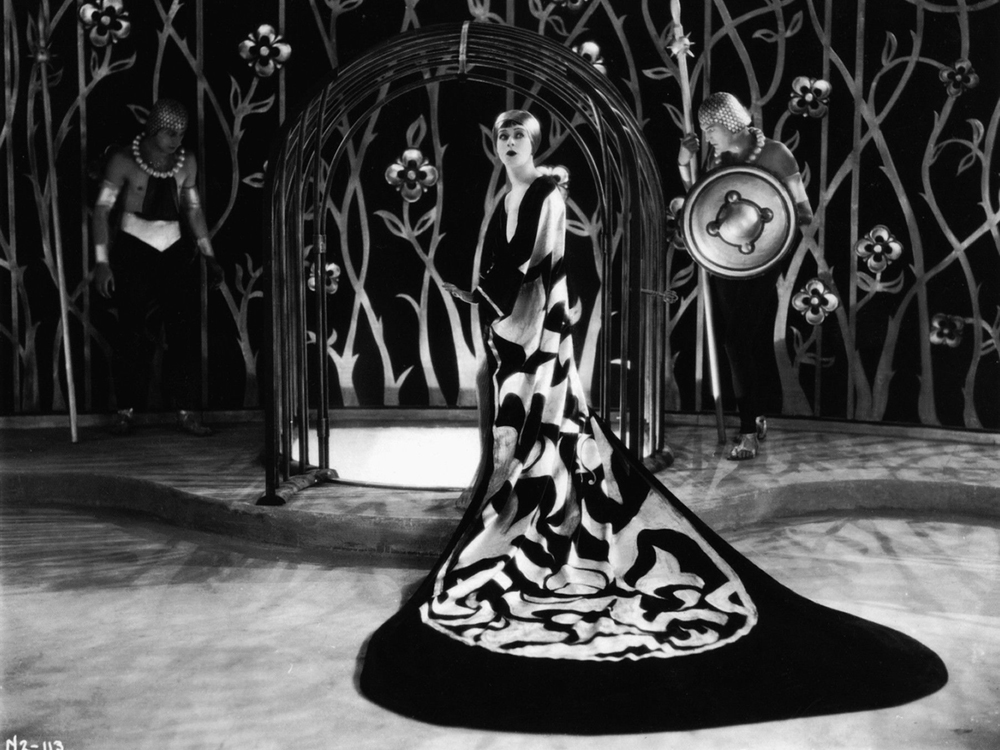 January 9th 2022
In 1923, the British actor turned director Charles Bryant and his wife, the producer-actress Alla Nazimova, brought Oscar Wilde's tale of crazed biblical horniness, the proto-camp play Salomé, to the screen with stunning results. The production, rumored to have cost $350,000, was a financial disaster that ended Nazimova's producing career. But it was an artistic triumph, considered one of the first art films made in the United States.
In the film, King Herod (Mitchell Lewis) shamelessly lusts after his stepdaughter, the titular Salomé (Nazimova). Meanwhile, the young woman becomes erotically obsessed with Jokanaan (Nigel De Brulier), a prophet Herod keeps imprisoned in a well. In powerfully evocative words, Salomé begs Jokanaan to let her kiss his "crimson" mouth, but the holy man refuses. After these romantic advances are rebuffed, Herod offers the young woman anything she desires if she will perform the "dance of the seven veils." Salomé agrees, performs the dance, and when asked what she will have in return, demands Jokanaan's head.
The visual and dramatic pleasures of Salomé are still intoxicating to behold. Their enduring power is thanks, in part, to the film's strangely modernist performances, which are almost butoh-like in their halting, glacial slowness and emphatic gestures. Famed designer Natacha Rambova's mind-melting sets and costumes play an enormous hand in the film's magic, as well. Rambova's design is not purely art deco, not quite dada, but a mesmerizing synthesis of decorative and avant garde styles. Against the set's copious negative space, ornate flourishes capture and seduce the viewer's attention like glittering baubles in a jewelry case, every unique and beautiful item leading the eye to yet another. Jokanaan's gilded cage, Salomé's luminescent headdress—these are the entrancing elements that busy our eyes as Wilde's nearly elemental tale of passion and revenge plays out to its grotesque and morbid conclusion.
Ultimately, Salomé is a film about desire. Bryant, Nazimova, and Rambova are keenly aware of this fact, and suffuse every element of their work with the desperate throb of want: the performers thrum with it and the glorious sets and costumes powerfully elicit it.
Salomé screens today and tomorrow, January 9 and 10, at Film Forum with live piano accompaniment by Steve Sterner. It is part of the series "Oscar Wilde."