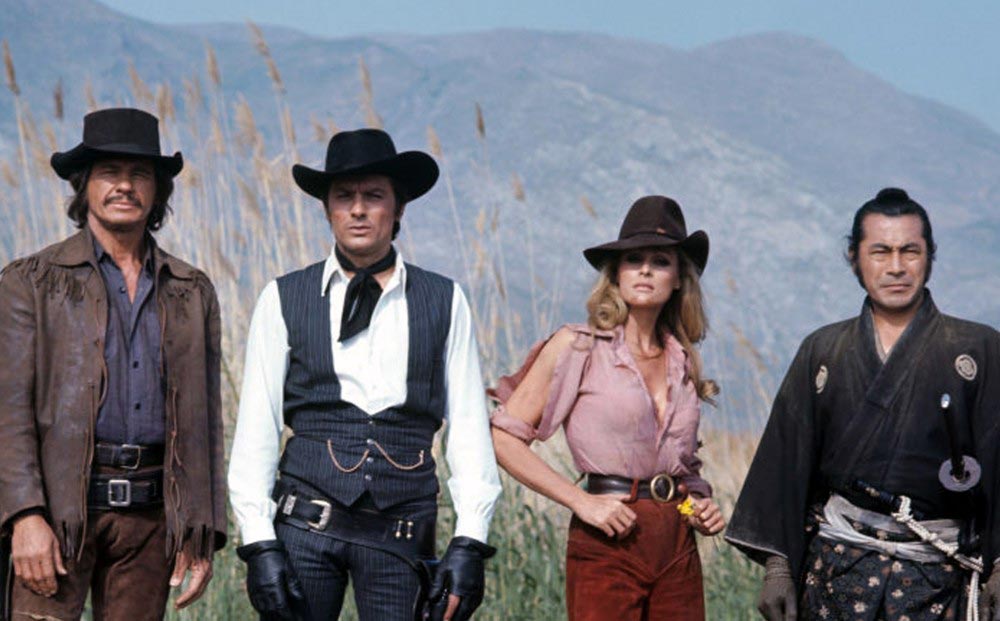 February 23rd 2022
International co-productions were commonplace in genre cinema at the time of Red Sun's 1971 release; it made sense for various countries to work together to finance films that had global appeal. With Red Sun, the contributions of foreign markets extended beyond the production companies backing the film. The director, Terrence Young, was a noted Irish filmmaker known primarily for his work in the James Bond series—Dr. No (1962), From Russia with Love (1963), and Thunderball (1965)—and the script was co-written by American William Roberts, who had the difficult task of adapting Akira Kurosawa's Seven Samurai (1954) into The Magnificent Seven (1960) a decade prior. But Red Sun's international appeal became the most obvious in its casting, which teamed up American Charles Bronson, Japanese Toshiro Mifune, French Alain Delon, and Swiss Ursula Andress for a melting pot of marquee names that would be irresistible for cinema fans around the world.
Young's film exists as a merging of the storied genres of the western and samurai film, which should be no surprise considering writer Roberts's pedigree. The novel synopsis finds the villainous thief played by Alain Delon—in a particularly nasty performance—robbing a train of gold, as well as a samurai sword intended as a gift to the President of the United States from the Japanese ambassador. Two of the men tasked with guarding the train, played by Mifune and Bronson, naturally go on a buddy trip through the American West to retrieve the sword, as the ambassador and Mifune's character must commit harakiri if it is not recovered. Ursula Andress appears later in the film as Delon's character's girlfriend, a prostitute who is kidnapped by the heroic leads and used as a means of bargaining.
On paper, it's a bit convoluted, but Young's melding of genres was prescient and would lead to samurai elements appearing in other films made both within and outside of the confines of the Hollywood studio system, including Blind Fury (1989), American Samurai (1992), Ronin (1998), Ghost Dog: The Way of the Samurai (1999), and noted Red Sun fan Quentin Tarantino's Kill Bill (2003). Even so, there's nothing else quite like Red Sun; from its startling opening action sequence, to Bronson challenging Mifune to a fight (which Bronson obviously loses), to the climactic battle featuring guns, arrows, and a perfectly wielded samurai sword. Unlike many similar films, and other international co-productions of its era, Red Sun admirably succeeds at being many things at once: western, samurai film, buddy movie, and (in its last act) a taut thriller set within reed thickets, which became a notable part of its marketing campaign. This makes the film nearly impossible to pigeonhole, with Young effortlessly synthesizing so many disparate themes and aesthetics into one cohesive whole. Its obvious inspirations on Kill Bill aside, it may be the closest analog from the '70s to the cinematic mixtape quality of Tarantino's film.
Red Sun screens this afternoon and tonight, February 23, at Film Forum on 35mm as part of the series "Toshirō Mifune."