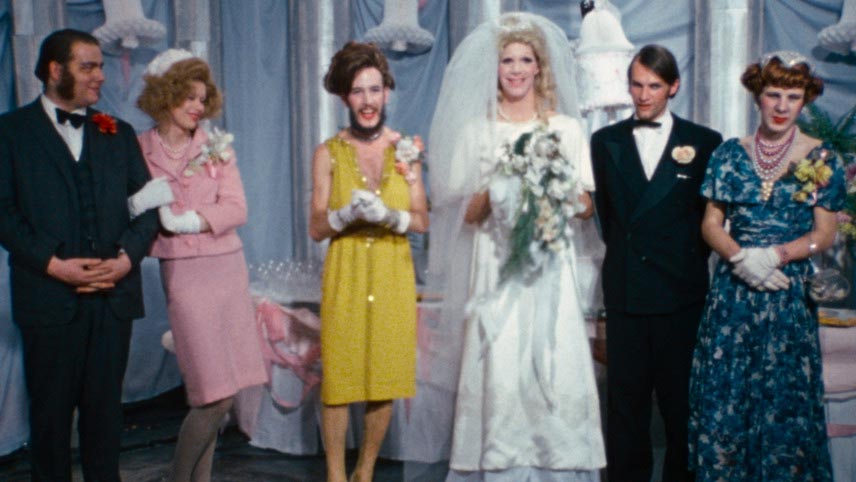 January 24th 2023
As part of "To Save and Project: The 19th MoMA International Festival of Film Preservation," the Museum of Modern Art presents "Reclaiming the LGBTQ Past," a program of three films from across three decades, recently preserved by the UCLA Film & Television Archive and IndieCollect.
The earliest of these films, Tricia's Wedding (1971) parodies the marriage of the President's daughter, Tricia Nixon, at the White House in June of 1971. The Cockettes—the famed San Francisco hippie drag troupe of mostly gay men, but also women and babies—perform as the Nixons, the Kennedys, Queen Elizabeth II and then Prince Charles, the Reverend Billy Graham, and Indira Gandhi, among others, along with some of their friends and collaborators, including Steven Arnold and Tomata du Plenty. Some of the in-jokes of the period fall flat now, but there are standout performances: Drag queen Goldie Glitters plays Tricia Nixon. Daniel Ware, who strikes a more signature genderbending Cockettes look, his scraggly hippie beard combined with lurid makeup and sequined dress, is particularly good as Martha Mitchell. (The real-life Mitchell would be kidnapped just a year later to prevent her talking about the Watergate burglary.) Sylvester is sensational as Coretta Scott King, singing "Because You Come to Me" at the altar. Eventually, all of the wedding attendees drop acid.
Roughly a year before the Cockettes made Tricia's Wedding, John Waters experimented with his concept of the "instant movie" with his short The Diane Linkletter Story (1970). Waters read about the suicide of Diane Linkletter—which her father, radio and TV personality Art Linkletter, quickly exploited as part of his contribution to his friend President Nixon's new "War on Drugs"—in the newspaper in the morning and was out shooting his own version of the tragedy with Divine as Diane Linkletter later that same day. With Tricia's Wedding (which is dedicated to Divine) the Cockettes take the experiment further by filming their parody of Tricia Nixon's nuptials before they took place so that the finished film could premiere, at the Palace Theater in San Francisco, on the same day and at the exact hour of the real-life Tricia's wedding at the White House, as an alternative and far more enjoyable media spectacle.
White House Chief of Staff (and Watergate conspirator) H. R. Haldeman ordered Tricia's Wedding "killed." White House Counsel (and Watergate conspirator) John Dean was sent to the bomb shelter beneath the East Wing (a favorite spot for monitoring protests) to watch the film and report back. Foreshadowing the burglary that would make Haldeman, Dean, and Nixon (among others) infamous, according to a story Dean later told on Johnny Carson, a burglar had been ordered to break into a lab to steal the print he watched. In the end, according to Dean, no action was taken to prevent the film's distribution. However, the New York premiere of the film was delayed and the New York Times and other papers either refused to run ads for the film or ran ads under bowdlerized titles like "Princess's Wedding." Funnily enough, as Cockette Pam Tent points out in her memoir, Tricia's Wedding had one of its most successful runs at a theater in Washington, DC, not far from the White House.
The nation's capital is also the stage for Greetings from Washington, D.C. (1981), which documents the first National March on Washington for Lesbian and Gay Rights, held on October 14, 1979. Speakers at the National Mall included Audre Lorde, Allen Ginsberg, and Kate Millett, but the film focuses on the people out on the Mall and out in the streets. Marching to "Stars and Stripes Forever" or "Anchors Aweigh," these are, for the most part, not the acid freaks of Tricia's Wedding. However, their banners and signs proclaim them to be, among many things, Indigenous "First Gay Americans," "Baltimore's Parents of Gays," "Lesbians of Color," "Socialist Feminist Lesbians and Gay Men," "Out in Montana," or "Lesbians of Western Mass." Directed by Lucy Winer and produced by her and Robert Epstein, Frances Reid, and Greta Schiller—all of whom have had significant careers as documentarians focused on queer people and histories—with additional photography by pathbreaking lesbian filmmaker Barbara Hammer, Greetings from Washington, D.C. seems in many ways a community effort. Today, it is common to see a list of names of those who crowdfunded an independent film in its credits, but for a documentary from 1981 to list the many people who contributed as little as a dollar to its production seems extraordinary and significant. The end credits also mention that part of the proceeds from the film will "go to pay debts incurred for organizing the march."
Another ten years on and the AIDS Crisis in the United States is reaching its deadly height. Meanwhile, a "New Queer Cinema" is emerging. Karen Bellone and Lisa Rinzler's Death by Unnatural Causes (1990) is a more somber film, dedicated in part to "all those living under the shadow of AIDS." Calling to mind Derek Jarman, the film is gorgeously photographed, its mix of grainy black-and-white and highly saturated cross-processed color film lending it a distinctive, hard-to-resist, early-'90s glamor viewers may associate with subsequent films like Poison (1991), Swoon (1992), or The Living End (1992). Starring Kid Congo Powers and with Larry Fessenden in the role of the Devil, Death by Unnatural Causes also features music by Powers, Arto Lindsay, Marc Ribot, and John Lurie.
These three films offer intriguing glimpses into a larger history of queer cinema during pivotal moments of its development. Newly preserved, it should be added, each looks marvelous.
"Reclaiming the LGBTQ Past" screens tonight, January 24, and on January 27 at the Museum of Modern Art, each film in a new digital restoration. The program is part of the series "To Save and Project: The 19th MoMA International Festival of Film Preservation."