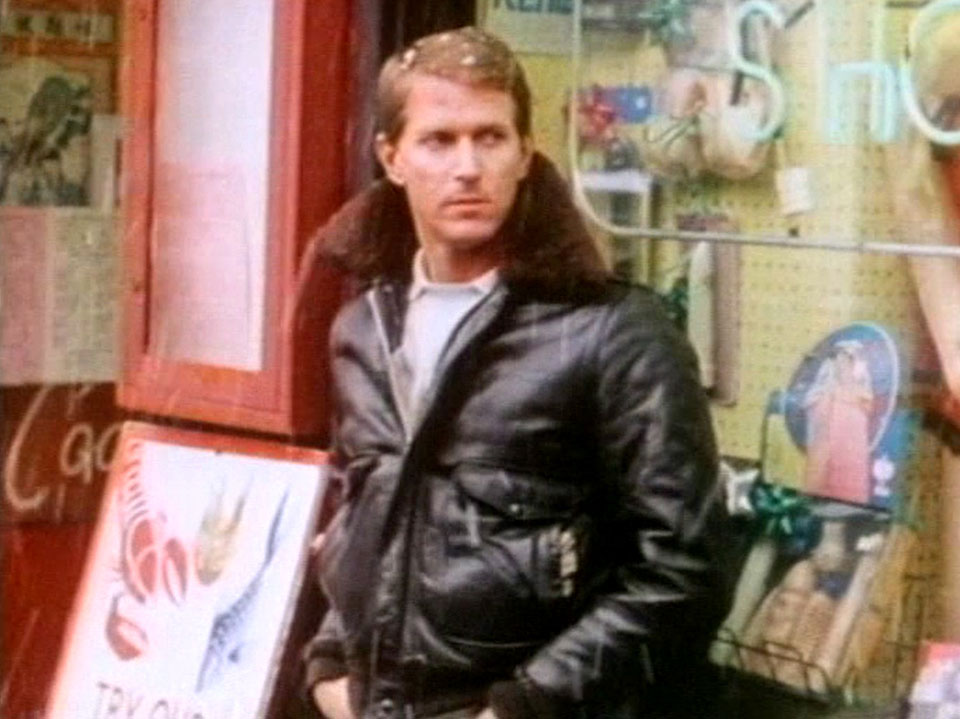 August 24th 2020
Today and tomorrow Elizabeth Purchell's new feature-length video Ask Any Buddy streams as part of the 2020 Outfest Los Angeles LGBTQ Film Festival, which this year (aside from a handful of drive-in screenings) takes place mostly online. A video companion to the @askanybuddy Instagram account Purchell began in 2018, the Ask Any Buddy movie compiles footage from 126 gay porn features made between 1968 and 1986 into a "day in the life" document/fantasy of urban gay life in the year leading up to the Stonewall uprising and in the years that followed, as a (largely white) gay subculture became codified – in part through the porn films Purchell uses as her material. In this period, particularly in the first several years, gay porn films were among the very few places depictions of queer sexuality and an emergent, liberated gay male identity could be seen on screen. This new style of gay masculinity is all over Ask Any Buddy, just as it is in the porn films of the period– the " Castro clone" or the leatherman, images of gay men that were new at the time and for many liberating, if reductive, offering fetishized images of gay men as overwhelmingly white and almost unnervingly fit and masculine (save the occasional drag queen). Yet these films and these images still captivate and the period they document and helped form remains fascinating – perhaps all the more so now that it seems vanished forever.
The footage Ask Any Buddy brings together is often exceedingly rare, culled from increasingly hard-to-find home video releases of films which were commonly considered niche and ephemeral – a precarity and distance from our own time reflected in the patina of horizontal lines of video interference running across the vertical emulsion scratches of the original film prints seen throughout the video. There is a fascination in seeing the formation of a subculture on screen – a nascent subculture seeing itself and learning about itself on screen. An extended sequence in a men's room is downright instructional, showing viewers how to cruise a tearoom and how to avoid cops. For many gay porn filmmakers of the era, just making these films was an important political act, and it may surprise some viewers today to see how much footage of gay liberation marches, pride parades, and demonstrations made its way into porn films. Harvey Milk makes a brief appearance in footage shot on the street at a pride parade, as do a different set of revolutionaries, the Cockettes. In one instance an actual arrest takes place in a go-go bar where one of these porn films is being shot and the filmmakers defiantly leave it in, providing on screen commentary. Long lost bathhouses, porn theaters, gay bars, and cruising sites, such as the Christopher Street piers, are all documented in these films. Beyond its historical interest, Ask Any Buddy is also simply a lot of fun. It manages to be both very hot and often very funny. Without eschewing the hardcore content of these films, Purchell reveals what is joyous in these films and the burgeoning community they document, from drag acts to nude discos to a KISS impersonator stripper, all set to genuinely great music. As festivals like Outfest move online to slow the spread of COVID-19, Ask Any Buddy will for the time largely be seen at home, by individual viewers or perhaps kink-friendly quarantine bubbles, much as the VHS tapes used as source material for Purchell's video were generally consumed privately, in the home. Hopefully soon it will screen for large audiences again, as what is perhaps the most radical attraction of the films featured in Ask Any Buddy, and what perhaps makes them most distant from our own time, is that they were made to be seen in theaters with strangers.
A diverse range of film- and videomakers have used found footage from porn films in their work – Peggy Ahwesh, Bruce Conner, Barbara Hammer, Hoang Tan Ngyuen, Luther Price, and Naomi Uman have all worked with porn footage in fascinating and revealing ways. In its remembrance of a vanishing, or vanished, queer community, Ask Any Buddy perhaps bears closest resemblance to conceptual artist Robert Blanchon's short video let's just kiss + say goodbye, freely available for streaming through the School of the Art Institute of Chicago. Ask Any Buddy looks back at gay porn of the late sixties through the mid-eighties from our remote vantage point of 2020. Blanchon's video, which uses porn tapes from the early eighties, was made in 1995, just a few years before Blanchon would die at age 33 from complications related to AIDS. As its title suggests, let's just kiss + say goodbye is elegiac, looking back at a rapidly vanishing gay male subculture and a period of sexual freedom though the bleak lens of the early to mid-nineties and the height of the AIDS crisis in the United States. In spite of this, Blanchon's video is shot through with a wry sense of humor. The tone is not simply mournful, but, almost miraculously, combines mourning with humor and a loving irony. The emerging queer politics of the period perhaps also shape Blanchon's video. Blanchon seems to focus his (and our) attention on more femme actors and on actors of color, who, as Ask Any Buddy demonstrates, were not always as commonly seen in mainstream gay fare.
For those looking for yet more artistic treatments of gay porn to consume, it must be added that William E. Jones's marvelous 1998 short video The Fall of Communism as Seen in Gay Pornography is streaming on the David Kordansky Gallery website until the 26th. Jones's video finds in gay porn films a lens through which to view Western imperialism and rapacious capitalism. Using porn videos made in Eastern Europe between 1993 and 1998 – when Western porn filmmakers flocked to Bulgaria, Hungary, the Czech Republic, and Russia to film boys desperate to earn some money in the midst of a sudden turn toward capitalism and the mass unemployment and disintegrating social safety net that entailed – Jones excises the hardcore content, focusing on the faces of these boys, as they meet with a harsh new political and economic system.