Featured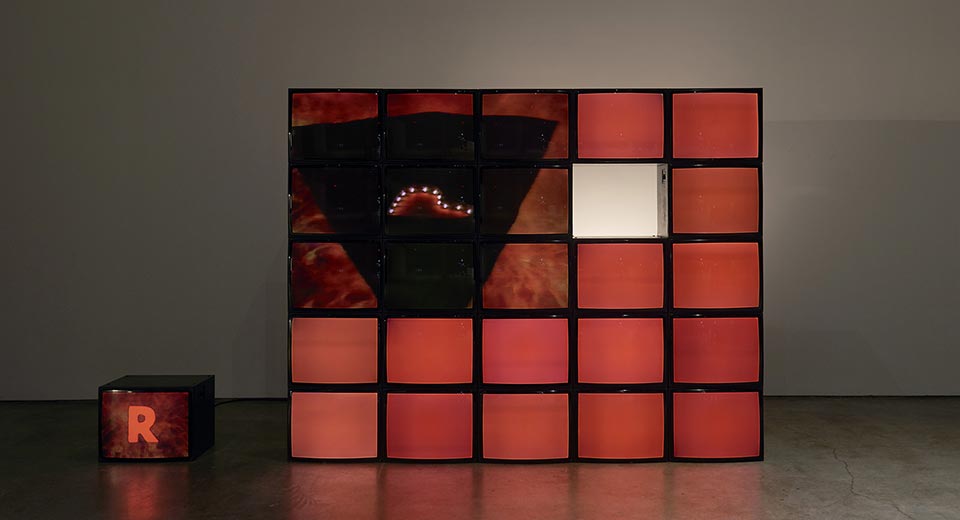 November 12th 2018
Last month at Light Industry, media historian Susan Murray prefaced a talk on her new book Bright Signals with a particularly loaded clip of Nikita Khruschev and Richard Nixon's televised "Kitchen Debate." In 1959, the two world powers met inside a model suburban home stocked with American consumer appliances, temporarily erected in Moscow as a surreal confrontation between the States and the Soviet Union. The encounter was recorded on color video tape, partially as a flex of American technological superiority, and, as Murray suggests, a sly comment equating "color" with virtues like truthfulness, industriousness and progress. In the US the exchange was broadcast in color, despite most homes still tuning in on black-and-white sets, in any case inaugurating a new era of TV diplomacy on a global scale.
Although Cold War tensions are are not necessarily at the forefront of Sculpture Center's exhibition Before Projection: Video Sculpture 1974-1995, open through December 17, the march of television as world-historical force is rich as subtext. The eleven works on display document a curious transitional period for video art and global affairs writ large. The show can be seen as antidote to retrospective surveys of video art wont to characterize this roughly two-decade period where monitors reigned supreme—from the early '70s, when TV entered the art-institutional fray, to the mid-'90s, when projection technology made wall-size exhibition a possibility—as regrettable limitation rather than essential medium specificity.
Included alongside works by stalwarts like Dara Birnbaum, Shigeko Kubota, and Nam June Paik are comparatively overlooked figures from the heyday. Many of the works are explicit deconstructions of TV technology: Diana Thater's Snake River is a triptych of red-, green-, and blue-tinted images of John Ford-ian Western expanse, a reference to CRT color that gestures to Murray's point; Maria Vedder's PAL oder Never The Same Color, a 24-monitor wall grid, plays on color standard format wars, particularly NTSC's notorious irregularities; Mary Lucier's Equinox plays on video cameras' propensity for their vidicon tubes to burn when exposed to direct sunlight.
Other pieces work with the TV set as object: Ernst Caramelle's Video-Ping-Pong, made during his time as a fellow at MIT's Center for Advanced Visual Studies, features two monitors placed on opposite ends of a ping-pong table, each showing a ghostly pre-recorded table tennis player as the sound of an imperceptible ball bounces back and forth; Takahiko Iimura pushed two TV sets together, as if they were watching one another, in TV for TV; Friederike Pezold's New Embodied Sign Language is a chimeric, person-sized sculpture of monitors depicting close-ups of the artist's body, Pezold's intervention into the long history of the female body as artistic subject.
Before Projection comes at a time when a handful of concurrent shows in the city are scoping out similar terrain. Nam June Paik's massive video installation Fin De Siecle II currently towers over the Whitney's Programmed: Rules, Codes, and Choreographies in Art, 1965–2018, while Tony Oursler's late-'80s work also makes an appearance in the Met Bruer's fellow-travelling trip into post-war delirium, Everything Is Connected: Art and Conspiracy. Whatever the impulse to relitigate the second half of the previous century—corrections to the art-historical record, or excavation in search of the origin of our own paranoid, screen-saturated political epoch—the opportunity to see many of these works should not be passed up.