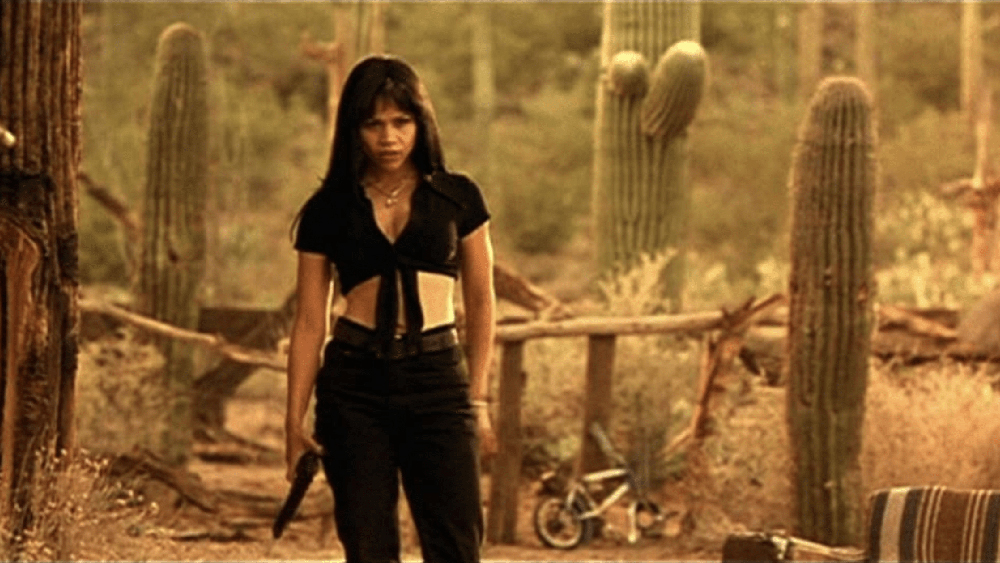 August 25th 2023
For those inclined to level up—or down?—from New York's ubiquitous repertory screenings of Wild at Heart (1990), Perdita Durango (1997) mines the same source material (Barry Gifford's "Sailor & Lula" novels) for another anarchic riff on outlaw love: less Golden-Era Elvis, more Tijuana Brass. Co-scripted by Gifford and helmed by The Day of the Beast (1995) director Álex de la Iglesia, Perdita opens in perfume-ad abstraction with a leopard slinking toward a naked sleeping woman, Rosie Pérez with goth baby bangs, lying face down on blond satin sheets. With surprisingly classical economy, this sequence sets up the rest of the film in two ways: When Perdita sits up to face her snarling intruder, we see a confrontation with wildness that's erotic and treacherous. And when she startles awake (in cat-eye sunglasses, no less) in an airport lounge bedecked with a large leopard mural, the boundary that separates art from experience, or dream from reality, is shown to be as illusory and porous as the U.S.-Mexico border on which the film is set.
Alternatively titled Dance with the Devil, Perdita wastes no time introducing its antiheroine to criminal entrepreneur Romeo Dolorosa (Javier Bardem)—and though he's a degenerate bank robber with no qualms about raping a captive, trafficking fetal tissue, or staging Santería sacrifices to hustle donations from a spellbound crowd, this isn't a one-way tale of corruption. Romeo may extend the movie's initial—and tellingly expansive—invitation, "You want to cross the border with me?" But Perdita has her own ideas, namely kidnapping and cannibalizing a young white couple for fun: a fairly straightforward operation that's derailed by interference from both sides of the law (James Gandolfini is a welcome complication as DEA Agent Woody Dumas).
What follows is part slapstick ordeal, part "Black Hole Sun"–style send-up of suburban myopia—Natural Born Killers (1994) by way of From Dusk till Dawn (1996), but according to a vision whose originality Tarantino would've had the good sense to steal. If Perdita is explicitly referential, its sources are far further back: when Romeo suggests she reminds him of someone, Perdita hisses "Who, Doris Day?" Later, Romeo recounts the childhood memory of seeing Burt Lancaster in Robert Aldrich's Technicolor western Vera Cruz (1954), a movie whose depicted amorality shocked in its own day, and whose aura Perdita Durango invokes directly in its apocalyptic last act. About this and other stylistic decisions, Perdita raises a host of questions: is death by Gary Cooper the true path to sainthood? Are the film's recurrent flashbacks, edited by de la Iglesia collaborator Teresa Font, an unlikely foreshadowing of the seamlessness Font pulls off in Almodóvar's Pain and Glory (2019)? Is this the best movie ever whose leads have the same haircut?
If the excesses of Perdita Durango at times feel like having blood broth spat in your face, maybe the audience who first watches Romeo perform his convulsive ritual offers the best possible range of response: you can shrink from the onslaught, or you can sink to your knees in stupefaction. You'll likely be rapt either way.
Perdita Durango screens tonight and tomorrow, August 25 and 26, at the Roxy in 35mm as part of the series "Hell or Las Vegas."