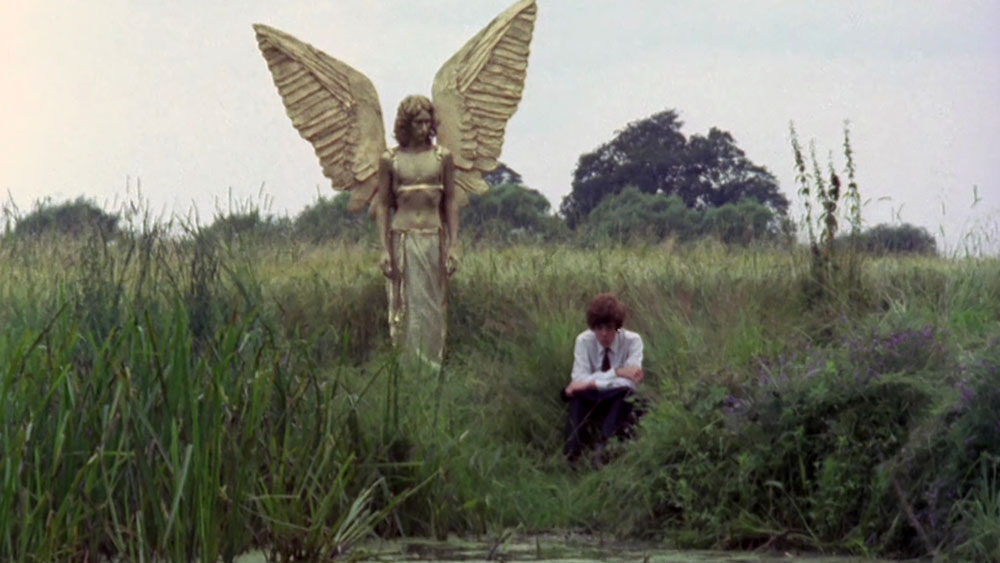 November 1st 2021
Our reliance on mass media as the grand clarifier of experience, and the intensity with which we gaze at our present moment in its crystalline awfulness, together produce an infinite number of junctions with recent history. Played out at the movies, the process marks every moment as the perfect time to revisit just about any object from the cinematic past and draw comfort or horror from its echoes. It is distressing to possess a vast archive of apocalyptic warnings we recognize as instructive but woefully impotent against the wringer of global capital and emergent fascism, but here we are. Compounding crises fill our newsfeeds, and old movies can serve as redoubts where a similar host of anxieties were once enunciated (and even solved) with sweatless elegance. Alan Clarke's 1974 television film, Penda's Fen, has a strikingly powerful claim for contemporary relevance, detailing a young man's coming-of-age, in which he wrestles with the questions of political and historical identity amid the rising tides of dehumanization.
Spencer Banks plays Stephen Franklin, a prig from Worcestershire as insufferable and piteous as any precocious adolescent one might encounter in an arthouse theater or free lecture. He clings to a world of philosophical certainties that soothe the burden of youth while the adults around him patiently indulge his pedantry in the hope that a more understanding human will emerge on the other side of puberty. In school and at home, he loudly rejects what he sees as a decline in both English morality and heterodoxy in Christian thought. When a local writer voices support for striking workers against expanding corporations, Stephen claims that he's happy the writer and his wife are unable to conceive. The young man is a deeply unpleasant figure, with none of the telltale charms or good looks that prepare an audience for a character's imminent absolution.
Stephen's convictions are disturbed by visions and dreams full of male flesh, ancient kings, and angels. Clarke keeps the visual pyrotechnics to a minimum, giving the oneiric imagery of a rugby scrum an erotic weight that carries into Stephen's waking realization of his queerness. As he connects with his own sexual identity, he explores the history of Christianity and vilified Paganism in his own village. He carries on long conversations with his father, the town vicar, pitting the "revolutionary" Christ against contemporary English Christianity. Gradually, Stephen realizes the myopia of traditionalism and its manipulation of the historical record. In an arrangement deeply comforting to modern hearts, Clarke and writer David Rudkin offer discourse, literature, and local history as mighty leverage against Stephen's puritanical zealotry. To say that Penda's Fen is the story of a conservative adolescent haunted by the specter of better ideas undersells the richness of the film, but it wouldn't be completely inaccurate. Consequently, Clarke's film is deeply optimistic in its vision of a goodness embedded in the world that can find and change young people.