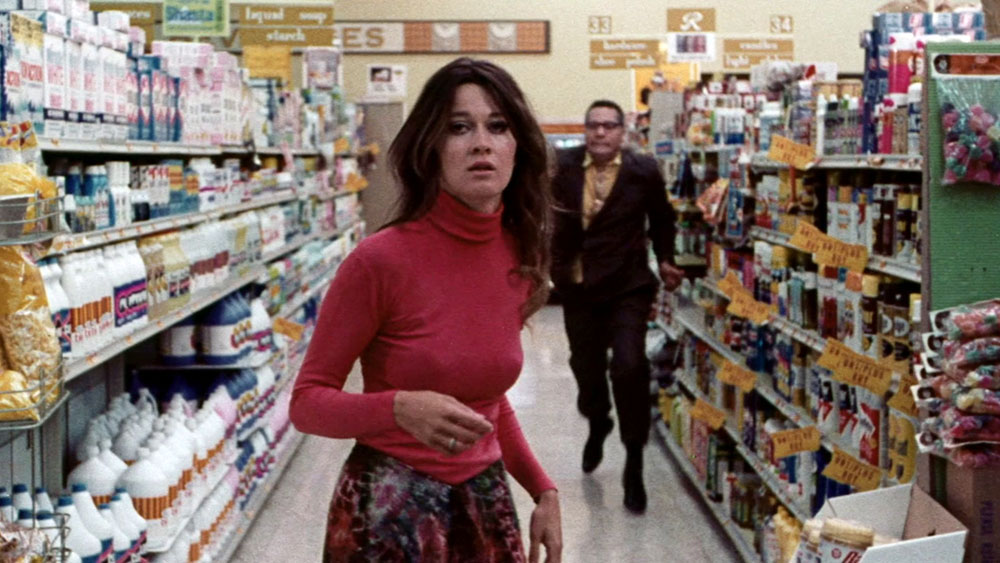 October 29th 2021
The most memorable scene in Messiah of Evil takes place in a Ralphs grocery store. It's the perfect setting for the horror of William Hyuck and Gloria Katz's strangely ambiguous 1973 film. The directors, who collaborated with George Lucas on the screenplays for American Graffiti (1973) and Star Wars (1977), capture the eeriness of coastal California, focusing on lonely, moonlit beaches and empty small-town streets bathed in the glow of shop-window neon and streetlights.
Along with this almost Lovecraftian depiction of place-based dread, however, is the presence of a distinctly West Coast strain of pop art imagery. The image of a modern filling station swimming in a black void is straight out of the work of Ed Ruscha. When Arletty (Marianna Hill), reaches her missing father's home and painting studio in Point Dume, California, she finds murals on the walls depicting an escalator, building facades, and expressionless men in suits.
Arletty's arrival in Point Dume coincides with that of Thom (Michael Greer), a Portuguese-American aristocrat, and his two groupie-like companions, Laura (Anitra Ford) and Toni (Joy Bang). Together, with the aid of Arletty's father's journal and the recollections of Charlie, a local vagrant (Elisha Cook Jr.), the group begins to piece together the legend of a town slipping into chaos. Point Dume, they discover, was visited one hundred years earlier by "the dark stranger," a minister and survivor of the Donner Party who spread his new, cannibalistic religion up the coast. At the centennial of his first appearance, and with the rising of the blood moon, this "Messiah of Evil" is slated to return and unite his flesh-eating followers.
Laura wanders off on her own and takes refuge from the ghastly moonlight in Ralphs. Stumbling down the aisles, she spots a group of townspeople ravenously eating raw meat out of the refrigerator case. The ghoulish throng turns its attention to the intruder. Like the horses devouring each other after the murder of Duncan in Macbeth, the act of cannibalism marks an imbalance in nature. In this sinister depiction of Californian life, an evil as old as the white pioneers of the West has overcome good, and only consumption in its purest form can survive.
Messiah of Evil screens tonight, October 30, and November 3 at Anthology Film Archives on 35mm. It will be preceded by Larry Yust's The Lottery (1969), an Encyclopædia Britannica adaptation of the Shirley Jackson story, on 16mm.