Featured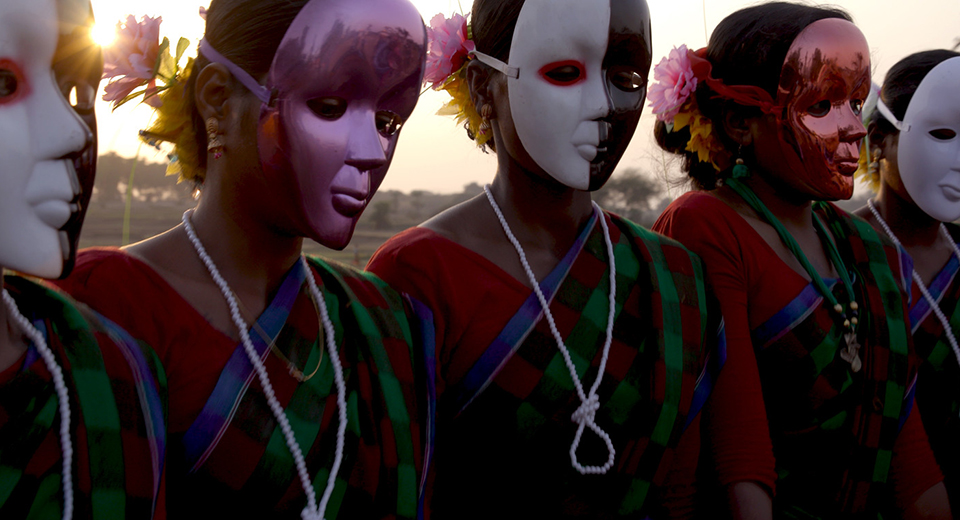 September 9th 2018
O Horizon – an experimental feature film co-produced by The Otolith Group and the Rubin Museum of Art and screening there through the end of the day – is a visual and aural meditation on the Bengali writer, musician, and artist Rabindranath Tagore.Tagore was a catalytic figure around the turn of the twentieth-century, a guiding voice of the Bengali renaissance, inducting a profound shift towards modern art, the founding of a progressive pedagogical approach, and other cultural milestones. In 1913 he was the first non-European to win the Nobel Prize in Literature.
Set on the campus of Visva-Bharati, the university Tagore opened in Santiniketan in 1921, the film engages viewers with scenes of haunting affect that indulge the school's landscape and architecture, and the entrancing singing of Tagore's poems. At Visva-Bharati, classes are often conducted outdoors under the shading canopies of trees, an approach Tagore called "tree schooling." Trees planted on campus were imported from other regions, and as they grew they demonstrated Tagore's vision of shifting cultural identities, informed by geo-history.
The film's title refers to the top layer of soil, and calls attention to the duality implicit in soil's makeup: it is both a byproduct of degradation and decay, and a springboard for new life. Soil erosion is a lasting metaphor for the change Tagore was witnessing in his lifetime and which now places the bucolic campus of Visva Bharati in a world largely framedby industry and technological invention.
The Otolith Group subtly nods to this throughout O Horizon. Aerial perspectives captured by drones grant a view that would have been physically impossible in Tagore's lifetime. A man stands alone in a misty landscape, and before intoning one of Tagore's poems gently swipes a finger across his smartphone to show the text. Figures dancing in metallic masks at dusk wear t-shirts emblazoned with a Yokohama Tyre logo. With remarkable scenes such as these, a seemingly minimalist film conveys nearly a century's worth of change without didactic commentary.
O Horizon is showing at posted start times, and rewards a focused viewing from beginning to end – but is abstract enough to be experienced as part of the larger exhibition, A Lost Future, also including work by Shezad Dawood and Matti Braun, which continues through January.