Featured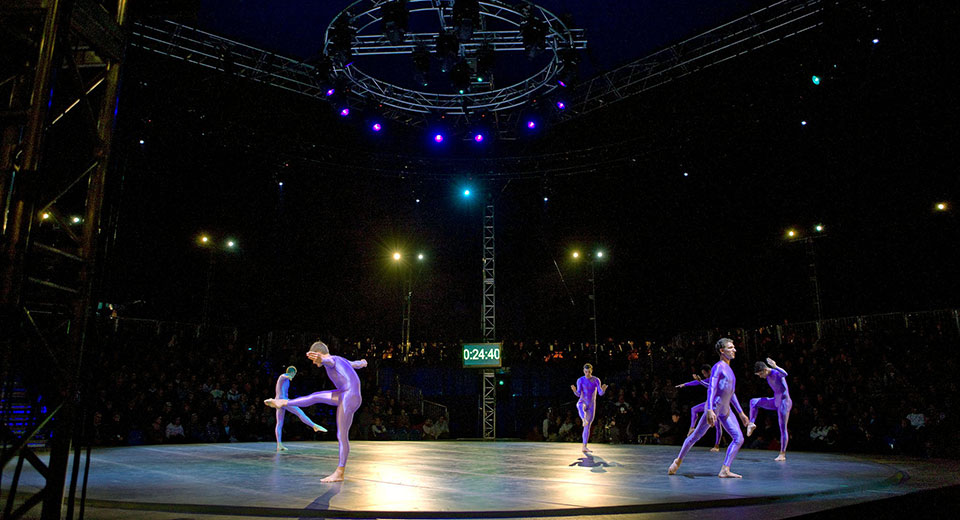 February 10th 2019
There are many remarkable qualities to admire when gazing upon, and getting swept up by, the zenith Merce Cunningham Charles Atlas collaboration, Ocean (2010) – the last dance Cunningham would stage in his lifetime, and a monumental dance film by Atlas, screening at Anthology Film Archives to commemorate the centennial of Merce's birth.
One could be the striking contradiction of setting an aqua-tinged dance in the bottom of a dry granite quarry in Minnesota, or the sound of 100 plus musicians positioned high above the audience, performing chance-derived scores by David Tudor and Andrew Culver. Or, there's the dramatic nighttime sight of the dancers in silken leotards that reflect the glare of spotlights, the perspective on them ever floating between three cameras. These shifting viewpoints, and an occasional surprising split-screen, fulfill the dance's concept of being staged in the round.
Ocean was originally conceived of by Cunningham and his partner John Cage, inspired by their mutual passion for James Joyce and the discovery that Joyce intended to write about the ocean, but never did. The dance was premiered in a Belgian circus arena, in 1994, not long after Cage's death. Cunningham eschewed narrative interpretation, yet the dance evokes the mystery and sublimity of its title, and rewards its viewer's devoted contemplation, as would a view of the ocean's unfathomable expanse.
Atlas's film, finished several years after the dance was staged in the quarry, showcases his superb eye for cinematography that complements Cunningham's choreography with a unique filmic interpretation. The two first started collaborating in the 1970s, and together they developed an integrated approach to filming dance that dispensed with single perspectives and misaligned gimmicks. Where other filmmakers might have loaded the film with distracting reaction shots and close-ups, Atlas builds a monumental composition of carefully framed, long-held shots and De Palma-esque split screens at dramatic moments (this is not an outlandish suggestion – Atlas recently mentioned that the wedding scene in The Godfather influenced a weaving Steadicam sequence in another dance film). There just is no one who does quite what Atlas does when translating dance to camera, and a large screen is just the place to witness his achievement. Atlas will be in person to introduce the film.