Featured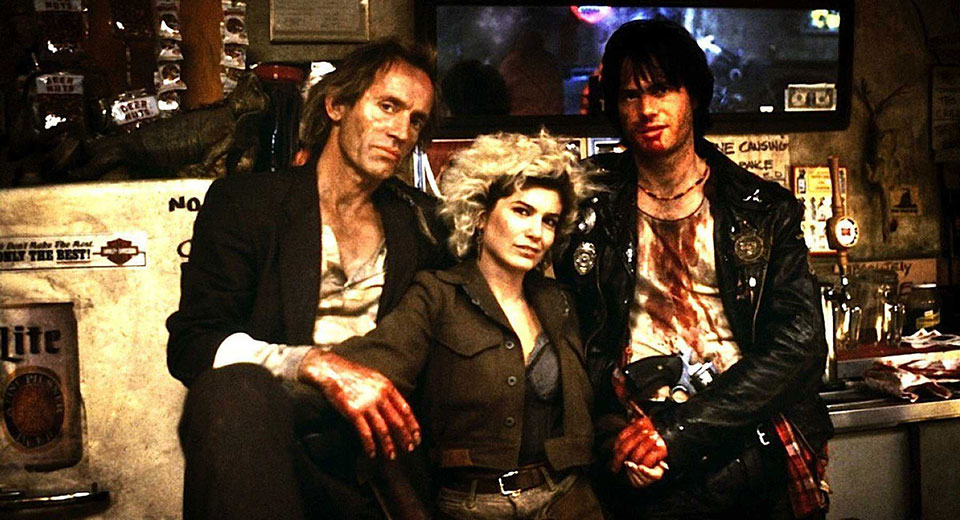 September 2nd 2019
Before Kathryn Bigelow began to chronicle recent history, she made some of the most intriguing genre films of the 80s and 90s. Near Dark (1987), which plays in Film at Lincoln Center's series Make My Day: American Movies in the Age of Reagan, is the best example of what Bigelow is capable of when given the keys to the van. A vampire-western-road film, Near Dark is the most extreme iteration of American cinema's 80s vampire revival, which coincided with a time in which the country was increasingly exposed for meddling in foreign affairs, and images of violence in the news were reflected in the films released.
When Caleb (Adrian Pasdar) is bitten after a night with the mysterious Mae (Jenny Wright), he reluctantly becomes part of a group of vampire nomads that includes their leader Jesse (Lance Henriksen), Severen (Bill Paxton), Diamondback (Jenette Goldstein), and Homer (Joshua John Miller). Caleb and the pack travel throughout the south, pursued by his father and sister. Rather than demonize the group, the film celebrates their immortality, with the other vampires ages always being a source of wonder for Caleb and the film. When Caleb asks after surviving a shootout with the cops Jesse smirks, "I fought for the South. We lost." The scene encapsulates the mixture of violence and dark humor that made the film a cult classic.
One thing that gets lost is how funny and ridiculous the movie can be, with Bill Paxton's Severen stealing every scene and Caleb chasing his potential first victim as George Strait's "The Cowboy Rides Away" plays. Want to not be a vampire anymore? Have a blood transfusion! Near Dark openly celebrates the story of the vampire, with all its tropes, and combines it with the sun dried leatherfaces of the western to create a genre bending representation of what American identity could mean in the 1980s.