Featured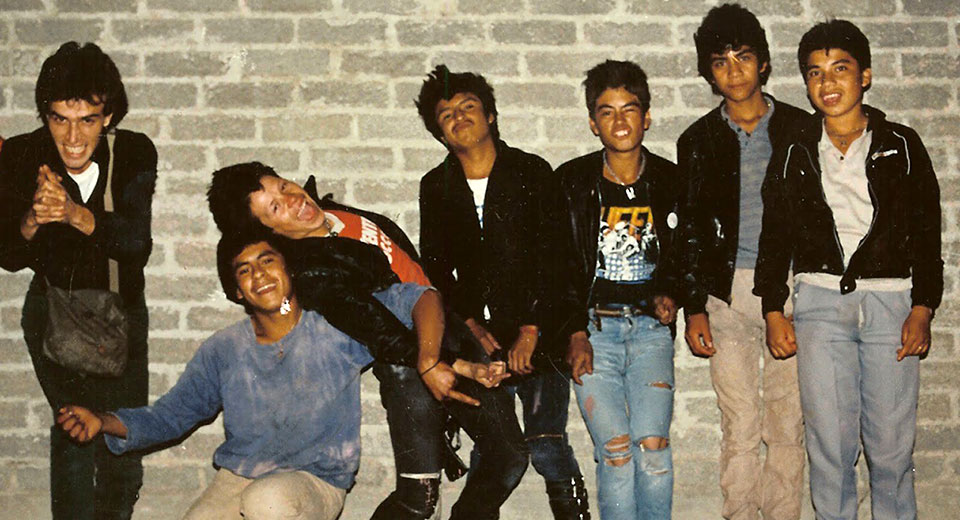 February 3rd 2019
All month Spectacle runs a retrospective of the late Sarah Minter, a pioneer of Mexican video art and experimental film best known for her iconoclastic portraits of life on the fringes. Tonight (and February 10 and 25) they screen her essential docufiction featurette Nadie es Inocente (1987), a tender and savage chronicle of a gang of young teenage punks from the Mexico City slum of Ciudad Nezahualcoyotl, known to locals as Neza.
The movie is structured around the retrospective narration of Kara, the charismatic ideological leader of the Mierdas Punks gang, as he hops a train out of town and says "goodbye to the gang, to the pickpockets, to the damn police who do nothing." While Kara wistfully recounts the history of Mierdas Punks and conditions of life in Neza, we see vignettes of street brawls, scrounging for clothing in the boundless expanses of city dumps, pantomiming Sex Pistols numbers, and waxing philosophical about the gang. ("We'll make the whole society want to vomit, 'cause we live in a shithole that keeps us on the edge.")
Shooting on ¾" tape — the same format as Bill Gunn's Personal Problems and innumerable artist tapes — Minter creates some of the most virtuosic, seemingly naturalistic yet deftly composed images that can be captured on the format. Improvisation and collaboration are central to her narrative approach — artist as conduit for subjects to share their own stories and declare their own truths. Nadie es Inocente brings to mind Djibril Diop Mambéty's Touki Bouki for its lyricism and its intimate portrayal of slum life laced with both the knowing affection for home and the hunger for escape. Only here, instead of the musical refrain of Josephine Baker, we get the Sex Pistols's cover of "Lonely Boy."
Nadie es Inocente screens with the short "San Frenesi," a female-driven road movie with a similar Third Cinema by way of French New Wave style. Spectacle's Minter survey also includes Sabado de Mierda ("Saturday of Shit"), which revisits Neza circa 2000 for a punks-vs-rockers docudrama, and Alma Punk, a Mexican riot grrl movie. And to round things out, the venue is also including legendary Mexican exploitation film Intrepidos Punks, which is, in its own utterly debased, tasteless, and impossibly entertaining way, as much of a must-see.