Featured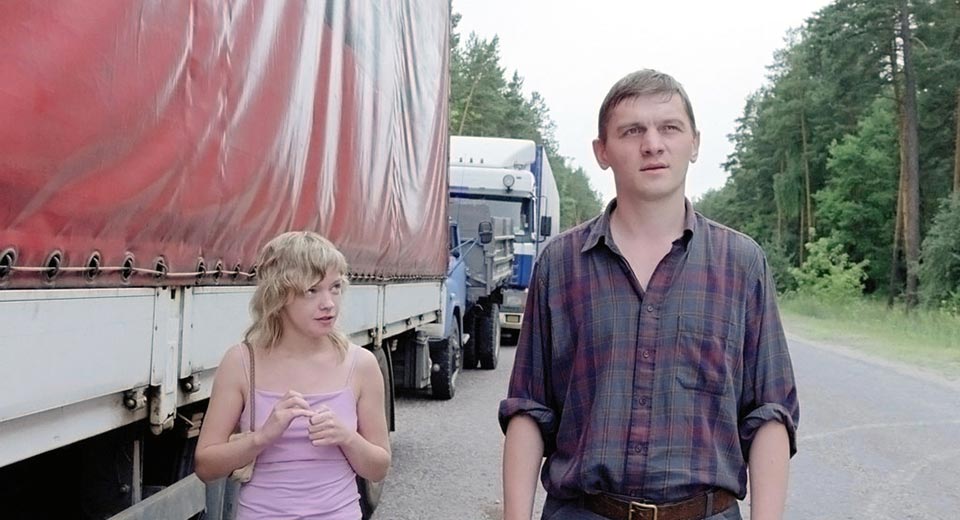 June 25th 2018
Speaking about his latest fiction film, A Gentle Creature, Ukrainian director Sergei Loznitsa specified to The Guardian this spring: "Hell isn't when horrible things happen. Hell is when horrible things happen again and again." Repetition is a central theme of exploration across Loznitsa's prolific career, with multigenerational trauma also at the heart of his very first feature, 2010's My Joy, which screens today at the Museum of the Moving Image as part of the not-to-be-missed month-long program on Putin's Russia.
My Joy is not the first road movie to pop up in this series—in part because the curators have done an excellent job looking for the Russia that exists beyond the cosmopolitan centers of Moscow and St. Petersburg. This film in particular is set on the rural (and therefore unpredictable) roads outside Smolensk, a region to the southwest of the capital. It is here that truck driver Georgy is fatefully tasked with transporting flour on an intense, dread-filled journey shot by the masterful Romanian cinematographer Oleg Mutu (of 4 Months, 3 Weeks, and 2 Days and The Death of Mr. Lazarescu acclaim). Toggling between the brutal violence of the Great War in un-earmarked flashbacks and the corrupt, blood-soaked bureaucracy of post-Soviet Russia, Georgy's journey also takes him closer to the ruthless, dog-eat-dog reality of this ancient nation's latest, and possibly darkest, incarnation in history.
Loznitsa's A Gentle Creature will also screen as a part of this series (on June 29), and the coupling of these two fiction features (Loznitsa is perhaps best known for his work as a documentarian) offers a thorough perspective on the unforgiving arteries, both literal and figurative, of modern Russia. Through a shared interest in unwarranted violence and the endlessly frustrating, all-powerful authority figures that impose their cruelty on a whim, My Joy and A Gentle Creature don't simply show us what hell looks like today—they show us that some parts of Russia perhaps never really departed from it in the first place.