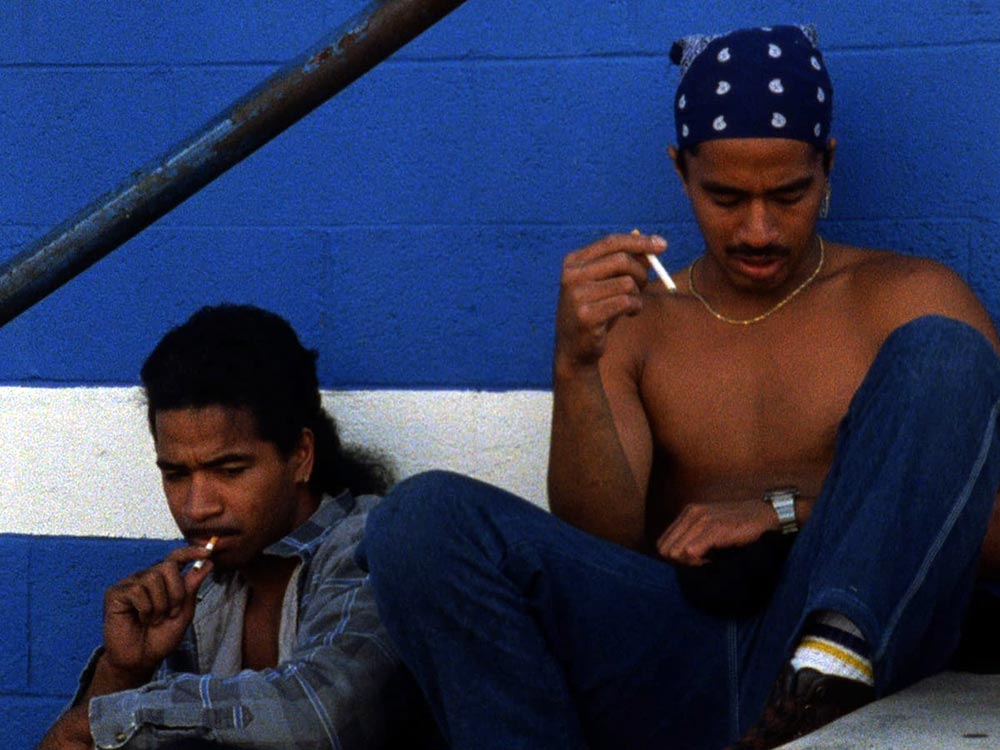 February 6th 2022
There are several straightforward reasons to pair as a double feature Jean-Pierre Gorin's My Crasy Life (1992), about the Sons of Samoa gang in Long Beach, and Roddy Bogawa's Some Divine Wind (also 1992), a loosely autobiographical exploration of Nisei rootlessness. Both premiered at Sundance 1992 in a momentous lineup of indie films, currently spotlighted in a program on the Criterion Channel. Both are docufiction works concerning diasporic and bicultural identity in Southern California. And the filmmakers share an artistic lineage: Bogawa studied under Gorin and Babette Mangolte (the cinematographer of My Crasy Life) at UC San Diego.
However, it would be misleading to introduce these films as specifically American or Californian in scope. Rather than constrain themselves to capturing a particular (local, ethnic, urban) milieu, both films spin expansive transpacific tales out of detailed observations of everyday life. We are taken on backstreet journeys to times and places far beyond SoCal, as songs and stories conjure up repressed histories and future worlds. Facing California from other shores, a boundless psychogeography unfolds.
Gorin and Bogawa employ science-fiction elements to frame their fragmented narratives. In My Crasy Life, a KITT-like talking computer in the squad car of LAPD sergeant Jerry Kaono acts as an unofficial narrator. One of its favorite topics is Kaono's increasing involvement in the life of Limu, a Samoan delinquent from Oʻahu. Kaono also has personal ties to Hawaiʻi, and feels partly responsible for Limu's well-being. His electronic companion, like a snarky, know-it-all sociologist, questions what he's really after, and whether he can overcome his antagonistic relationship to the communities he patrols.
Some Divine Wind grafts the structure of La Jetée (1962) onto the relationship between Ben, a Japanese-American man, and his girlfriend Helen, a white woman fascinated by all things Japanese. As with La Jetée's protagonist, Ben's childhood is the scene of a crime: his American father took part in a WWII bombing mission that killed his mother's family in Japan. Ben and Helen stroll through museums, zoos, and gardens, locations that function not just as memory palaces, but as places where the racist, colonial history of classification and exhibition becomes evident. An eerie scene at the California Science Center sees Ben repeatedly morphing his face with those of famous (white) men in a sequence of still photographs.
If a shared conflict exists in these films, it emerges from the perils of navigating identity's borderlands. In My Crasy Life, the Sons of Samoa are proud of their family histories and traditions, even though many have strained relationships with them, and wish they could speak better Samoan. In a pointed interview, an older gang member asks a younger member if he would choose the gang over his biological family. The answer is unambiguous, yet tinged by sadness: the gang has always been there for him, while his family has rarely cared. In Some Divine Wind, Ben grows increasingly distant from and uncomfortable with Helen as fleeting images of Japan and Hawaiʻi assault his mind. How many are reflections of himself? How many were planted by his father? By Helen?
The use of textual fragmentation to represent diaspora is by now so frequent that both films can sometimes feel quaint. What ultimately distinguishes them is their appropriation of techniques from Marker and Godard in service of a punkish, undisciplined ramble, rather than an essayistic formalism. They position diasporic identity as being just that—a drift from notions of "homeland" altogether, as opposed to a mixture of cultures that one inherits. And yet the impossibility of escape hounds everyone. Two gang members who have moved to Hawaiʻi discuss the prospect of helping the gang again in a time of need: "I ain't gonna turn my back. If they do call upon us, hey, we'll go back." Twenty-five hundred miles away, Ben parks his motorcycle near an airport and watches planes take off and land. La Jetée ends cyclically, with its protagonist experiencing a death foretold. But for Ben and the gang members in Hawaiʻi, history isn't a done deal. There is still time to make amends with the past and find out who they might become.
My Crasy Life and Some Divine Wind are streaming on the Criterion Channel as part of the program "Sundance Class of '92: The Year Indie Exploded."