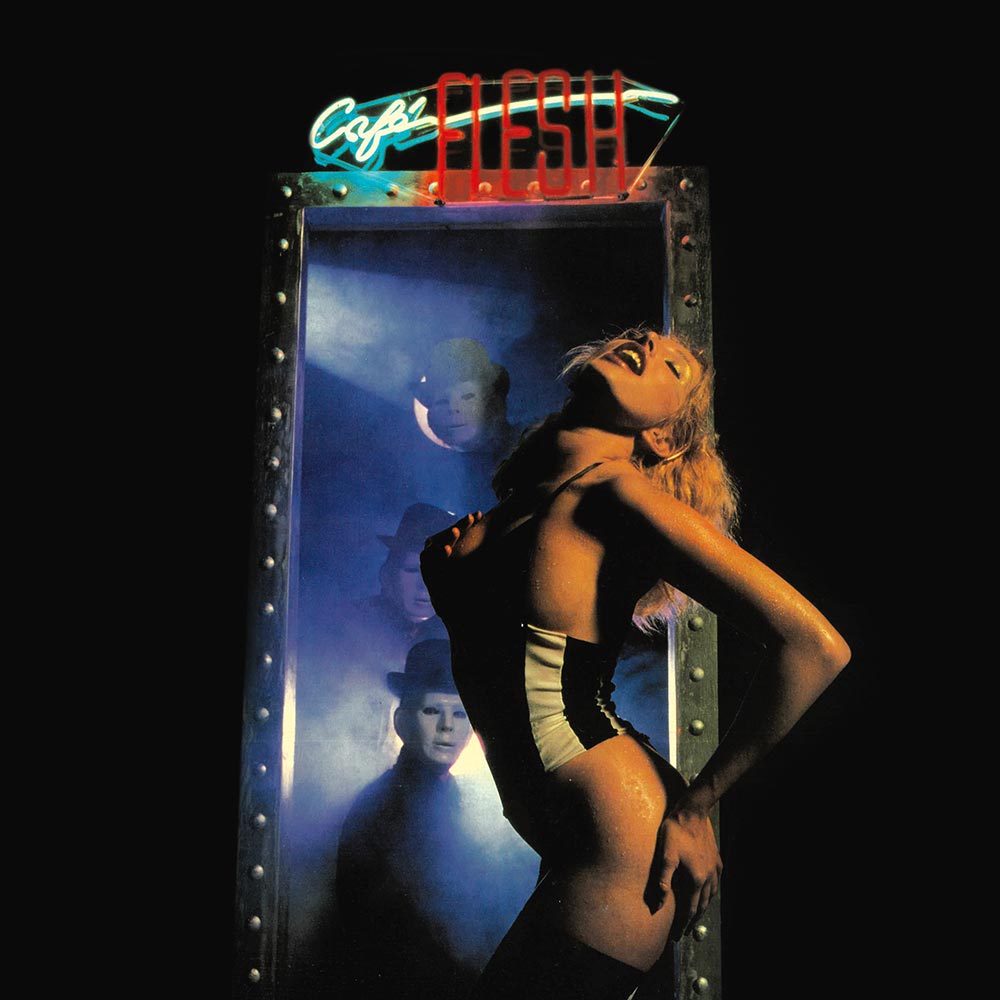 February 8th 2022
This month boutique film label Fun City Editions released the soundtrack to Stephen Sayadian's seminal post-punk porn film Café Flesh on LP and cassette. Screen Slate is pleased to publish an excerpt from the extensive liner notes by filmmaker and curator Jacqueline Castel, who interviewed Sayadian (aka Rinse Dream), screenwriter Jerry Stahl, and composer Mitchell Froom for the limited release.
"I knew exactly what I wanted with the soundtrack," Director Stephen Sayadian recalled. "I wanted it to sound like an Elmer Bernstein score from the '50s, only played with the most modern synthesizers available at the time. I thought: old vibe, new technology. And Mitch [Froom] was right on it, he understood."
Café Flesh's earliest inception began when two wildly unorthodox creatives met in the mid-1970s at Hustler magazine's Columbus, Ohio, offices, ground zero for Larry Flynt's budding pornographic empire. By age twenty, Sayadian was the creative director in charge of humor and advertising at the publication, conceptualizing highly controversial (and highly profitable) ad campaigns for Hustler's newly launched product line. Sayadian's use of satire was a potent and provocative means to sell products from love dolls and sex toys to Hustler-branded merchandise. His unprecedented style would come to define the magazine's iconoclastic and subversive aesthetic, and also create unrivaled economic growth for the young company. Another twenty-year-old, Jerry Stahl, was a newly recruited humor writer from New York, living in a local YMCA after responding to an ad placed in The Village Voice, and authoring pornographic novels to pay the bills. Stahl said of meeting Sayadian for the first time: "I just thought I was looking at Frank Zappa's long-lost little brother. He was just instantly cool. He totally got what I was like, and we became best friends."
After relocating to Hustler's new Los Angeles headquarters (where Stahl was promptly fired), and hot on the heels of the attempted assassination of Larry Flynt in Georgia, the two friends and Hustler photographer Francis Delia shifted their focus away from magazine work. Sayadian and Delia began an art direction company named Wolfe Studio, designing one-sheets for films by John Carpenter, Brian De Palma, and Tobe Hooper. Sayadian and Stahl began collaborating on writing feature films, a radical cocktail of Sayadian's expressionist visuals, Stahl's disturbed dialogue, and explicit hardcore. Stahl christened Sayadian with his iconic porn moniker, "Rinse Dream," explaining that "we wanted something that would be perplexing to the straights, and Rinse Dream is obviously hard to figure out. I think it's vaguely beauty salon related, but I couldn't tell you specifics," noting that "drugs are not kind to memory." Stahl meanwhile adopted the pseudonym Herbert W. Day, the name of his high-school principal who, to Stahl's massive humiliation, would swat his ass in front of the entire class: "so I figured I'd make him famous for being a pornographer."
To flesh out Café Flesh's new sexual soundscape, Sayadian enlisted Mitchell Froom to compose the score. Froom was one of Stahl's oldest childhood friends from prep school and a musical prodigy who later became a Grammy-nominated producer in Hollywood. Of his friendship with Froom, Stahl said: "A couple of Jewish kids got shipped away to an Episcopalian rich kid school, when neither of us were Episcopalian or particularly rich, and that's where we met. A couple of outsiders." Froom was "shy until you got to know him," said Stahl, "and then you realized he was this brilliant, wickedly funny guy." Froom, still at the onset of his career, was keen to make a mark. "I was coming from zero," he said. "I was just trying to get established in the world." Café Flesh was conceived by Sayadian to be what Froom described as a "R-rated movie, funded by X-rated people" where Froom would have "total freedom, because there was no money or time."
Froom first wrote Café Flesh's title theme "Thrill Factor,'' which the delighted Sayadian deemed a homerun. After locking the edit, Sayadian created a click track with music cues for the entire film as a sonic reference for Froom. He included compositions from the soundtracks to The Man with The Golden Arm (1955) and The Sweet Smell of Success (1957) as well as modern tracks by Kraftwerk and The Special's haunting 1981 ska hit "Ghost Town" for the original nightclub skits, with interstitial scenes scored with ambient tracks by Brian Eno.
At the time, Froom was inspired by film composers Henry Mancini and Nino Rota, seeking a "dissonant, real chromatic, and twisted take" on their work using synthesizers and jazzy chords. This melding of genres complemented the California underground art and music scene at the time, which was mining similar influences, from Richard Elfman's stylized musical The Forbidden Zone (1982) and David Lynch's surrealist Eraserhead (1977), to the experimental deviance and anonymity of The Residents and the absurdist humor and pop sensibility of Devo (Devo cofounders Mark Mothersbaugh and Jerry Casale went on to become huge fans of Café Flesh, and Danny Elfman later approached Sayadian to direct a music video for Oingo Boingo that never materialized). Café Flesh would also undoubtedly inspire later doomsday musical efforts, including Population: 1 starring Tomata Du Plenty, frontman of Los Angeles synth punk band The Screamers.
After Sayadian cut the "R" version of the film, he was forced to incorporate hardcore cabaret acts into the film by its financiers. "I got financing from three guys—two were hardcore producers and one was a Harvard business grad who somehow got lost in the porno world." Sayadian re-shot the hardcore scenes after the film's principal photography with pornographic performers. He returned to Froom, explaining, "I want you to extend some of these pieces because we may have to put porn in there. And all I can say is, I want the music to be as disturbing as possible. I don't want it to be hot or sexy or anything like that." Froom responded by getting darker and stranger with his compositions, extending them all by a couple of minutes without seeing the final cut. This complemented the film's approach to its new explicit content. "We came up with repulsive, anti-sexual, anti-stimulating sex," said Stahl. "We wrote sex scenes designed to keep you from getting an erection."
Café Flesh's initial release as a hardcore film failed within a week of opening at Hollywood's porn palace the Pussycat Theatre, too alienating for what Stahl called the "raincoat brigade," causing a near riot with patrons demanding their money back. But Café Flesh was later rediscovered as a cult film on the midnight-movie circuit, breaking the house record at LA's Nuart Theatre and replacing audience favorite Pink Flamingos (1972). As Stahl later wrote in Playboy, the "synthesis of punk fashion and Fifties dialogue" in Café Flesh boasted a particular appeal to "youthful art victims." This breakout was also due to the film's popularity in LA's punk subculture and Sayadian's proximity to that scene. Along with scouting extras for Café Flesh at a nearby methadone clinic and blood bank, Sayadian discovered his talent at Hollywood clubs like Cathay de Grande and Club Lingerie, as well as the late-night fast-food joint Oki-Dog, popular with local punks. Sayadian's Hollywood Boulevard office in the Cherokee Building also shared space with the owner of the infamous punk club The Masque, located across the street in the basement of the Pussycat Theatre (where Café Flesh originally screened, albeit at a different location of the Pussycat chain on Santa Monica Boulevard). Darby Crash of the Germs even worked for a time as Sayadian's assistant, bringing him coffee every day. "I think half of LA was in it," Sayadian said of the film, "and everybody came to see it. All the extras came and brought their friends, because they were all in it." This likely prompted iconic LA radio DJ Rodney "on the ROQ" Bingenheimer to proclaim: "The music in 'Café Flesh' is the rock of the 90's," a quote later featured in Nuart's marketing.
This buzz likely contributed to Froom's later signing with iconic Los Angeles punk label Slash Records, by then a division of industry giant Warner Music. Froom's record deal was also made possible because he was the sole person to use his real name in the film's credits. Sayadian noted "when the guy from Slash Warner saw it, all he had to do was pick up the Hollywood phonebook and call." Using real names was an unsavory prospect for the rest of the cast and crew. While partly a creative decision (which also lent a certain mystique to its creators), the film's pseudonyms fulfilled another important purpose—to avoid the LA Vice Squad. The state of California still classified shooting pornography as a felony. Crews risked getting charged with pandering or prostitution, despite it being legal to exploit such work theatrically. Commenting on this inherent hypocrisy, Stahl noted that porn was "only criminalized for people who didn't have enough money to pay off the cops." And in an eerie reflection of Café Flesh's own plot, the state was restricting the populace's participation in (and monetization of) sexual activities, but not the audience itself.
Slash Records's founder, Bob Biggs (then married to punk documentarian Penelope Spheeris, who moonlit as an actress in the LA pornographic picture Brothers in 1973), approached Froom to repackage Café Flesh's score as a solo album rather than billing it as a soundtrack because, according to Froom, "he didn't like the movie enough." Froom obliged, rechristening the soundtrack as his first solo album The Key of Cool, based on a title Stahl came up with. Stahl would also name all of the album's tracks. Froom said of the process that Stahl "would write out pages of titles off the top of his head and let me choose what I liked." The album connected to Café Flesh's aesthetic by featuring artwork by Sayadian depicting characters from the film, and later on, promotional stickers that were added to the record's packaging. Froom composed two new tracks, "Blue Lips" and "Patio," which he recorded in San Francisco at the Automatt (located one flight down from Francis Ford Coppola's film company American Zoetrope). He added to the existing soundtrack, bringing in Stahl to contribute vocals, prompted by Slash Records's request for more lyrical content on the album. Froom also removed a couple of pieces from the original Café Flesh score because they didn't seem "focused enough for an album that wasn't solely a soundtrack LP."
Slash released The Key of Cool in 1984, with artwork designed by Sayadian and photographed by Flesh's cinematographer and Sayadian's creative partner Francis Delia, aka F.X. Pope. It features the same white-masked figure, donning a top hat, seen in Café Flesh and later used in the film's original poster design. The image is evocative of a twisted '80s neo-noir take on The Phantom of the Opera, or perhaps more appropriately, Brian De Palma's The Phantom of the Paradise (1974). The album won praise upon release, with one reviewer stating it had "the icy feel of underworld depravity, heightened by sexual innuendo." In his column for Andy Warhol's Interview magazine, writer Glenn O'Brien proclaimed: "This is modern living music." Another reviewer stated that what was really "cool" about the record was "the wit that animates this synthesis of aesthetics, keeping the music teetering on the brink between alienated pathos and cartoonish bathos. In short, the ideal record to play while waiting for them to drop the big one."
Despite the warm reception, the album's moment came and went. "I would love to invent a story where youngsters came up to me in airports and asked me to sign their Key of Cool album," joked Stahl, "but I can't say that happened." But it did light a match for Froom's career, with Slash approaching him next to work with their latest act, Boston garage band The Del Fuegos, launching Froom's career as a music producer. "One thing it did do," said Froom of the score, "it gave me a little bit of street cred. Because I could say I got my start in porn." He would later go on to work with everyone from Paul McCartney to Sheryl Crow to Elvis Costello, earning multiple Grammy nominations in the process.
Although Café Flesh is a nightmare from which we can still awake, will our global post-pandemic age heed its warning of a future past? The outcome remains to be seen, but at least humanity's imminent mutations can now cruise into the impending apocalypse with Café Flesh's seminal soundtrack. If Café Flesh begs the question "Do mutants dream of irradiated sheep?" then perhaps the answer lies within this record and the ominous theme that plays at its center: WE DON'T DREAM.
The soundtrack to Café Flesh, composed by Mitchell Froom, has been restored from the original master tapes and reissued on cassette and vinyl by Fun City Editions.