Featured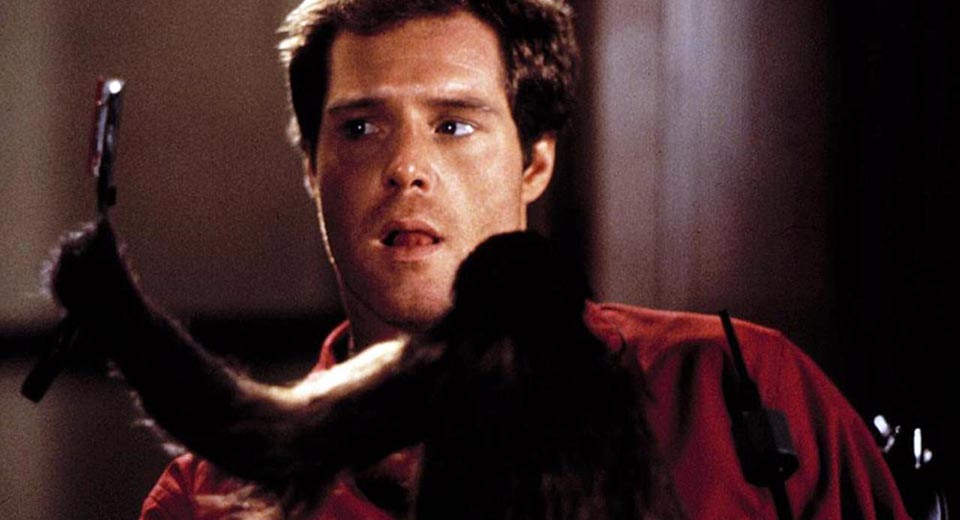 June 19th 2017
What's better for the summer than movies starring monkeys? Anthology Film Archives knows the answer: nothing. Anthology's Simian Verite series includes films by masters Howard Hawks, Frederick Wiseman, Barbet Schroeder, and George A. Romero, whose underseen Monkey Shines  plays tonight. In the film, Allen (Jason Beghe), an athlete in training, is hit by a truck and is no longer able to use his arms or legs. A quadriplegic whose girlfriend leaves him and whose mother (Joyce Van Patten) is shrill and overbearing, Allen is determined to kill himself when his friend Geoffrey brings him Ella, a helper monkey that is sure to brighten up his life.
It all sounds so sweet and uplifting, until you remember it's a George Romero film. Allen's scientist friend Geoffrey is actually a speed freak who has been injecting Ella with with human brain tissue (be warned: there are some scenes of animal experimentation, although no animals were hurt in the making of the film). Ella loves Allen—really loves him, and begins to take her jealousy out on anyone who is too close to him, including his new nurse girlfriend (Christine Forrest, Romero's wife at the time), as well as Allen's old enemies. Under her sweet little Capuchin face is a man-made killer.
Not a critical or financial hit upon its initial release in 1988, Monkey Shines has become a low-key cult favorite in Romero's catalogue, and with good reason. Jonathan Rosenbaum called it "one of George Romero's most effective and interesting horror thrillers," and Allen's terrifying nightmare sequences are some of the best scenes Romero has ever directed. If you're a fan of monkey actors, you're in luck—Ella is not only adorable, but is incredibly emotive for a monkey actor (reminiscent of the equally great horror film primate acting in Dario Argento's Phenomena). The concept may seem silly, but Romero and Ella pull it off with style and real scares.