Featured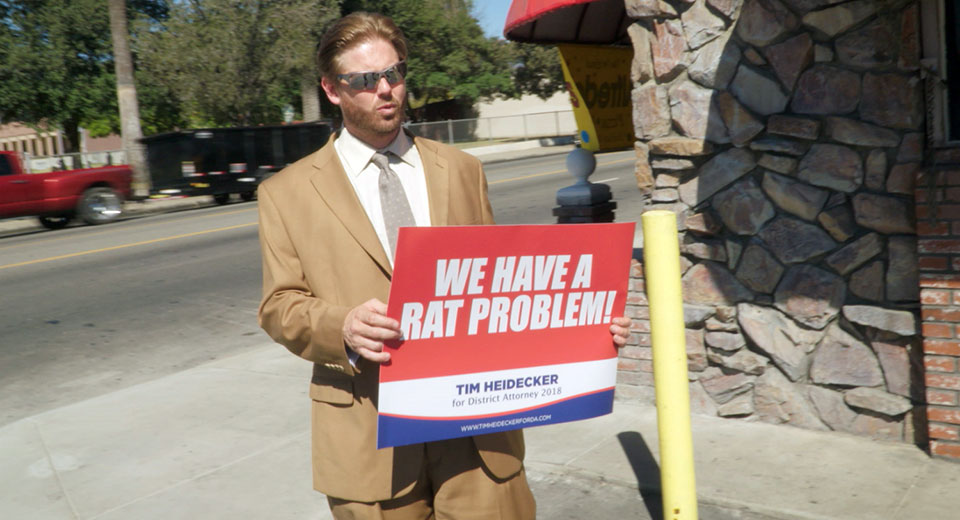 October 10th 2019
Fans of the On Cinema Universe are divided into two camps: Greggheads and Timheads. The Greggheads are aligned with Gregg Turkington (Gregg Turkington), cohost of the quasi-fictitious On Cinema at the Cinema web series. Turkington represents preternatural sweetness and unparalleled movie expertise, enamored of films like the George Burns vehicle Oh, God! and able to summon the exact runtime of any movie at the drop of a swag-giveaway baseball cap. On the other hand, the Timheads are petty lords of misanthropy. Like Turkington's co-host Tim Heidecker (Tim Heidecker), they know nothing of cinema, and use their position to pursue new schemes that advance their personal, non-movie interests. The dichotomy of the Tim and the Gregg is the substance of On Cinema, what Full Metal Jacket's Pvt. Joker might call "the duality of man — the Jungian thing."
But in practical terms, On Cinema is much more. The short-form web series began in 2013 as a satire about a pair of Siskel & Ebert pretenders who rate everything on a scale of one to five bags of popcorn. (Rarely does anything receive fewer than five bags, although bonuses such as soda are occasionally thrown in.) But as seasons progressed, the initially light interstitial banter snowballed into a sprawling "On Cinema Universe" of conflicts and spin-offs, including the Z-grade action show Decker, the rock band Dekkar, On Cinema On Location, and the Victorville Film Archive (the world's largest collection of VHS, run by Turkington until Heidecker burned it down to collect the insurance money). This reached its greatest pitch in season 9, in which Heidecker's "nutritional vape" system allegedly led to the deaths of 20 attendees of the Electric Sun Desert Music Festival in Apple Valley, CA. Subsequently tried for second degree murder but released after a mistrial, Heidecker set his sites on unseating his prosecutor, Vincent Rosetti (Don Pecchia), to become the new District Attorney of San Bernardino County.
Most of this background is summarized or can be inferred in Mister America, the first theatrical feature film to arrive from the On Cinema universe, which chronicles Heidecker's subsequent campaign. In the latest of his mercurial iterations, Heidecker portrays Heidecker as a blustering, Trumpian idiot who seems unphased that his name recognition comes mainly from the widespread belief that he's a mass murderer. Modeled after the direct cinema documentaries of Robert Drew and his associates — Salesman and Primary most obviously — the film follows Heidecker door-to-door, cruising in his minivan, and holding strategy meetings in his quixotic attempt to defeat Rosetti "the rat." Meanwhile Turkington, who in reality is somewhat of a Machivellean operator, contacts the filmmakers to meet at one of the filming locations of Oh, God! to share dirt on his co-host. At once sweet, cunning, insecure, and infatuated with the filmmaking process, Turkington is Mister America's wayward heart.
Mister America has limited appeal outside On Cinema heads, but it's catnip — or a ziplock bag of popcorn — for them. It runs exclusively at Metrograph for the next week and hits streaming platforms tomorrow. The release also serves as the occasion for the series No Joke: Absurd Comedy as Political Reality, which runs through November 16 at the Museum of the Moving Image.