Featured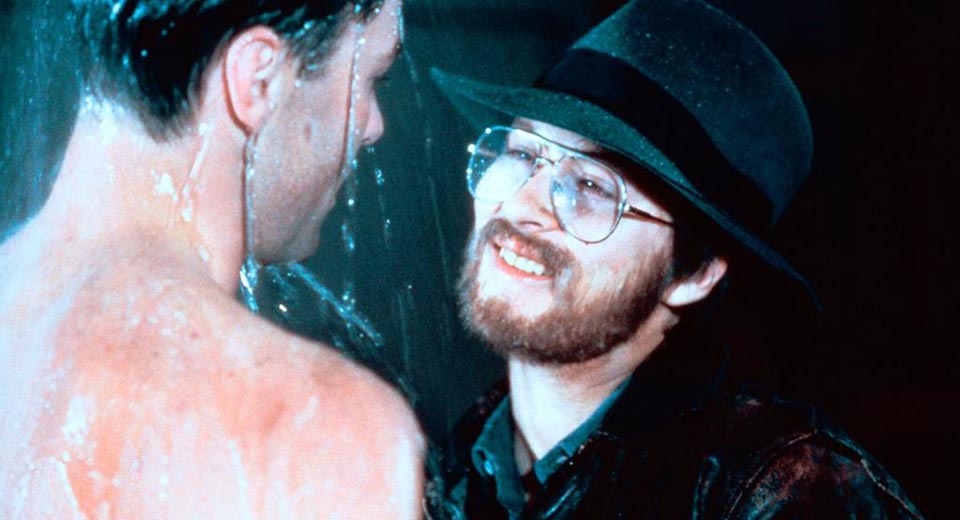 May 26th 2017
Tonight Anthology Film Archives continues its wonderful and wide-ranging Cross-Dressing and Drag on Screen series, guest-curated by John "Lypsinka" Epperson, with a rarely-screened must-see for Fassbinder fans, Radu Gabrea's flawed but fascinating A Man Like EVA . 
Eva Mattes, known for her performances in Fassbinder and Werner Herzog films, stars—in drag—as EVA, a tyrannical movie director clearly meant to be understood as a barely-fictionalized representation of Fassbinder. (The name is in all caps: "EVA," recalling "RWF," as Rainer Werner Fassbinder is often rendered.) In her fake beard and leather jacket, Mattes is instantly recognizable as Fassbinder, slyly emphasizing the degree to which Fassbinder himself performed a kind of drag in fashioning his iconic persona. Her tour-de-force performance reaches a delirious pitch in a moment of drag within drag: Mattes in drag as EVA/Fassbinder, who is himself in (admittedly somewhat half-hearted) drag, dressed in a bridal gown and veil, still-bearded, his dress slipping off to reveal the ever-present leather jacket underneath. 
Released less than a couple years after Fassbinder died, aged 37, from a lethal combination of sleeping pills and cocaine, it is hard not to view A Man Like EVA with this sudden loss in mind. At the beginning of the film, the camera tracks by a Tracey Emin-like bed, in disarray, under the glow of a nearby TV, calling to mind reports of how Fassbinder was found dead on a mattress, with the TV on, a cigarette still in his mouth. A Man Like EVA condenses much of the lore from this brief but infamous life into the timeframe of one film shoot, for a film-within-a film, an Effi Briest-like costume drama.Fassbinder devotees will recognize allusions to Beware of a Holy Whore, Querelle, and others of his films. That the film-within-a-film should be a costume drama seems no accident, however. As the film progresses, scenes of Eva Mattes in Fassbinder drag directing, and tormenting, actors in frilly nineteenth century garb start to take on an almost hallucinatory quality. 
Most disturbing, however, is how compellingly A Man Like EVA suggests that, as a filmmaker, Fassbinder could portray the cruel and unjust power imbalances at work in society as incisively as he did by reproducing some of the same brutal conditions on set and in his relationships with his lovers and collaborators. EVA treats Ali, his former lover and the only person of color on set, like a servant. (His name and other details clearly refer to El Hedi ben Salem, who played the title role in Fassbinder's Ali: Fear Eats the Soul.) EVA torments his lead actress, but lusts after his unattainably straight, white male lead. 
That a Fassbinder actress should play this part, then, seems all the more appropriate. What better preparation for this role than to have been one of his famously tormented actors? Better still—one of his famously tormented actresses. Interviewed by Juliane Lorenz (another Fassbinder collaborator and lover), Elisabeth Trissenaar recalled a particularly grueling day on the set of In a Year with Thirteen Moons with costar Eva Mattes, as Fassbinder kept demanding more and more takes of the same scene: "Eva was supposed to cry. She had started to concentrate on crying early in the morning, during makeup, and she cried in take after take until it got to be afternoon and then early evening. And she just couldn't any more." Over the course of hours and hours, "she had become used to her sorrow, and had turned to stone. Her face was ruined, dissolved, as if a tank had driven over it. It looks wonderful on film." A strikingly similar scene takes place in A Man Like EVA, but this time Eva Mattes gets to play the director.