Featured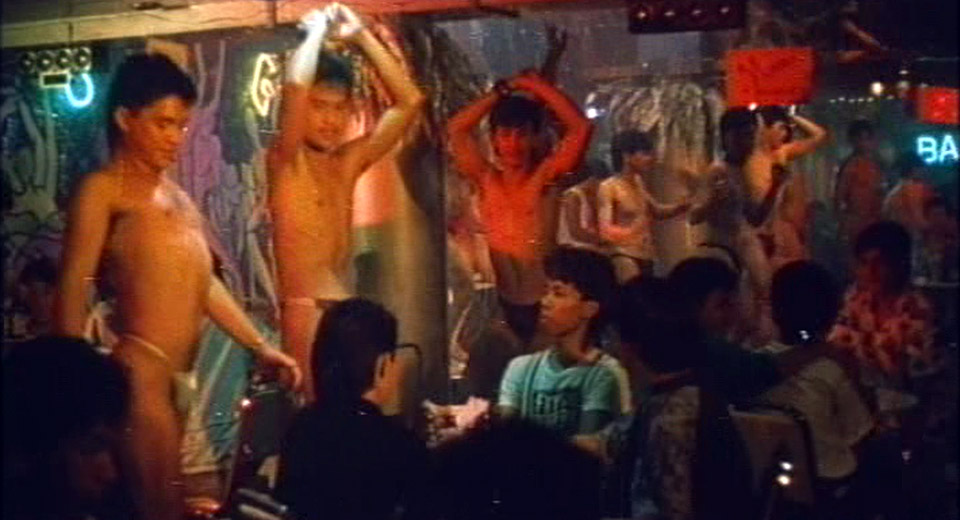 January 4th 2020
Screening this evening as part of the Museum of Modern Art's ragtag survey of international teen movies is Lino Brocka's gay bar potboiler Macho Dancer, a rare opportunity to see the film's sole uncensored 35mm print, smuggled out of the Philippines by Brocka. It follows the wide-eyed Pol (Alan Paule) as he moves from the countryside to Manila, detailing his gradual inauguration into the ranks of the male strippers at Mama Charlie's Pub. He's taken under the wing of Noel (Daniel Fernandez), a call boy in desperate search for his sister whom he believes has been kidnapped and trafficked. He becomes Pol's guide through the street scene's attendant criminal underbelly, which includes rampant sexual exploitation, drug abuse, and a corrupt police force, an embodiment of Brocka's frustrations with the Aquino administration.
Dancer operates in the tradition of Filipino softcore (parallels include Tikoy Aguiluz's earlier Boatman, or Mel Chiongolo's subsequent "macho dancer" trilogy) while also bringing to mind the poverty realism of Hector Babénco's Pixote. Cast with primarily first-time actors, the film doubles as a work of social critique and a lusty appreciation for striptease choreography as art-form. It spends an ample chunk of its two hour plus runtime on sex scenes (both gay and straight) and tawdry red-light dance numbers set to Manila sound power-ballads, including a particularly memorable (and seasonally appropriate) end credit sequence backdropped by Christmas decorations.
Brocka had a Fassbenderian output both in scope (60 films in just over two decades) and subject, running the gamut of domestic melodrama, crime thriller, and comic book adaptation. In the past decade his films Manila in the Claws of Light and Insiang have been recouped as masterpieces of international cinema, re-entering repertory rolodexes and enjoying proper Criterion home video releases, while his filmography has been most recently surveyed in a brand new monograph by scholar José B. Capino, out on University of California Press this week. On the whole, Brocka's work remains largely out-of-print and underexplored, particularly his genre movies like the Dancer.
For a certain generation of audiences in the United States, the first encounter with the late titan of Pinoy cinema was through occasional arthouse screenings or worn-out VHS copies of Macho Dancer. Its US release in 1990, just one year before Brocka's death by car accident, played a not insubstantial role in the forging of the stateside New Queer Cinema. Its distribution served as the catalyst for the founding of Marcus Hu and Jon Gerrans' Strand Releasing, eventually responsible for producing and distributing a lions' share of LGBT independents, including Gregg Araki's Totally F*cked Upwhich also plays at MoMA this month. There is something unmistakably proto-nineties about Dancer, with elements of film seemingly anticipating the pace and style of the following American zeitgeist—the gaudiness and grit of Larry Clark, and the fairytale moralism of later erotic coming-of-ages Showgirls, Boogie Nights, or even Coyote Ugly.