Featured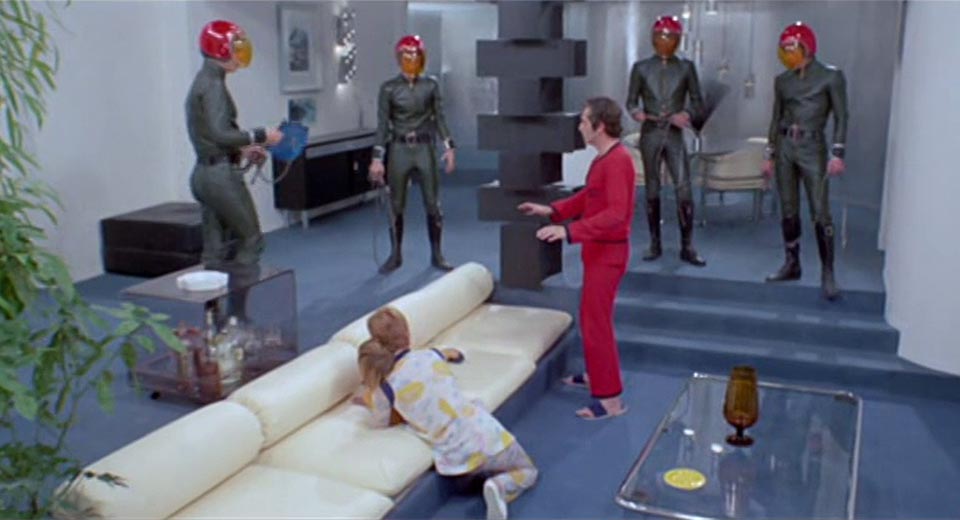 June 3rd 2018
Tonight, Screen Slate's own Jon Dieringer introduces Spanish firebrand Eloy de la Iglesia's To Love, Perhaps to Die (1973) at the Alamo Drafthouse as part of their Weird Wednesdays series. Iglesia's film was punk before punk, an ill-mannered screech at Francoist Spain concocted from giallo potboilers, righteous queer pride, leftist jabs and unabashed Kubrick worship.
Kubrick's Lolita, Sue Lyon, plays a nurse with a yen for murdering young studs post-coitus. The television, when not hawking revolting blue beverages and animal print underwear, attribute her crimes to a deranged homosexual serial killer. She's eventually discovered and blackmailed by David, who's on the run from his band of leather-clad, behelmeted droogs. Meanwhile she's courted by her boss, Victor (Jean Sorel), whose lab experiments seek to annihilate inherent criminality. Iglesia sympathizes with the hustlers and nihilists without beatification, while simultaneously unloading weapons-grade scorn on the media, medical establishment and law. "I couldn't care less about being useful to society!" David shouts after receiving advice from the television. The line seems to come directly from Iglesia.
Less a remake of A Clockwork Orange than a grungy karaoke version, To Love, Perhaps to Die has more fun with the material (though no one could accuse Kubrick's film of being humorless) by embracing its potential as an exploitation piece without sacrificing an ounce of the political commentary. Iglesia's plot argues in part that state violence trickles down to create a fevered, empty society with its tail in its mouth. The joyous carnage on display makes the case that obscenely belching out such arguments is as necessary as it is fun.