Featured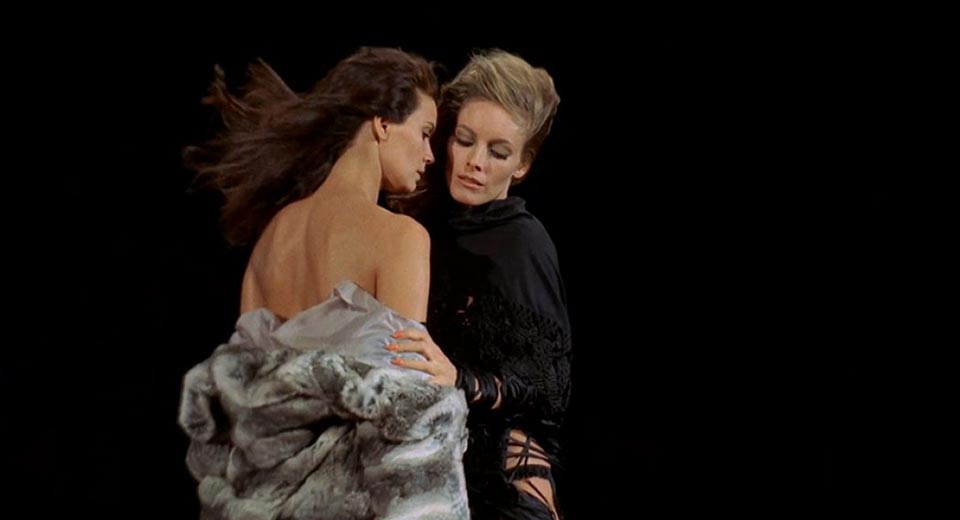 November 25th 2018
Quad Cinema's presentation of "Perversion Stories: A Fistful of Giallo Restorations" is a perfect time to reevaluate the reputation of one Lucio Fulci, known primarily as a maestro of gore. And most of Fulci's career bears that out: starting in 1979 with the Video Nasty classic Zombi 2, his filmography is full of impaled eyes, disemboweled corpses, and readily-flowing bodily fluids. But early in his career, Fulci explored a variety of genres, like Spaghetti Western, adventure, science fiction, and, most spectacularly in 1973's A Lizard in a Woman's Skin, giallo, with more in common with Alfred Hitchcock than Joe D'Amato.
Arthouse/grindhouse mainstay Florinda Bolkan stars as Carol, an uptight housewife with an even more uptight husband (Jean Sorel) and a somehow even more uptight politician father (Leo Genn). Her neighbor Julia (Anita Strindberg) has wild, loud happenings that reverberate through the walls into Carol's staid dining room — and even deeper into her subconscious. Carol starts having erotic, disturbing dreams about Julia, which culminate in Julia's murder at Carol's hands. When Julia is found dead in reality, and Carol must figure out the link between her dreams and reality.
A Lizard in a Woman's Skin is thematically the closest Lucio Fulci got to his Italian horror peer Dario Argento; the twists and turns in the film adhere more closely to the giallo model (detective story + proto-slasher elements) than Fulci's later nightmare logic. The film is colorful and wild, with orgies and LSD freakouts and painting-by-knife-throwing. The visuals are Fulci's most impressive, with shaky, disorienting camerawork that effectively echoes Carol's inner turmoil. This is Lucio Fulci at the top of his talents, and is ideally presented in this gorgeous new restoration.
[Viewers beware: the film contains one graphic, albeit staged, animal vivisection, that some such as myself may wish to look away from.]