Featured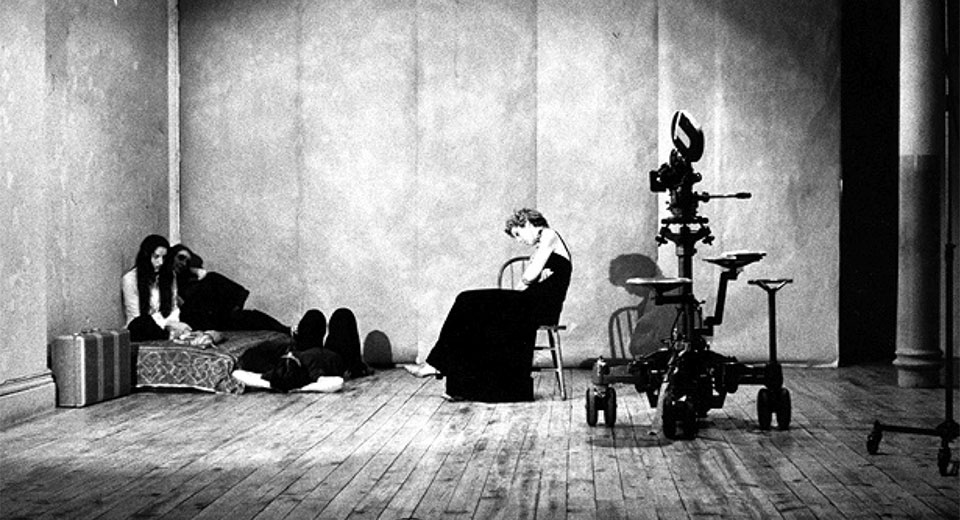 July 17th 2017
Marking the beginning of her gradual transition from live dance to filmmaking, Yvonne Rainer directed the feature-length Lives of Performers in 1972 after a psychologically debilitating 1971. Various "intestinal demons" struck Rainer throughout the second half of the 1960s, resulting in lengthy episodes of heavy medication and hospital stays. A physically rigorous performer's lifestyle exacerbated her turmoil, leaving her unable to cope when her then-lover Robert Morris ended their relationship. Soon after receiving information of his affair, Rainer was discovered unconscious on the floor of her loft, having swallowed a slice of pie with three full prescriptions of sleeping pills.
By her account, it was not a sudden awakening. But the following year was particularly productive for Rainer, as she "sought to struggle with an entirely new lexicon." Psychoanalysis seems to inform this period's work, and the language of the analysand leads to films that are much more thematically personal than Rainer's work of the '60s. Lives of Performers is also a portrait of a bygone era of young artists' symbiotic SoHo loft-living; the opening scene sets us in one such loft where seven dancers rehearse the steps of Rainer's Walk, She Said.
In Lives, the vocal command reigns supreme. Following the rehearsal scene, the first of many recurring intertitles appear, each bearing text by either Leo Bersani, Carl Jung, or Rainer herself. Bookending the film's paratactic series of sequences, these intertitles recall Hollywood film conventions of the 1920s silent era, pointing to that structure endemic to film in general and this film's problem: narrative. Lives' narrative is further effectuated by the voices of offscreen agents, Rainer among them, yet the space these agents occupy in relation to the film's visual substance is ambiguous.
On screen, Fernando, Sylvia, and Valda enact a choreographed dance that follows extra-diagetic dialogue of their characters' melodramatic love triangle. Though the ostensible filmic subject, this triangle—Rainer's pas de trois—undergoes meta-narrative diversions via the incorporation of changing actors, flagrant narrative bloopers, and temporal complexity. The pas de trois desublimates plot, placing compositional homogeny into the fallible realm of improvised rehearsal and performative error.
Douglas Crimp will introduce Lives, and Andy Warhol's 1965 Paul Swan will follow, another work that exposes the fragility of the wall separating performance and nonperformance. Once billed on marquees as "the most beautiful man in the world," polymath dancer and actor Paul Swan, then 82, is the subject of Warhol's still camera for two full 33-minute reels. Warhol's notorious allergy to editing results in a touching, convivial portrait of the late Swan, presenting him performing various soliloquies and scenes, dancing his most famous dance (1915's To Heroes Slain, his tribute to the soldiers of World War I), loudly searching for his shoes, and thrusting his bare ass in front of the camera during a costume change.