Featured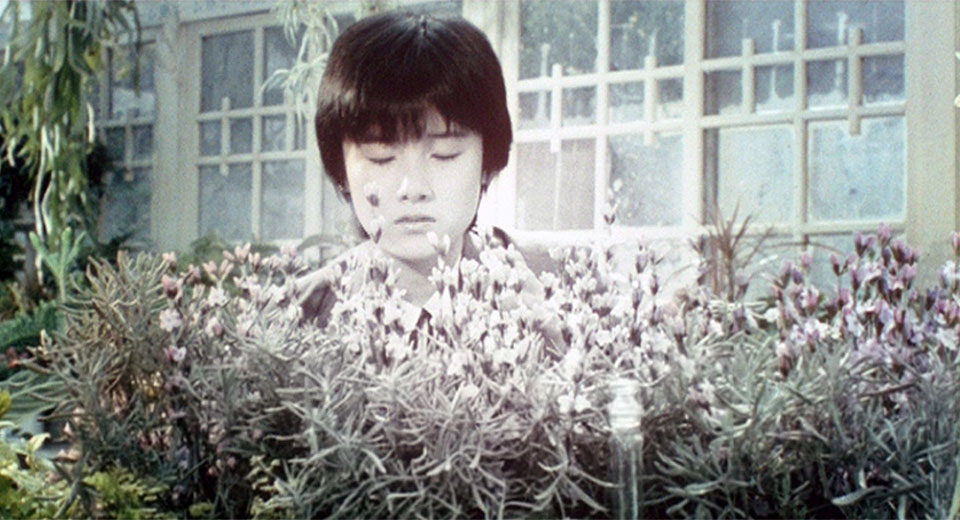 December 4th 2016
Filmgoers only familiar with Nobuhiko Ôbayashi's 1977 horror comedy House will be pleasantly confounded by wistful romance The Little Girl Who Conquered Time, screening as part of Japan Society's "POP! Goes Cinema: Kadokawa Film & 1980s Japan." Absent from the Society's extensive 2015 Ôbayashi retrospective, The Little Girl Who Conquered Time so perfectly represents Kadokawa's "media-mix" productions (capped by a temporally-reversed full-film redux-as-music-video sung by pop idol Tomoyo Harada in her debut film role), it had to be included in this series. Those expecting House's wall-to-wall insanity won't be completely disappointed—Ôbayashi's signature experimental techniques of selective color tinting, blatant rear projection/matting, pixilation/overlaid animation, and ellipsed editing are present—but as with the majority of Ôbayashi's films, it's entirely in service of deep nostalgia for the earnest, painful emotions of youth.
A skiing trip under oddly-matted stars sets up the main triangle between responsible, romantic young Yoshiyama (Harada) and her two male classmates, practical proletariat Goro (Toshinori Omi, working with Ôbayashi again after Exchange Student) and sensitive, mysterious Fukamachi (Ryôichi Takayanagi in his second Ôbayashi/Kadokawa film following The Aimed School).
After fainting in the school science lab, Yoshiyama wakes remembering the presence of an unknown person, a falling beaker, white smoke, and the strong smell of lavender. Unfortunately, her professor and friends say there was no person nor beaker, her face is covered in black soot, and no one else detected a smell. Yoshiyama's self-doubt and confusion compound as temporal oddities pile up post-accident, yet realizing she's reliving a tomorrow she thought was yesterday pales next to her growing recognition that her affections are shifting from Goro to Fukamachi.
The turning point is Yoshiyama's realization that a childhood memory she attributed to budding botanist Fukamachi actually belongs to earthy Goro, as Goro has the physical scar to prove it. Yoshiyama realizes she wants the memory to belong to Fukamachi, but neither her time-jumping nor desires can change history. All she can do is try to extend small, tender moments—singing together, a chance encounter, smelling lavender in a greenhouse for the first (second?) time.
The film's been accused of clunky handling of beloved material—Ôbayashi's focus on blossoming feelings puts plot on the back burner, to the point the film takes what seems (if you're unfamiliar with the source material) to be a hard left in the final third. But by playing to his strength of conveying deep longing for past moments, Ôbayashi is perfectly suited to tell a story about the pains of wrong time, real love.