Featured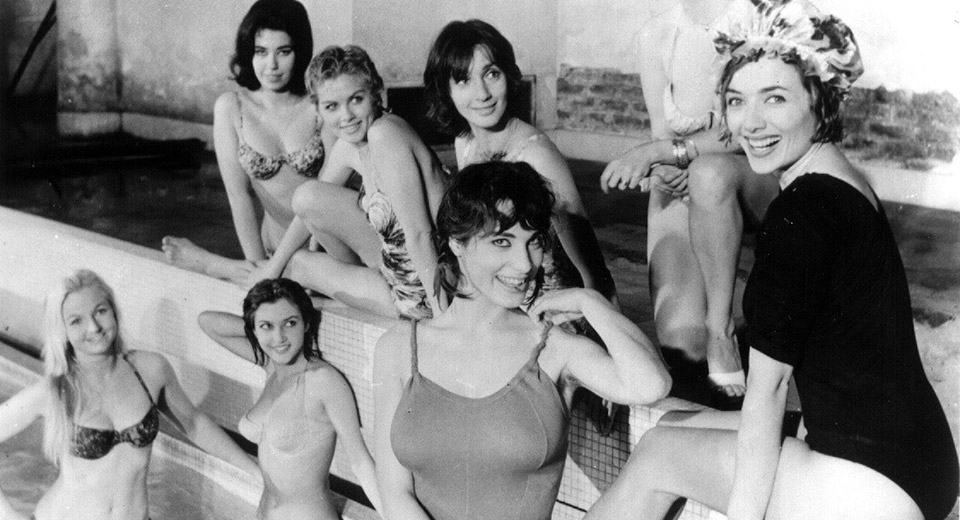 March 3rd 2020
A portrait of the harrowing banality of bourgeois city life and its particular pitfalls for the independent woman, Claude Chabrol's Les Bonnes Femmes is an early work in the director's prodigious oeuvre, though the psychological suspense that would come to characterize the Chabrolian film is already subtly in evidence. Here it's a specific kind of horror and it feels downright contemporary, recalling the first vertigo-inducing read of Cat Person in the first moments of its treatment of 48 hours in the lives of Jane, Jacqueline, Ginette, and Rita, clerks at a small appliance store with primped hair and sensible pumps.
The anxiety sets in early when a pair of middle-aged men convince Jane and Jacqueline to accept a ride home. Marcel teases them and cajoles, while Albert, his portly companion, reminds him to "be polite," as though they're hunters eying a pair of skittish does. Jane pulls Jacqueline along, reminding the men that they can "easily get out" — but it's a two door car, and the girls are in the back seat. The camera pauses on a visibly uncomfortable Jacqueline before cutting to close-ups on the backs of Albert and Marcel's heads, the latter balding; Chabrol establishes with this swift New Wave wrench disappointment, confinement, inevitability, all ramped up by the unobserved presence of a lone wolf following hungrily on his motorcycle. The foursome bar hop til an uptight Jacqueline eventually separates from the more festive three, who land at Albert's place, of course. The next morning, Jane's face registers more than a champagne hangover as she races home to splash on some perfume before running to work with Ginette.
From their Carmen-obsessed, grope-happy boss, to the shy-eyed delivery boy with a crush on Jacqueline, our four heroines' lives and those of their feminine contemporaries are controlled down to the minute by the uninspiring men around them. But it's not merely the use of positions of power, demonstrations of thoughtless, brutal strength, and admonishments to "refer to Michelangelo" and not act so "pedestrian" that threaten; it's also loneliness, a desire for recognition that achieves absurdly, devastatingly masochistic heights in the "fetish" hidden in Mme. Louise's handbag and a shocking act of violence thereby foretold—and, perhaps most incessantly, boredom.
Close-ups on the slow-moving minute hands of office clocks, sweeping glances at the mesmerized faces of audience members at a particularly provincial variety show, a final sequence of crushing anonymity; for Chabrol, boredom is here the bedrock source of evil, and the film is a masterpiece of dark, queasy, Hitchcock-friendly humor. Screening in 35mm at Metrograph as part of its canon-setting "Welcome" series, Les Bonnes Femmes is an undeniably worthy entry.