Featured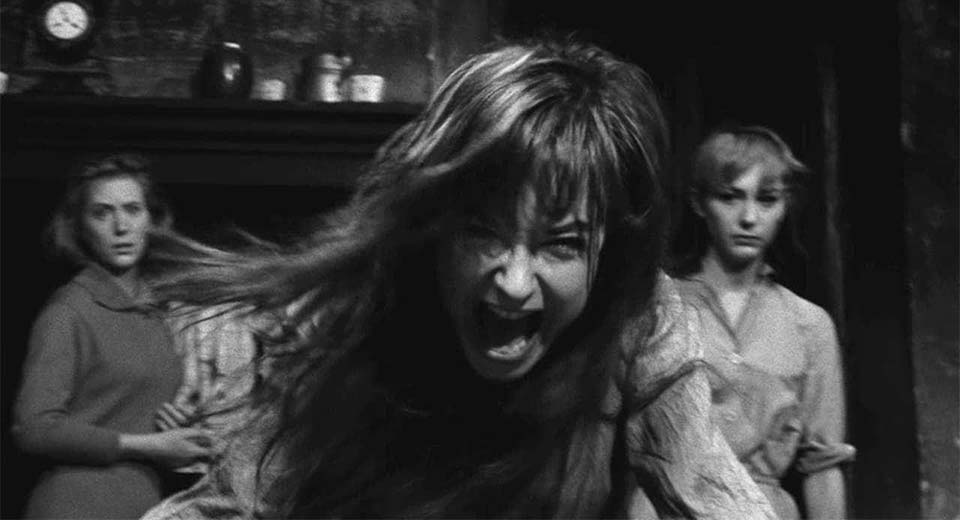 February 15th 2018
Daisies meets Spider Baby in Nikos Papatakis's idiosyncratic, trenchant class satire Les Abysses, which shows at the Film Society of Lincoln Center tonight as part of sidebar retrospective within the Film Comment Selects mini-festival dedicated to the under-recognized yet storied filmmaker.
Papatakis's background reads like a picaresque through the 20th century's most fraught political/colonial battlegrounds and dynamic cultural moments. Born in Ethiopia to an African mother and Greek father, Papatakis enlisted at age 17 in his country's fight against Italian Fascism and was driven to exile in Libya and Greece before poet Jacques Prévert encouraged his move to Paris in 1939. Arriving broke, he eventually founded the cabaret La Rose Rouge, an important meeting ground for artists and intellectuals. Throughout this time Papatakis was a close friend and unconsummated object of infatuation to Jean Genet; in 1950, Papatakis put up the funding for Genet's film Un chant d'amour, which was produced in the club's attic in 1950. After separating from his first wife, the actress Anouk Aimée, and growing disgusted with the French colonial war in Algeria, Papatakis split for New York, where he befriended John Cassavetes, whom he gave $5,000 to shoot the second, released version of Shadows. He also met and began a two-year relationship with the model and singer Christa Päffgen—renamed Nico after Papatakis. (According to Papatakis, she introduced herself by saying, "I'm named after you," and explained she had been given the stage sobriquet by the photographer Herbert Tobias—who, like Genet, had an unrequited crush on Papatakis.)
Upon his return to France, Papatakis initially sought to produce an adaptation French-Algerian journalist Henri Alleg's torture memoir La Question with Jean-Paul Sartre scripting and Alain Resnais directing. After the project failed to come to fruition, Papatakis assumed the director's seat himself for Les Abysses, scripted by Jean Vauthier. The pair drew inspiration from the case of the Papin Sisters, two live-in maids who had murdered their employer's wife and daughter in 1933, captivating the imaginations of French intellectuals who saw their plight as emblematic of class struggle and a metaphor for colonialism.
In Papatakis's version, the sisters subside in a stygian, decaying French country home, largely left alone and without pay in three years, biding their time with esoteric, playful, and destructive games of their own device. They treasure the home's chicken coop, to which their employer has promised them; but when man, wife, and daughter return home, it becomes apparent that they intend to unroot the sisters and sell the home—coop and all. This triggers a series of cruel, spirited, and surreal actions against the family, pitched inexorably toward shocking and grotesque tragedy. Along the way, the girls' wanton, misanthropic sisterhood anticipates both the aforementioned Věra Chytilová film as well as the strange sororal bond of the sisters in Jack Hill's B-movie masterpiece. Their employer's well-adjusted and ostensibly sympathetic daughter pleads with her parents to arrive at some sort of compromise, but Les Abysses could not be less equivocal about its class allegiances: this is a film that celebrates the death of the oppressor.
Although there is nothing glaring within the text to lead a present-day viewer to make the connection, Papatakis intended the film to reflect colonial wars in his native Africa, which was widely understood at the time. The film was controversially omitted from the Cannes lineup until a full-throated public intervention by a who's who of French intellectuals. Among them was Simone de Beauvoir, who in an essay for Le Monde titled "The cinema gives us its first tragedy" called it a "magnificent and strange film where reason is on the side of madness, paradise in the depths of hell, where love is painted under the figure of hatred. ... One of the greatest movies I have ever seen."
Les Abysses shows at 9:30 pm tonight only with an introduction by critic Jonathan Rosenbaum, who is on hand to introduce other screenings in the retrospective through Tuesday.