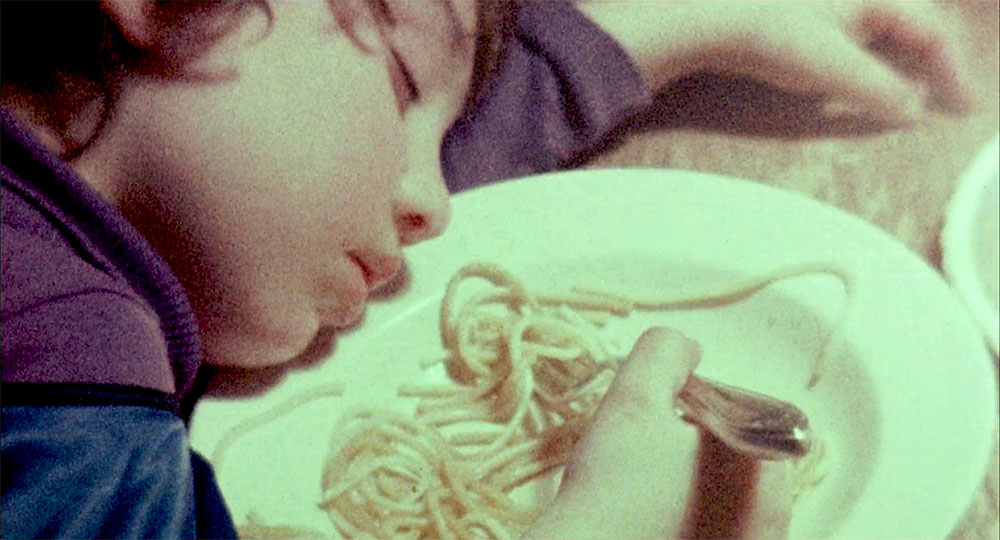 November 13th 2023
Since April, three iterations of Ken Jacobs exhibitions have unfolded across five retail windows at the northwest corner of Broadway and East 10th Street. Viewable 24/7 from the sidewalk, the array of screens contains videos and films from the 1960s to 2023 interspersed with artist writings and never-before-exhibited drawings. In other circumstances, irregular flickering in a window would mean that something has gone wrong. With Jacobs's work, curated by Andrew Lampert, every loop, strobe, and cut is magically infused with intention.
Especially at night, Up The Illusion is a transfixing cinematic monument. Many of the screened works employ the artist's "eternalism" effect, defined by Jacobs as "a method of making images more real. We see things in depth, in 3D, even with only one working eye." These works stutter and meld, producing a hypnotic sense of volume and movement as if the imagery is being digested by a black hole. Eternal formation as well as eternal destruction occur within the frame between flashes of light and darkness.
In 1975, Ken and his partner-collaborator Flo Jacobs began performing with two 16mm analytical projectors that can hold on a single image-frame for an indefinite amount of time. With overlapping projectors manually advancing and a fan serving as an additional shutter, this "Nervous Magic Lantern '' system of expanded cinema led to the discovery of eternalism. In 2006, Ken Jacobs received a (now expired) patent for his invention, described legally as "an appearance of sustained three-dimensional motion-direction of unlimited duration, using a finite number of pictures."
While the surface and illusion of depth are always churning in these pictures, other examples of Jacobs's work are strikingly clear and stable, or at least appear to be. One of his most well-known early works on view is Tom, Tom, The Piper's Son (1969), consisting of rephotographed and deconstructed footage from 1905. In the sidewalk installation, muted and minimized into a composite, any significance of time and place is subdued. With so many ulterior distractions, it requires active attention to look up from real atrocities on your phone and fall into the illusion of the work.
In July, Light Industry screened Jacobs's XCXHXEXRXRXIXEXSX (1980/2022), which reworks a found pornographic film from 1920 into a "coital dance of cosmic proportions," according to Lampert's program notes. One audience member could not handle the pacing, sound, sex, or some other element. The young man heckled and booed in the dark room, at one point playing noise from his phone to ostensibly "improve" the audio track. He seemed to be having a bad trip, and I wonder if he would enjoy the work more as it appears in Up The Illusion. As a silent public installation, viewers are free to make noise and move around, or they can fix themselves to one screen and watch until the sun comes up.
Ken Jacobs: Up the Illusion is on view through November 26 at 80WSE's Broadway Windows gallery. The videos are also streaming online.