Featured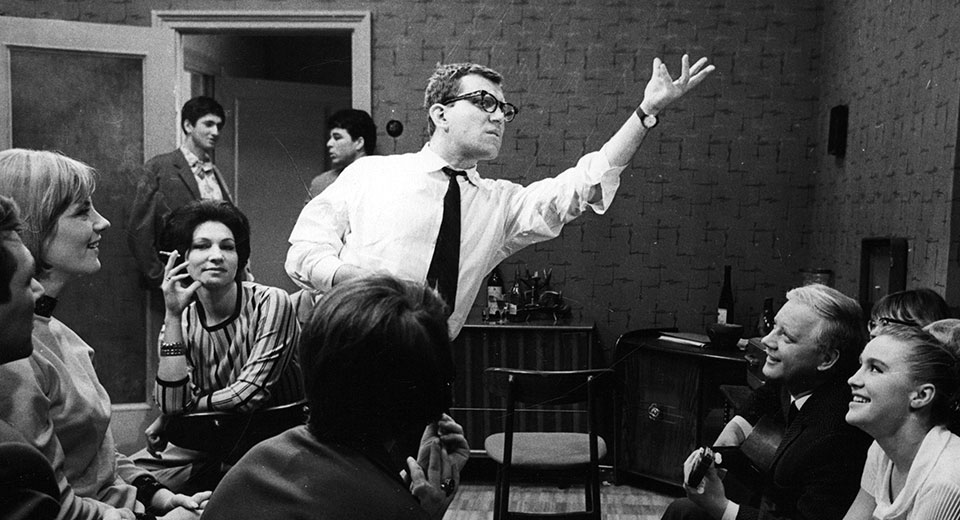 October 12th 2016
Marlen Khutsiev's July Rain (1967), the follow-up to his long-delayed, heavily censor-edited I Am Twenty, hardly hints at his Georgian roots (the original form of his name was Khutsishvili). He was a Georgian Muscovite whose identity belonged more to Russia's old capital than to his homeland (another famous assimilated Georgian was Joseph Stalin, born Dzhugashvili). More than a mere setting, the city is once again the real protagonist, and Khutsiev spared no effort to invest it with all the glamor and hectic dynamism of a West European metropolis. According to Peter Bagrov, curator at Gosfilmofond, July Rain is part "abstract city symphony," part "study of the 'new society'," and if not Khutsiev's best film, at least his "most perfect."

Lena (Evgeniya Uralova) and Volodya (Aleksandr Belyavsky) are a "modern couple" (i.e. unmarried) who spend their days worrying about their academic careers (Should Lena go to grad school? Will Volodya find a publisher for his most recent paper?), mingling with other young intellectuals at fashionably jaded soirées, and picnicking on suburban lakefronts. Modernity is a frequent conversation topic ("Phones and planes bring people together"), and memorized poetry is never far from the more gifted guests' lips (Nekrasov?). Alik, a guitar-strumming charmer, sings ballads dripping with folksy sentiment, while the affable Professor Lyova muses lightheartedly about the state of intellectual freedom in Russia ("These days it's embarrassing not to get in trouble"). This crowd is oppressed less by Soviet cultural policy than by Antonioniesque ennui.

July Rain and Khutsiev's first film form what Bagrov calls a "dilogy" of odes to the old capital. (Film historian Neya Zorkaya wrote of July Rain, "Moscow has found its poet.") Khutsiev frequently indulges in long CinemaScope tracking shots (his only film in this format) that show off the smartly dressed crowds in the city's shopping districts (many of the pedestrians are aware of the camera, creating a parallel between these semi-documentary images and the Renaissance portraits they're intercut with). The French restaurant's menu du jour is a nice touch, as are the Louis Armstrong cover of "La Vie en rose" and the foreign ambassadors and military attachés stepping out of their Mercedes Benzes. If it weren't for the prevalence of Cyrillic on signs and awnings, the impression of a Parisian boulevard would be perfect. At one point, a young couple in turtlenecks and browline glasses even does the Band of Outsiders dance. If at times July Rain feels derivative, it has moments of startling originality, like the concise visual metaphor of modern Russia: a car's headlights sweeping across the pale trunks of birch trees in a nighttime forest.
July Rain is available to stream via Mosfilm's YouTube channel as of October 2020.