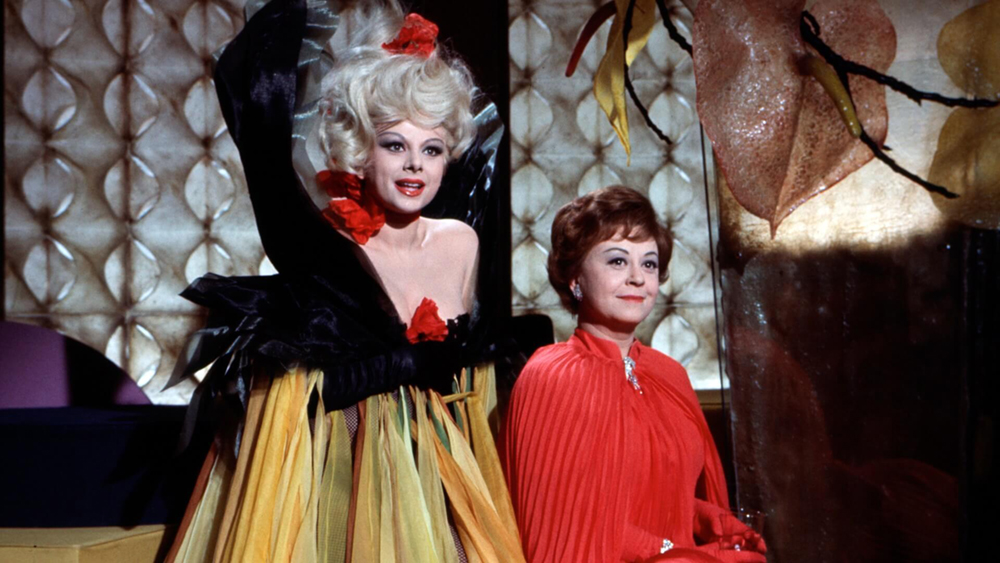 January 8th 2022
Federico Fellini's first feature-length brush with color, Juliet of the Spirits (1965), is a frenetic kaleidoscope of mysticism and sexual desire. The film is perhaps the best example of the director's signature surreal sensibilities, which really blossomed after 8 ½ (1963). The phantasmic technicolor cinematography, dazzling sets, and flashy costumes gush with an exuberance that has come to be associated with the Italian director, who spearheaded the post-neorealist fantasy subgenre in Italy. The film follows Giulietta (Giulietta Masina, Fellini's wife and muse), a middle-aged woman who suspects her husband Giorgio (Mario Pisu) is having an affair. She decides to use spirituality and parapsychology to gain independence, engaging more and more enthusiastically with her fantastical surroundings throughout the film.
In his earlier collaborations with Masina, Fellini gave his wife the roles of a sorrowful clown (La Strada, 1954) and a floundering prostitute (Nights of Cabiria, 1957). Though these are singular and difficult roles, here her part demands a fearless, subtle emotionality, evinced most impressively by her effortless migration into the unreal. The film, which came out just after Masina and Fellini celebrated their twentieth wedding anniversary, begins with Giorgio forgetting his and Giulietta's fifteenth. The film's financiers were initially adamant that Fellini cast a more well-known star, and his stubborn refusal resulted in one of the most nuanced, tender performances of the 1960s, and a magnificent love letter to his wife.
This audacious character study would be followed by some of Fellini's greatest works, such as Amarcord (1973) and Roma (1972), films that contort reality while painting a complex portrait of trauma, memory, history, and of course, the romantic Italian lifestyle that was so close to the director's heart. Sandwiched between such bold releases as Polanski's Repulsion, Godard's Pierrot le Fou, and Lester's Help! at the box office, Juliet of the Spirits represents the new spirit of cinema in the 1960s: vibrant films that capture the strange psychological underpinnings of human experience.
Juliet of the Spirits screens today, January 8, at 7:00pm at the Museum of Modern Art in a new digital restoration as part of their Federico Fellini retrospective. It is also streaming on HBO Max and the Criterion Channel.