Featured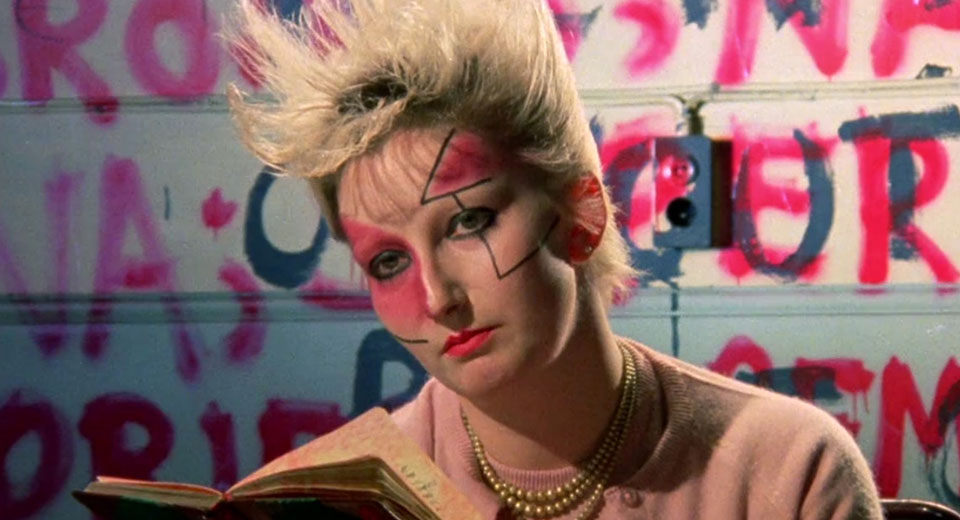 August 21st 2017
Derek Jarman's Jubilee is the punkest movie I've ever seen. Shot in 1977 (the year punk died?) in the then-shitty neighborhood of Shad Thames, over six weeks on 200,000 pounds scraped together ad hoc, Jubilee's production was as punk as its aesthetics. Having met star Pamela Rooke in Vivienne Westwood's boutique where she worked, Jarman cast her as the film's fluorescent protagonist, the amateur historian/singer/militant Amyl Nitrate, then picked up Adam Ant—of later Adam and the Ants fame—in the street to play Kid, a Rimbaudish prodigy who meets his untimely end in the clutches of fascistoid motorcycle police. The shoot was reportedly a month-and-a-half-long party.
The conceit: Elizabeth I is sent forward several centuries by necromancer Dr. John Dee (Rocky Horror's Richard O'Brien), who tells her, "I will reveal to thee the shadow of this time." The Southwark that the Queen lands in is crusted with graffiti and burning cars, patrolled by both police and armed punks in green jumpsuits and pink latex gloves. The latter have apparently abolished law and order and now broadcast history lessons about the twilight of capitalism. The ruling classes of the past, we are told, created a variety of ideological control mechanisms, such as art (which was invented as a substitute for desire) and statistics (which replaced the world). Nitrate then reads from a History of Britain she's working on: "Human beings don't have any rights, but some dumb fucks told them they did." Further, "Civilization was destroyed by resentment, but since civilization was always so fucking boring for everyone, who gives a shit." Juvenile value-clasm at its rawest.
A vestige of the old order is Borgia Ginz (Jack Birkett), an "impresario" who owns the entire entertainment industry and other ideological apparatuses besides ("BBC, NBC, MGM, KGB, C of E—I bought them all!"). His method of conquest is to sign up promising artists, mold them into living commodities, and turn them out—the fate that awaits Adam Ant's character. (Ironically, it was also to be the fate of the real Adam Ant; Jarman reported in 1993 that the former was "on Top of the Pops and signed up with Margaret Thatcher to sing at the Falklands Ball.")
David Thomson called Jarman as "a true experimenter in forms." Jubilee bears this out with its poetic, metahistorical interludes spoken by the angel Ariel ("Men are weak and cannot endure their manifold nature") and with its non-sequitur episodes, such as a Super 8 ballet number before a backdrop of burning wreckage and nude men in huge masks. Other Jarman films may be more traditionally avant garde (like his weird Wittgenstein biopic), whereas Jubilee foregoes high-art austerity in favor of clashing textures. The uniformity of Southwark's postindustrial decay is broken by all kinds of neon excrescences: spray-painted slogans like "Postmodernism!" and "Is it sex or is it art?" on ruined electrical switchrooms, glammy fake alligator coats worn in bare-bulb-lit squats, and irreverent jokes in bleak circumstances (Special Branch death squad shows up; punk says "Come on, giv' us a kiss!"; gets shot).
Besides changing the film's original title, HI☭H FA卐HION, Jarman had to compromise very little, partly due to the wave of novelty that the punk phenomenon was riding at the time. Billed by Jarman as "a cabaret … a docustated fanzine … [and] a protest" and hailed by music historian Jon Savage as "the best film about punk, for all its failings", Jubilee also had its detractors. Vivienne Westwood designed a T-shirt saying "Derek the Dull Little Middle-Class Wanker" and Siouxsie and the Banshees condemned the film as "hippy trash." Whatever… Go see it, you'll love it. If you don't, fack off.