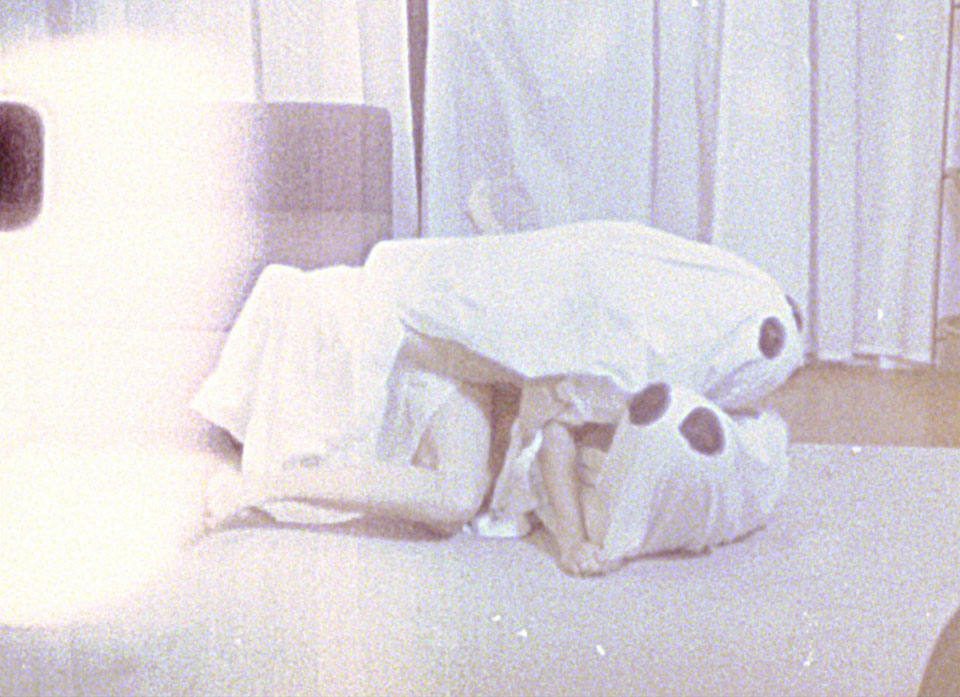 October 1st 2020
Stream Slate #12: Joshua Gen Solondz
Thursday, October 8th at 8PM EST
Artist in pre-recorded discussion with Leo Goldsmith and Tiffany Sia
Co-presented by Speculative Place
Screen Slate is pleased to partner with Speculative Place for a second collaboration to co-present a screening and conversation of artist Joshua Gen Solondz's films and videos, assembling a selection of three completed works and one work in progress. Solondz's practice comprises performance, deliberately mauled found footage, kaleidoscope pulsations and variations on the flicker film. With an intense propensity towards noise and vibration, this range in form furnishes the disruptions and breakdowns central to Solondz's unique filmic voice that provocates towards politics, race, transnationalism and the paranormal.
Program (Descriptions by artist):
1) LUNA E SANTUR (2016, 10 minutes)
''A visually assaultive threnody for losses never fully revealed and composed for monstrous times, LUNA E SANTUR mingles sex and death with the supernatural and subnaturalistic." – Colin Beckett
"Moon and sun are elliptically and stroboscopically conjured in Joshua Gen Solondz's cloistered yet operatic Luna e Santur. In milky, hand-processed images, hooded figures recalling Magritte's The Lovers enact a series of rituals in which an old trauma is remembered and exorcized." – Andrea Picard
2) it's not a prison if you never try the door (2013, 7 minutes)
"Multi-hyphenate Solondz creates a remediated, glitch-filled revision of a monster classic. As pixels melt, stick and stutter, Godzilla arises and the world decays, a startling vision of mutation and destruction." – Chi-hui Yang
3) (tourism studies) (2019, 7 minutes)
"A collection of unused footage/home movies accumulated over ten years that became too much of a weight. The material became a Rorschach test, I saw an accepting cloud." – Joshua Gen Solondz
"Shot over a ten year period in Tokyo, Baghdad, Amsterdam, Brussels, Golan Heights, Livingston, Baltimore and Los Angeles, (tourism studies) is a kaleidoscopic flicker film that takes you on a journey through the filmmaker's personal reflections on his mixed heritage roots and complicated notions of home that come with it. Sometimes you feel like a tourist even when you're home. Blink and you feel at ease; blink again and you feel you shouldn't be there." – Julian Ross
4) UNTITLED WIP HONG KONG PROJECT (n/a, 10 minute excerpt)
"I'm still thinking about this thing. I finished editing (tourism studies) during my stay at Speculative Place and began shooting this project with assistance from Tiffany and Andrew. This is a short excerpt.
*gestures, action movies, fear of smog and capitalism, attempting to make as much use from the limited amount of film i had, boat and water footage to be added, should i mention the photographer who's stalking thom yorke?
About Joshua Gen Solondz
Joshua Gen Solondz is an artist working in moving image, sound, and performance. He's screened in a variety of festivals including Images, Toronto International Film Festival, International Film Festival Rotterdam, CAAMFest, Winnipeg Underground, Locarno, Mar del Plata, FIC Valdivia, Viennale, and New York Film Festival's Projections. He has also shown at venues such as REDCAT, Light Industry, UnionDocs, MoMA, NYU, and Black Hole Cinematheque. Recently, Joshua was a 2019 MacDowell Colony fellow and enjoyed a residency at Speculative Place in Hong Kong. Solondz has received awards from Black Maria, New Orleans Film Festival, Chicago Underground Film Festival, and Ann Arbor Film Festival as well as commissions for shows at Heliopolis, ACRE TV, and microscope gallery. He is 1/2 of performance groups Synth-humpers and Opioids with Jim Supanick and Leo Goldsmith respectively. Josh studied at Bard College and received his MFA from the California Institute of the Arts. He lives in Brooklyn, NY with his partner Emma and their son Aki.
Followed by discussion with Leo Goldsmith and Tiffany Sia
About Leo Goldsmith
Leo Goldsmith is a writer and curator based in Brooklyn, and is currently a visiting assistant professor of culture and media at Eugene Lang College, The New School. He is a co-author of Keywords in Subversive Film/Media Aesthetics (Wiley-Blackwell 2015), by Robert Stam with Richard Porton, and is writing a book about the filmmaker Peter Watkins (Verso, forthcoming). He was the film editor of The Brooklyn Rail from 2011 to 2018, and currently co-edits the Exhibition Reviews section of NECSUS: European Journal of Media Studies.
About Tiffany Sia
Tiffany Sia is an artist, filmmaker, independent film producer and founder of Speculative Place. She is the author of 咸濕 Salty Wet. The first volume was published as a chapbook in 2019 by Inpatient Press and is currently writing a forthcoming book-length sequel, Too Salty Too Wet 更咸更濕. Sia directed Never Rest/Unrest, a short experimental film that takes up the provocation of Julio Garcia Espinosa's "Imperfect Cinema" on the potential for anti-colonial filmmaking, resisting spectacular documentary and news narratives, which premiered at Berwick Film & Media Arts Festival. She is part of Home Cooking, founded by Asad Raza, on which she contributes the performance and reading series Hell is a Timeline.
Co-presented by Speculative Place
Speculative Place is an independent project space in Hong Kong hosting residents working on film, writing and art, connecting a geographically-dispersed community of new voices.