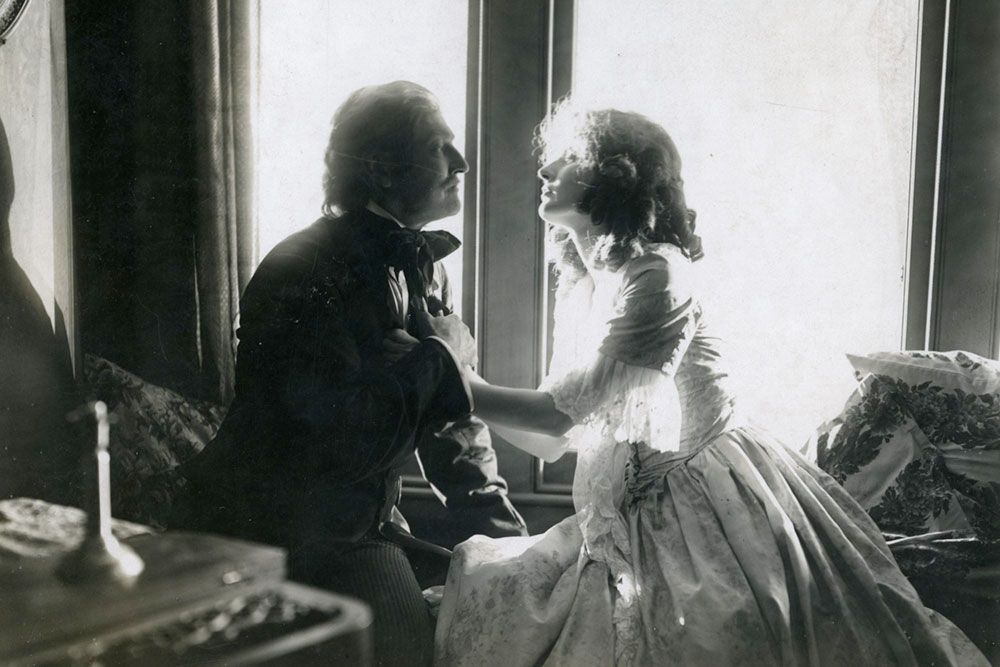 September 15th 2021
The life of John H. Collins is a tragedy fit for the silent cinema screen. Having started as a stenographer and scenery painter for the Edison Film Manufacturing Company, he quickly became one of the premiere directors in the company's stable. By February of 1918, four years into his directorial career, Collins had 36 shorts and features to his name. He was married to Viola Dana, a frequent Edison player and the star of many of his films. The couple had left Edison for a lucrative contract with Rolfe Photoplays, whose productions were then mostly based in Fort Lee, NJ. Their latest collaboration, A Weaver of Dreams (1918), had just been released by Metro Pictures. At least five more features were already in production or in the can. The talkies were still a glimmer in some technician's eye. Continued success and maturation seemed all but certain. Instead, Collins would be dead within the year, at the age of 28, a victim of the influenza pandemic.
Collins's first solo directorial effort was a short subject, produced with the Public Service Railway Company of New Jersey, and given the excellent title Making a Convert (1914). Wholly absorbed in her newspaper on a streetcar, Ruth (Elsie MacLeod) nearly misses her stop, then rushes to disembark while the car is still moving. She twists her ankle, falling into the arms of Bill (Harry Grip), an eager-to-help fellow of the unemployed persuasion, who sees her safely home. Predictably, he comes calling again as soon as she recovers, bearing a box of sweets. Ruth's ruddy-faced kid brother (Andrew J. Clark) intervenes upon Bill's loveseat advances, prompting the kind of pouting that pancake makeup and exaggerated eyeshadow render distinctly comic.
Bill and Ruth's courtship is quick. The next time they appear on screen, an intertitle reads simply, "Engaged." The relationship has given Bill a touch of ambition, and, perhaps inspired by the circumstances of their meeting, he becomes "a full fledged motorman" for the streetcar service. When his fiancée lunges excitedly for a downed power line, however, Bill is too enthusiastic a scold. Ruth pointedly removes her engagement ring: "I'm tired of your everlasting preaching of Safety First!" That night, she does her own research at a public forum—which includes what must be among the earliest depictions of a film within a film—and is finally convinced.
Collins's wit and faculty with the medium elevate Making a Convert from a public service announcement curio to an early cinema essential. Here and elsewhere, Collins's direction prompts a certain naturalism from the actors, beneath and beside the proscribed social carriage of their characters and their obligations to the plot. The confidently peculiar performances of Dana, in particular, speak both to her innate range and to that which Collins's sets made possible.
In these films, actors are typically billed as their characters appear. The same intertitles are used, sparingly, for any necessary dialogue and exposition. Two weeks or fifteen years might pass by the same means. The cinema, as it divorced itself from the trappings of the stage, became especially adventurous as regards the manipulation of time.
Collins and his cinematographers and crews deserve special recognition for their devotion to the nascent camera arts, experimenting with freeze-frames, close-ups, and particularly lighting and double-exposures. The Portrait in the Attic (1915)—a domestic psychodrama—features a stunning shot in which the lights are dimmed sequentially as Thelma (Dana) blows out each of the candles on her birthday cake. That film, one of Collins's first with Dana, also includes an exceptional dream/ghost sequence in superimposition. Collins had attempted the same effect less successfully the previous year, in The Last of the Hargroves (1914)—a suspense film regarding an Appalachian family feud.
In The Slavey Student (1915)—a three-reel proto-feature set mostly in a girls' boarding school—he has the thing perfected: visions of that night's dance partners appear at the students' bedsides for an encore. In the same film, the inventive use of irises anticipates Truffaut's flourishes by more than 40 years. One shot in particular, of a silhouette in a stairwell, is a piece of film noir lifted directly from the future. Collins was over-served by the muses and shortchanged by fate. More than most, his surviving films are an argument for the importance of preserving and partaking of our moving image history.
Tomorrow, September 16, and again on Monday, September 20, the Museum of Modern Art will screen several of its recent restorations of Collins's work for Edison in two programs with live piano accompaniment. A selection from these programs, plus two more films, are also available to stream online to MoMA members.