Featured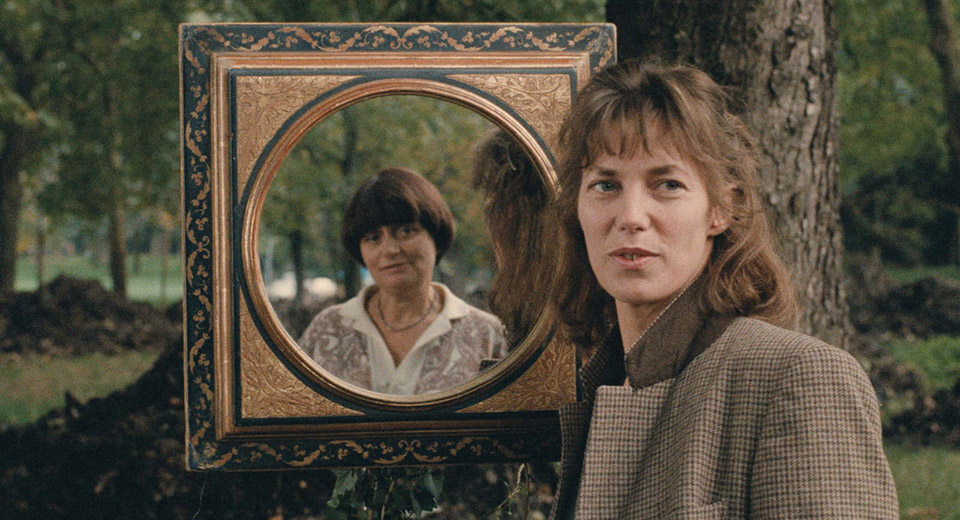 January 2nd 2020
The flip side of Agnès Varda's preceding film Vagabond, a portrait of an itinerant woman with little identity, Jane B. Par Agnès V. is a portrait of a famous woman with an inescapable reputation - Jane Birkin . While Vardais certainly no stranger to toeing the boundary between documentary and fiction, this filmfinds her achieving a synthesis between the two cinematic modes with little equal in her other works. Described by Varda as a self-portrait, the film approaches its subject through a series of dramatic sketches that range from the recreation of a Titian painting to an impeccable Laurel and Hardy spoof to a lovers' spat with an insufferable Jean Pierre-Leaud fixated on controlling his partner's dreams. Foregoing biography or documentary verite, Varda uses these contrasting layers of artifice to illuminate brief glimpses of the real Birkin buried under a lifetime of media representation.
As much about the act of filming Birkin as it is about the performer herself, the film also represents one of Varda's earliest attempts at actively placing herself onscreen as the film's playful authorial voice. Besides simply addressing the camera to elucidate her approach for the film, Varda also shows herself questioning where the film could go next, gambling the film's budget at roulette, and brainstorming the film's dramatic follow-up Kung-Fu Master!. Demonstrating the same sort of whimsy and quirk that has brought her such widespread adoration in the past two decades, these comical asides help lend the film a sense of casual intimacy and break down the barriers constructed between celebrities, artists, and their audiences.
As the work of Varda posthumously balloons in status, it seems absurd that a film as clever and uniquely Varda-esque as the 1988 Jane B. Par Agnès V. could have been held from U.S. distribution until so recently as 2015. Best seen in a double feature with its cousin Kung-Fu Master! - a taboo pushing love story between 40 year old Birkin and 16 year old Mathieu Demy (Varda's son) featuring Birkin's daughters Lou Doillon and Charlotte Gainsburg in supporting roles - Jane B. finds Varda simultaneously operating at her most structurally complex and cerebral as well as accessible and enjoyable.