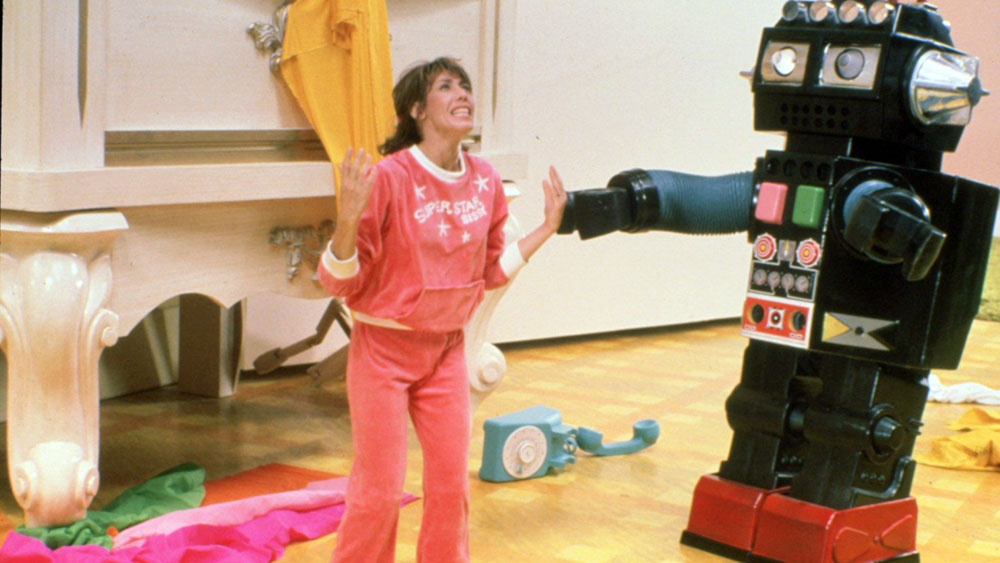 October 24th 2021
A showcase for Lily Tomlin's world-historic likeability, The Incredible Shrinking Woman (1981) gently satirizes American consumerism and its chokehold on women. John Landis made the smart move and exited production after Universal cut the budget by more than half, but his replacement Joel Schumacher was resourceful enough to tap Tomlin's bottomless well of charm in the absence of cutting-edge SFX. A Sunday afternoon screening at Metrograph is ideal for such a breezy romp under 90 minutes.
Tomlin plays Pat Kramer, homemaker for an advertising executive husband (Charles Grodin) and their two young children. There's nothing idyllic about her suburb, Tasty Meadows. From the first scenes, her neighbors greet Pat with shouted recommendations for products like diet daiquiri mixes and goo that cleans boats and campers. Her escape from the cycle of products and labor dedicated to home maintenance arrives when an adverse reaction to a new perfume physically diminishes her until she's living in a dollhouse and showering in the sink. In a familiar paradox for American women, Pat gains notoriety only after she starts to disappear. She soon becomes America's little sweetheart, making television appearances. As Grodin's cynical boss at the ad agency, Ned Beatty turns in a dastardly revamp of his appearance in Network while leaning on Grodin to keep his wife from using her platform as a cautionary tale for fellow consumers. The skeletons the ad men are stuffing back into the agency closet are as idiotic as they are metaphorically rich.
Like Richard Matheson's source novel The Incredible Shrinking Man (1956), as well as Jack Arnold's 1957 film adaptation, there's a loneliness at the center of Pat's dwindling. Tomlin, at this point well-known for standup and one-woman shows and thus no stranger to solo performance, is increasingly isolated on sets featuring giant pencils and toy furniture. Budgetary and technological constraints force her to shout at unconvincing rear-projection images of her giant family, a failure of verisimilitude that unintentionally corrects some of the script's muted feminism. Schumacher offers the child-like, deifying thrill of miniatures, with just a twitch of melancholy at Pat's isolation. But mainly what The Incredible Shrinking Woman offers is an escalating set of amusing gags and former fashion/production designer Schumacher's penchant for irresistible pastels. The perfect Sunday afternoon movie.
The Incredible Shrinking Woman screens today, October 24, at 2:30pm at Metrograph, on 35mm.