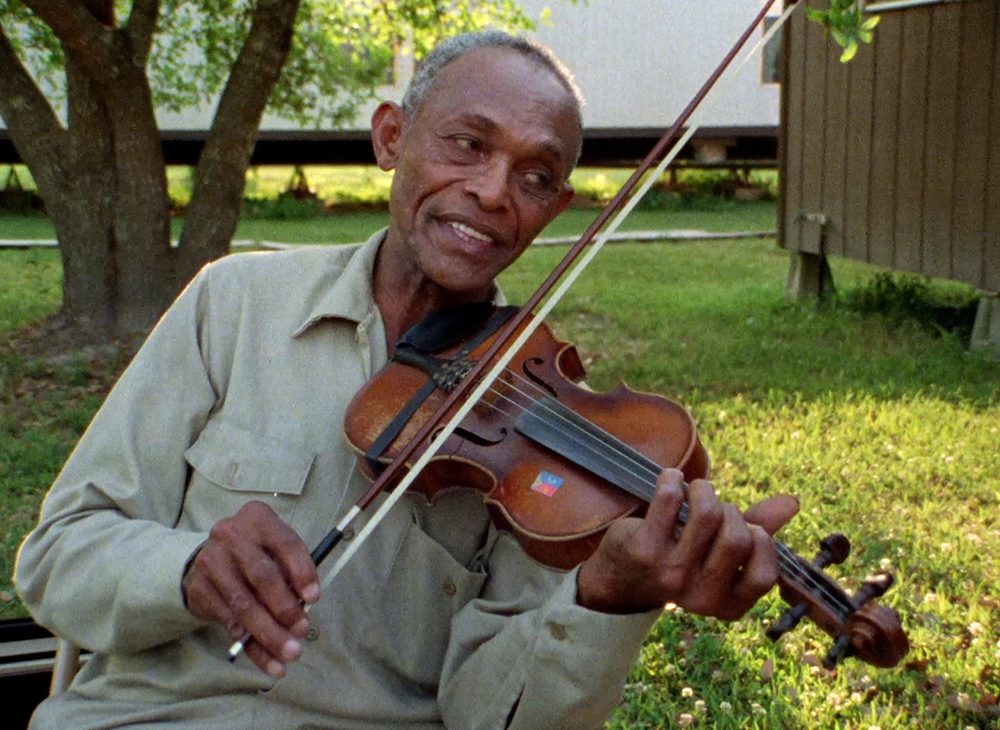 September 1st 2023
"Film without music is like a French cafe without wine, like a day without sunshine," said Les Blank in a 1991 interview in Black Camera. Sure enough, only a handful of his roughly 40 films have a non-music focus, with the vast majority documenting regional music scenes and immortalizing aging masters of disappearing genres (including Huey Lewis and the News).
I Went to the Dance [J'ai été au bal] (1989) is one of several films that Blank made about Cajun culture; between Dry Wood (1973) and Marc and Ann (1991) Blank returned periodically to the same smattering of small towns in St. Landry and Acadia parishes to document local customs, cuisine, and especially musical traditions. I Went to the Dance takes by far the most sweeping approach to the history and practice of Cajun music of all of these films, dwelling by turns on the late-18th-century southward migration of the Acadians from present-day Nova Scotia, the economic groundwork for the Americanization of Cajun music in the 1930s, and the institutionalization of the Cajun revival in the 1960s. At the time of the film's release, some didn't see its ambitious scope as an asset; in a review in the journal Ethnomusicology, C. Ray Brassieur warned, "The outsider with passing interest may find J'ai Été au Bal too thorough."
Indeed, to a layperson's eye, Blank's films are infused with such ethnographic detail and granular fidelity to their subjects that it's not surprising that they were more frequently reviewed in academic journals of anthropology and folklore than in film magazines. Writes Nina Swidler in American Anthropologist, "The films could be of some use in ethnomusicology courses, or courses dealing with American cultural diversity. Anthropologists teaching in Black Studies programs might also find them valuable."
Many of Blank's films portray Black performers, from Dizzy Gillespie to Lightnin' Hopkins, an affinity that Blank recognized put him in an uncomfortable position: "A white person, with technical expertise and the money that is obviously needed to buy film and camera equipment, is sometimes seen to be something of a cultural vulture, to reap the products of misery and go off and sell them and make money." I Went to the Dance navigates this adroitly by being a two-pronged exploration of white French Cajun music (with its Celtic origins, according to the fiddler and interviewee Michael Doucet) and zydeco, a Black Cajun musical form that combined these European roots with African influences filtered down through the historical experience of the transatlantic slave trade. "It was the blues and French music mixed up together," says Margaret Chenier, the widow of Clifton Chenier, the "king of zydeco" and subject of Blank's Hot Pepper (1973). Blank reserves a regrettably small fraction of the film's runtime to the history of zydeco, but does trace the birth of all Cajun music to Black accordionist Amédé Ardoin and dedicates a good chunk of the film's tail end to performances by Chenier and Rockin' Sidney Simien.
Blank has an unmistakable way of filming his subjects and their surroundings, lingering on singular details such as a percussionist playing a cardboard box with two forks, Marc Savoy standing on his accordion to demonstrate how sturdy it is, and a hand-painted sign that says "Highest prices paid for frogs." His gaze is never exoticizing, trivializing, or mocking, too earnestly focused as it is on teasing out the lyricism in the endless, inexplicable idiosyncrasies of mortals.
I Went to the Dance opens today, September 1, at IFC Center in a new digital restoration. Its co-director Maureen Gosling will be in attendance tonight and tomorrow night. A Bay Area release rolls out September 14.