Featured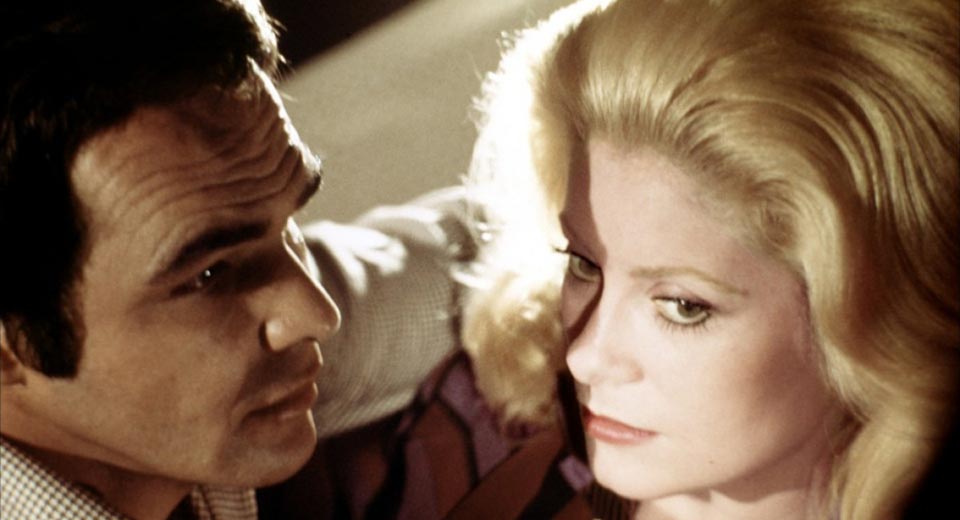 September 18th 2016
Robert Aldrich's genre pictures can seem uniquely out-of-step with prevailing historical trends, the earlier ones being somewhat after-the-fact and self-aware with regard to genres' golden ages, and the later efforts not quite so fully embracing the abandon of all-out revisionism. As crime pictures are considered within this spectrum, on one end, you have Aldrich's fifth film, Kiss Me Deadly, the greatest pre-1960 film noir whose willfully bizarre character virtually places it in a category of its own; and on the other end is Hustle , Aldrich's fifth-to-last film, a 70s police procedural steeped in the era's vogue moral, social, and political ambiguity that has a 1940s heart.
The setup is almost SoCal Twin Peaks: the body of a middle-class white girl washes up on the beach—in a wonderful Aldrich touch, she's discovered by a group of school kids whom we see singing on the bus during the opening credits—and Detective Lt. Phil Gaines (Burt Reynolds, who developed the project with Aldrich during The Longest Yard) and his partner, Sgt. Louis Belgrave (Paul Winfield) are assigned to the case. The coroner rules it a suicide due to her toxicity levels, but the father (Ben Johnson), a Korean War vet afflicted with PTSD, refuses to accept the verdict, supported by hot-headed Belgrade, who's eager to continue the investigation. And yet amid the clichéd detective yarn, the film is ultimately poised as a love story between Gaines and Nicole Britton (Catherine Deneuve), an elite escort with whom he shares a domestic partnership. Hustle has a strange ebb-and-flow in which the primary narrative moves in fits and spurts; it's not always clear whether this is intentional, but the effect is entrancing.
Screenwriter Steve Shagan is no A.I. Bezzerides, and the dialog is pockmarked with 70s cop movie moral and social platitudes. ("Can't you smell the bananas? You know what country you live in? You live in Guatemala with color television!") Aldrich's changes to the script are responsible for its most compelling aspect: the frank and non-judgmental, if strained partnership between Gaines and Britton. Predictably, Hustle ultimately engages matters of vigilante justice, and the final, question is, for better or worse, not so much about taking the law into citizens' hands, but whether the system is designed to turn a blind eye to the 1% while crushing anyone who questions that morality. Politically, it's a hard film to pin down, but one of the more fascinating, rarely screened 70s cop yarns—the perfect film to catch during the kind of career-spanning retrospective going on at Metrograph right now.