Featured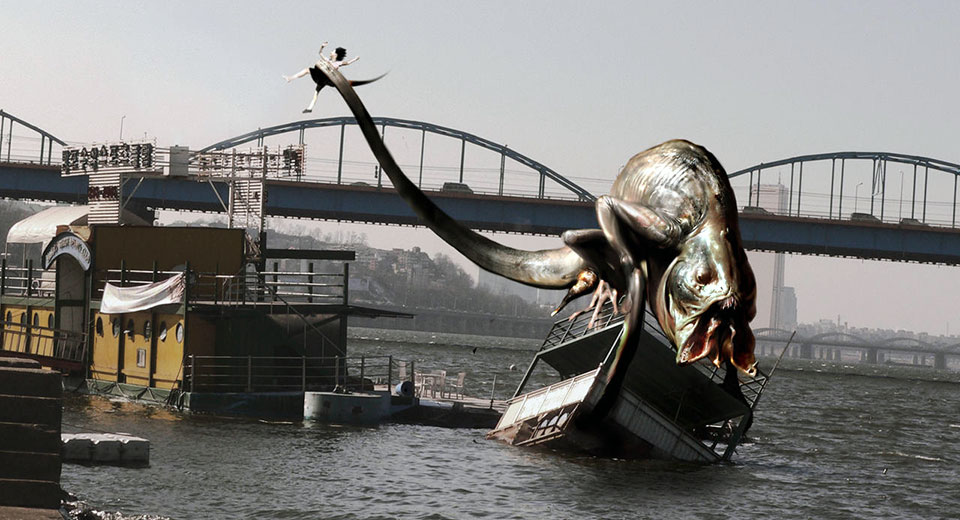 January 14th 2020
Bong Joon Ho's smash-hit monster movie The Host (2006) preceded his recent hit Parasite in proving that, like Jordan Peele, he is deft at putting genre in the service of biting social commentary. The world might not have been as desperate for this fourteen years ago, but it is certainly primed for it now. Parasite has garnered a reputation akin to Peele's Get Out (2017), proof enough of its contemporaneity. The Host is good companion viewing for both, and it screens tonight in 35mm on the big screen that its lumbering creature commands, as part of Lincoln Center's Bong retrospective.
Like Parasite, The Host is built around a strange family – quirky in a way Wes Anderson might divine, but with a very different class focus. The central hero, Gang-du (Song Kang-ho), is a narcoleptic snack-shop manager who scrapes together a meager living with his tolerant but frustrated father, and whose greatest ambition is to save enough coins to buy his young daughter a less sucky cell phone. An archery-champion sister with slow reflexes, and an alcoholic activist brother, talented at making Molotov cocktails, complete the portrait: a dysfunctional family hampered by money concerns and the apathy of the disenfranchised.
Enter the grotesque but whimsical creature, and you have a crisis that turns up the vividness of each of these characters a la Romero or Carpenter, directors who treat horror as a ground against which character dynamics are more sharply rendered. There is an extended scene of a mass funeral that displays all of Bong's talents as an observer of individuals flaring against the conformity of social mores.
The monster, too, is one of the more imaginatively realized in recent memory, harking back to the giant ants and mutant lizards of the Atomic Age. A consequence of pollutants in the Han river (dumped there by US military), it's a biped fish-thing with tentacles, talons, fangs, slobbering orifices and a dragon's tail, supposedly also partly modeled after Steve Buscemi in Fargo. (Bong has a wicked sense of humor.)
Though comparisons to Spielberg abounded at the time, unlike a Spielberg ending, which might paint a rosier portrait of a family reunited after escaping doom, The Host (spoiler alert!) does not leave viewers with a happily ever-after. Instead, it portrays the endurance of the human spirit in a hostile world where monstrosity can never be fully conquered.