Featured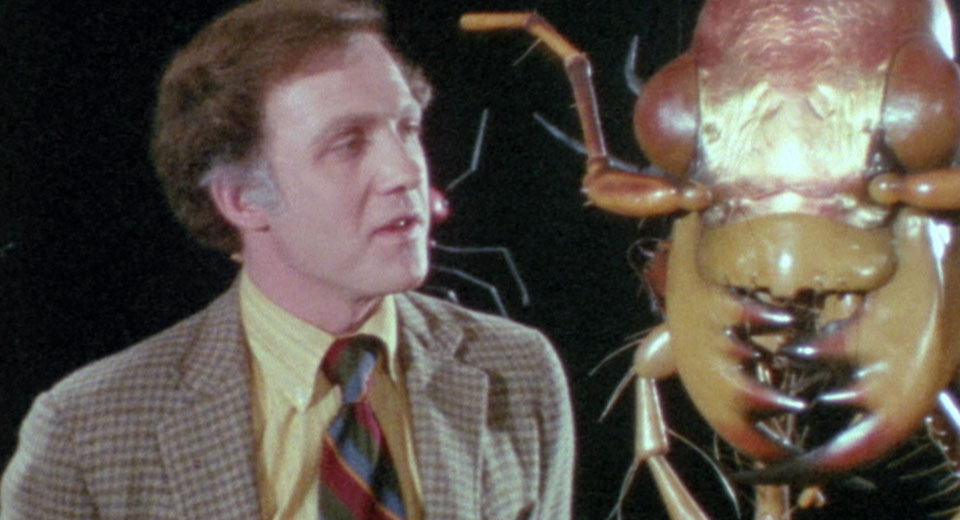 January 26th 2018
Perhaps one of the strangest films to ever win the Academy Award for Best Documentary Feature, The Hellstrom Chronicle (1971) portrays in stunning (and sometimes disgusting) detail, a war we did not know we were fighting: the struggle between humankind and the insects that are determined to take over the planet. Director Walon Green and his team of cinematographers macro-photographed the vicious insect world with microscopic and telescopic lenses, and sometimes in stop-motion. One production story details the team knocking a bee unconscious with carbon dioxide and suspending it in an invisible harness made from spider web in order to photograph it flying once it woke up, the first time an insect had ever been filmed in a high-speed frame.
Stringing this parade of violence, seduction, and survival together is Dr. Nils Hellstrom, a fictitious entomologist played by Lawrence Pressman. Banished from the scientific community for choosing insects over mankind and attempting to aid in their inevitable domination, Hellstrom's narration and contextualization injects each scene with an extra potent dose of ecological horror. Although satirical, the film's "thesis": that mankind is too ignorant and individualistic to survive, ultimately doesn't seem so ridiculous.
Rounding out one's immersion in the callous and violent insect realm is the score by Lalo Schifrin (most well-known for composing the theme to Mission Impossible). Every hiss, chew, and footstep, captured through attaching mics directly to leaves and running the up-close-and-personal sounds through tape delay, crawls into your ear and doesn't leave. It's your last chance to catch this strange merging of science-fiction and documentary at Spectacle Theater —it screens as part of the microcinema's "Best of Spectacle 2017" series.