Featured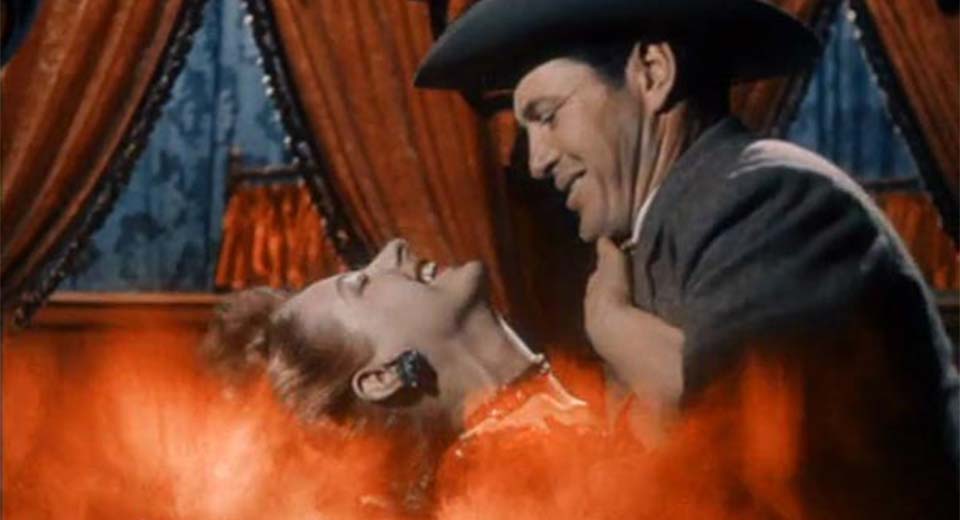 September 3rd 2018
A woman-centered Western with a message of redemption through Christ's love and deliverance? With a high-spirited musical number set in a gambling hall? And all in eye-watering Trucolor? (It's like two-strip Technicolor, but at wholesale price.) You don't need to rifle through the Kingdom of Heaven to find these treasures—they await you tonight at Anthology Film Archives, where Republic Pictures' Hellfire screens as part of the Women of the West series. Starring King-and-Queen of Bs Wild Bill Elliott and Marie Windsor as, respectively, an attritional drifter and a matricidal outlaw, this deep but restrained moral tale is among Republic Pictures' finest oaters.
Hellfire's rare take on the classic manhunt story (or womanhunt, I should say) is a real Buffalo Gal Western, through and through—a film that pays sensational homage to the kind of independent, take-no-bullshit women you'd find manning a rickety business in the Oklahoma Territory. And as Mary Carson—better known as Doll Brown, husband-killing fugitive—Windsor embodies this new female archetype with soft stoicism, displaying strength and sensitivity in equal measure. Neither leering saloon madame nor fretful prairie wife, she could well be a kissin' cousin of fellow Republic Pictures heroine Vienna in Johnny Guitar. As the quarry of a posse—comprised largely of her in-laws—Doll thinks on her feet, alternating between the twin personas of butch cowgirl and coy seductress. The duality of Doll Brown, outlaw, and Mary Carson, loving helpmate, finds its match in the film's larger thematic struggle: that of rugged individualism, as manifested by aforementioned loner Zeb Smith, and the natural drive toward communality, depicted here by his ultimate goal of founding a new church.
Life on the frontier, legend has it, was harsher than harsh (especially if you weren't white!), and only the bravest of men and strongest of women could withstand such punishment. Well-meaning, simple folks just trying to get along faced any number of threats: from famine, "Indians," or criminal opportunists who know full well that Out West, no one can hear you scream. The ink on Zane Grey's first manuscript was scarcely dry when Americans fell, hard, for this self-made mythology. And the Western film—an early genre in the medium—has always provided an ever-changing America with the opportunity to reexamine (and repent for) its so-called "growing pains." But clear delineations between "good" and "evil" are the go-to of lazy Westerns—the best ones, like Hellfire, know that moral compromise and tough decisions are damn-near the whole point.