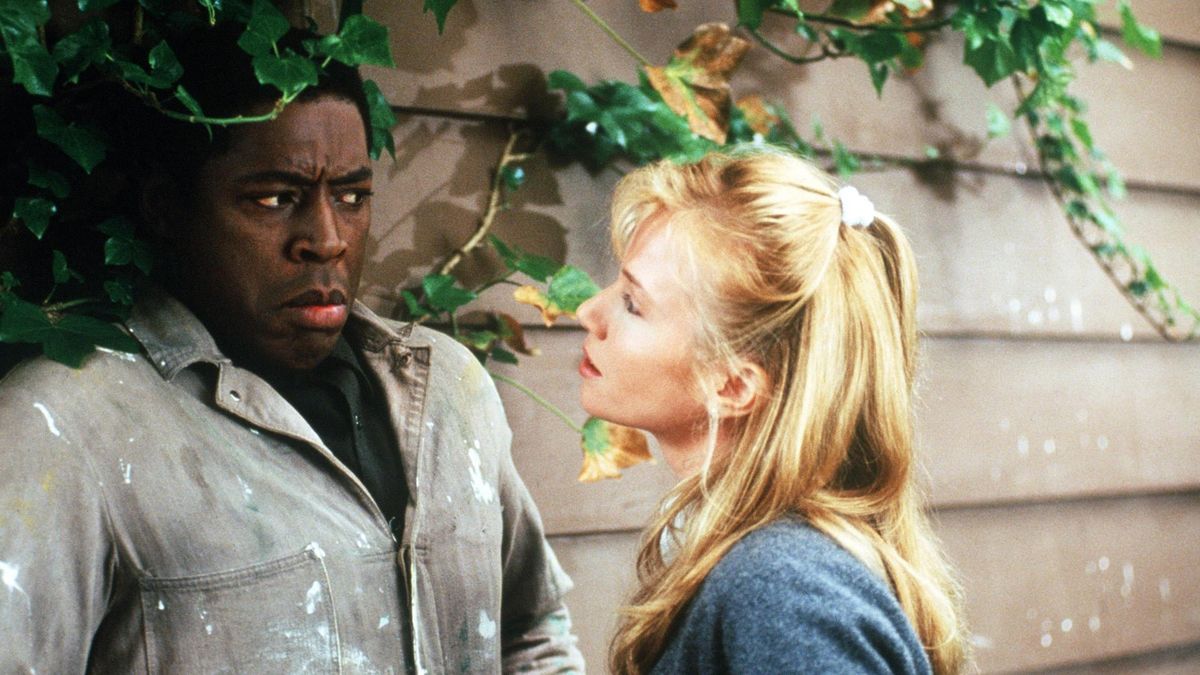 October 26th 2022
Following The Bedroom Window (1987) and Bad Influence (1990), Curtis Hanson's most elegant "erotic" thriller sensationalizes a thought at the heart of Amanda Silver's script: what if a home-invasion film figured trespassing as a sustained violation from within, rather than disturbance from without? The Hand That Rocks the Cradle (1992) opens with a revealing sendup of the latter when housewife Claire Bartel (Annabella Sciorra) startles at the appearance of agency-assigned handyman Solomon (Ernie Hudson) loitering expectantly outside her back door. Once Solomon identifies himself to Claire and her husband Michael (Matt McCoy), the anxiety he provokes by being unknown and Black in their manicured Seattle suburb dissipates; instead, the film exposes threats that emerge from trusted, authorized inside sources—such as Dr. Mott, the leering obstetrician whose molestation of Claire sets the plot roiling forward. Claire files a complaint, eliciting a flood of accusations and civil suits; after Mott's suicide, his widow (Rebecca De Mornay) miscarries, blames Claire for the cataclysm, and insinuates herself into the Bartels' basement as their demure and indispensable live-in nanny, Peyton. Thus does Cradle contemplate the seemingly innocent question Solomon asks in an early scene set in the Bartels' backyard, to clarify the purpose of his work there: "Is the fence to keep people in or keep people out?"
Like contemporaries Single White Female (1992) and Sliver (1993), Cradle dramatizes a certain curiosity about the pressures on women to have—or do—it all, triangulating its vision of feminine capability over three remarkable performances. De Mornay's Peyton is lava under snow, either breathlessly servile or snarling with rage. Admirably, the film lets urbane best friend Marlene (Julianne Moore) be Michael's bygone first love and the chic careerist foil to Claire's earthy custodian, yet resists exalting one type of woman over the other. But it's Sciorra's Claire who most authenticates the film's emotional center; as the Motts' progressively more gaslit victim, Sciorra imbues Claire with total vulnerability without lapsing into weakness, such that even among Cradle's more lurid measures (of which repertory audiences will discover there are many), her fine-grain sincerity underscores the mundanity of violation. It's sobering to consider the resonance between Cradle's premise and Sciorra's own soon-to-follow allegations of assault by Harvey Weinstein, the profound impact of which she's since described as devastating both her life and career.
Writing in the Washington Post, the critic Rita Kempley found Cradle "so solidly structured, the director might have been working from a floor plan," and one does observe an airtight commitment to unity even in its mise-en-scène that sets Hanson's film apart from similar domestic thrillers. Whether it's windchimes, cigarettes, Claire's inhaler, or Solomon's toolbox, if we're made to see something, it's for a reason; if we notice it once, we'll call on it again. So Cradle's ultimate verdict regarding what may constitute a family isn't just an ending, it's a significant return that naturally, unsurprisingly, and ambivalently centers Solomon—and hinges on the efficacy of a well-built fence.
The Hand That Rocks the Cradle screens tonight, October 26, in 35mm at Nitehawk Williamsburg as part of the series "Nitehawk Diaries." The writer Jourdain Seales will introduce the film.