Featured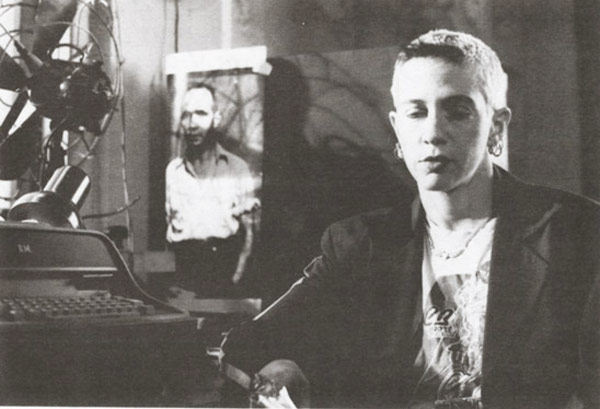 November 26th 2016
In The Golden Boat , a young rock critic for the Village Voice who also dabbles in painting and studies anthropology (Federico Muchnik) follows a trail of empty shoes somewhere around Avenue A and 1st or 2nd Street. He comes upon an unhinged older man (Michael Kirby) who explains that he's actually from LA and doesn't belong there, and then proceeds to stab himself in the stomach and bleed for the rest of the movie. 
The Golden Boat was the first English-language production for Raul Ruiz, and his collaboration with experimental theater practitioners from the Wooster Group is felt in the film's surreal language and its syncopated, rapid-fire delivery, punctuated by emphatic statements like, "Take an aspirin. It's the only medicine we know anything about." Ruiz was able to not only situate himself firmly within a rarefied late-heyday downtown milieu, with music by John Zorn and cameos by Jim Jarmusch, Kathy Acker and Annie Sprinkle, but masterfully commands both the humor and desolation of a self-contained world of New York artists and leftists, their colloquialisms, inertia and rage. 
Michael Kirby goes around stabbing people even as he bleeds, and his character is both funny and threatening, throwing out words of wisdom like "There's nothing I hate more than when people get that look on their face that says 'With whom have I fallen in'," "Doctors know what they're doing," and "All I did was follow my star." Having fallen in deeply with him, Muchnik is witness to plenty of stabbings and becomes enmeshed in an absurd drama involving a telenovela star and her jealous husband and co-star, both of whom Kirby is supposedly trying to kill. "Doc" (a virtuosic Brett Alexander, in his only credited screen appearance) is Kirby's sidekick of sorts, though they argue and stab each other, and he is said to perform surgery on the sidewalk on Avenue A. He also dispenses sage advice, like, "Somebody is always filming you. That's why you have to keep your manners day and night. Life is hard, like my brain." Throughout the film, Ruiz switches to black and white from color at times when the narrative subtly edges towards the self-reflexively referential, like when private eye types bemoan their fates, or a hit man (played by Vito Acconci) murders the wrong man but can't accept it, saying, "I'm Swiss, I can't be wrong. I'm Swiss, I can't be wrong," over and over and over again.