Featured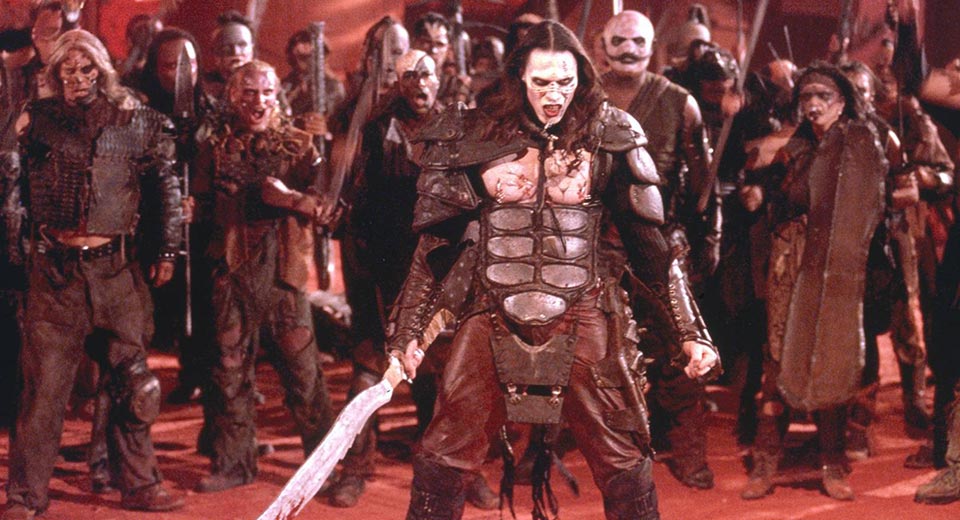 November 5th 2018
This afternoon Metrograph presents John Carpenter's Ghosts of Mars with an introduction by A.S. Hamrah, who will be signing his new book, The Earth Dies Streaming. Those who checked out after Carpenter's high period, the end date of which is up for serious debate, shouldn't miss the opportunity to see the filmmaker's last major work on the big screen. More than a pastiche of set pieces and themes, Ghosts of Mars is itself a ghostly meditation on Carpenter's most enduring works realized with an uncharacteristic temporal playfulness.
In Ghosts, a team of police (Natasha Henstridge, Pam Grier, and Jason Statham with hair) are assigned to collect a well-known outlaw (Ice Cube) who is being held at a remote mining outpost on Mars. Upon arriving, what at first appears to be a ghost town turns out to be a house of horrors filled with murderous, Slipknot-esque townsfolk and mutilated bodies. The outlaw, the police, and a handful of survivors must join forces to combat an ancient evil. The film's plot synthesises two of Carpenter's most famous works: Assault on Precinct 13 and The Thing. It is no coincidence both the films Ghosts draws from are remakes (or more properly reimaginings) themselves (in Precinct 13's case, of Rio Bravo). Ghosts reimagines Carpenter's own interpretations and reifies the borrowed stories as readymade plot structures, transferable into new settings and genres, be it real world action, science fiction, or horror. Like the filmmaker's best works, the film is concerned with the story at its most fundamental. Ghosts uses this uncluttered clarity of pure conflict to give character and theme the space needed to gain a fleshy reality.
Temporally, Ghosts is unique within Carpenter's career. The action is framed as a survivor's recollection, at moments digressing into the stories of secondary characters. The film folds these multiple perspectives and accounts into its narrative, adding layers as the film progresses and rhyming its structuring with an endless stream of dissolves. This temporal grandstanding appears to be Carpenter's ultimate assertion of the company he wishes to keep cinematically. There is of course the effortless simplicity of Hawks, but Ghosts also offers a nod to the deft temporal and narrative mastery of Kurosawa and Bunuel.