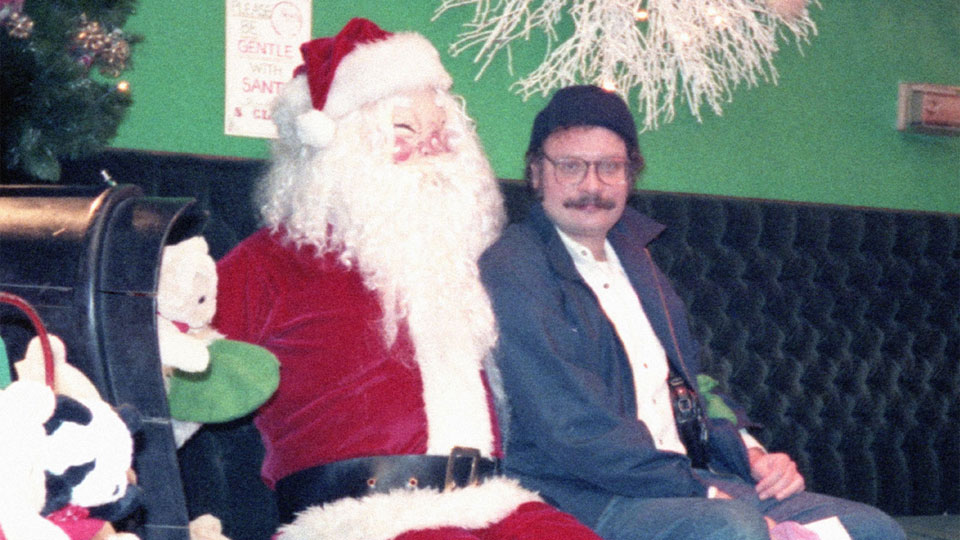 December 24th 2020
George Kuchar was a pioneer of the video diary format, elevating home movies — like Jonas Mekas before him — into an art form. The videos he made are fuzzy, imperfect, crass, hilarious, and more than anything, truly special. Kuchar and his brother Mike's work has inspired generations of artists from John Waters to John Wilson. He filmed his friends, his cats, his dinners, his bowel movements, you name it. Perhaps most notably, he documented frightening forces of nature from an Oklahoma motel in his series Weather Diaries.
During the late eighties and into the nineties, Kuchar created an annual video diary at Christmastime. Three of these holiday videos, Xmas 1987 New Years, Holidaze, and Dingleberry Jingles are now available to watch through Christmas Day via Metrograph's online theater. Documenting the wintertime festivities of Kuchar and his group of friends, these videos will certainly put you in a festive mood. Gifts are exchanged — George receives a finger puppet and a miniature toilet "complete with realistic flushing noises" — and there's cake and champagne to be had. Kuchar notes that the dessert's surface glistens like snow. He constantly interjects his own commentary — a narration both endearing and occasionally biting.
Both 1987 and Dingleberry Jingles capture a platonic proximity that feels like a relic of the past, and that's not just because we've spent most of the year staying socially distant from each other. Kuchar's friends address his camera directly. Sometimes they hold the camera and film him. In Dingleberry Jingles, we get a glimpse of Kuchar the actor, as he performs bit roles in some of his students' films. Despite being the star here, he can't seem to shake off his documentarian inquisitiveness, finding ways to turn the camera on the student crew and learn more about their process.
Kuchar also hones in on moments that others would cut out. Small talk becomes the central dialogue of these tapes. In one moment captured in Holidaze, Kuchar pans back and forth between his friends while one of them makes a few phone calls. The purpose or content of these calls isn't exactly clear, but for Kuchar, it's riveting nonetheless. One of the friends calls him out with a knowing smile. "Are you filming? This tape stands out in the trio due to the filmmaker's obvious fascination with the technological advances of the 1990s. Holidaze is a pixelated muddle, with a good portion of the action obscured through Kuchar's digital hijinks, and most of it sounds pretty much like a game of Galaga. The diary still offers a good deal of holiday cheer, even if it's buried under tons of SFX.
Lately, it feels more and more rare to find celebrations of the everyday composed with such earnest elegance. So this holiday season, consider sitting by the fire and taking in some of George Kuchar's video diaries.