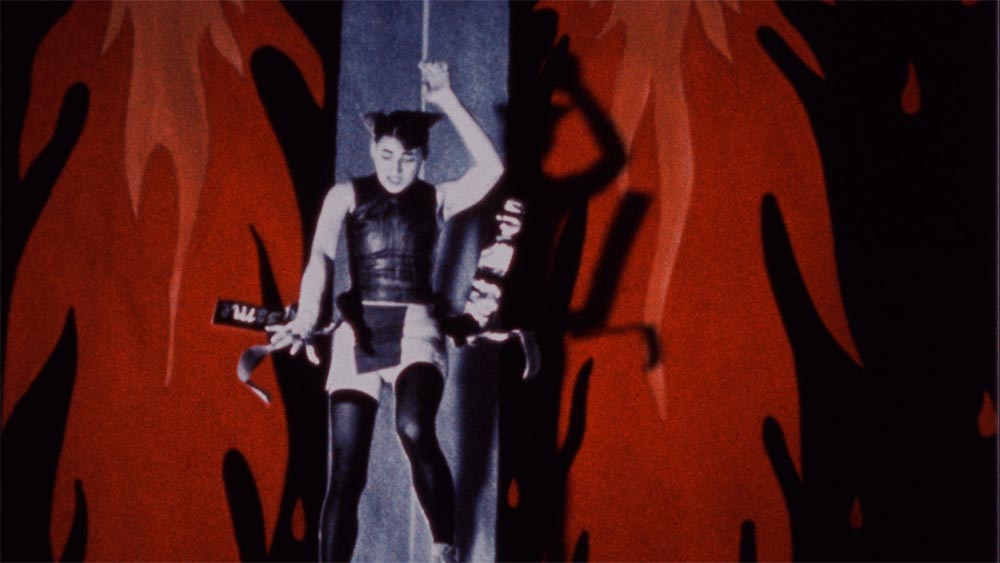 November 19th 2022
The year is 2700 in Asche, a burned-out city of danger and pleasure. High above its urban drip-slicked streets, Spy, a comic book artist in a ruffled poet blouse, feverishly attends to her work. She's interrupted by Magdalena, a gruff frenemy, petty thief, and bearer of bad news. "A melancholy bird glides over the sea of cruelty," Magdalena says. "Do you feel the moisture in your armpits?" Spy's printing presses have burned down, and Magdalena's boss, Volley, is responsible.
Volley is a performer at a lesbian club and a wildly, almost impractically, horny pyromaniac. Despite the efforts of people in her life to reign her in—literally sewing her into clothing, tightening her corset strings, and fixing locks onto her costumes—she remains a raging, disruptive force that can't be contained. But her need to build fires isn't purely violent, it's anarchically romantic, even creative. When telling her lover, Nun, about the printing press fire, Volley says, "I came to an idyllic place and lit a candle for you."
After Spy gets jumped while looking for Volley outside her club, it's Nun who finds her injured body. Clad in an "Oops!...I Did It Again"–esque red vinyl jumpsuit, the physically imposing Nun spends her time stalking the streets looking for vermin to eat (an armadillo she attempts to bite turns out to be a bomb, blowing her hand off), but proves a tenderhearted savior to Spy. It's through the act of sheltering the artist that the three characters become embroiled in a fatal game that seems but a chapter in the grim, dystopian city's endless dark nights.
Flaming Ears, an underground lesbian sci-fi thriller, was made in Austria in 1991 by a trio of directors—the frequent collaborators Ursula Pürrer, A. Hans Scheirl, and Dietmar Schipek. It was shot on Super 8 and blown up to 16mm. Featuring a smorgasbord of stop motion, miniature work, fight choreography, and practical effects, the DIY film reaches a level of intrigue and a scope well beyond its resources. Though Flaming Ears engages in the spectacle and transformative power of major release movies, its transgressive nature is revealed in the ways it constantly pulls away from the preordained notions of cinematic sense, order, and expectation. Its flirtation with incoherence, even nonsense, leads it towards the sublime.
Flaming Ears screens through November 23 at Metrograph.