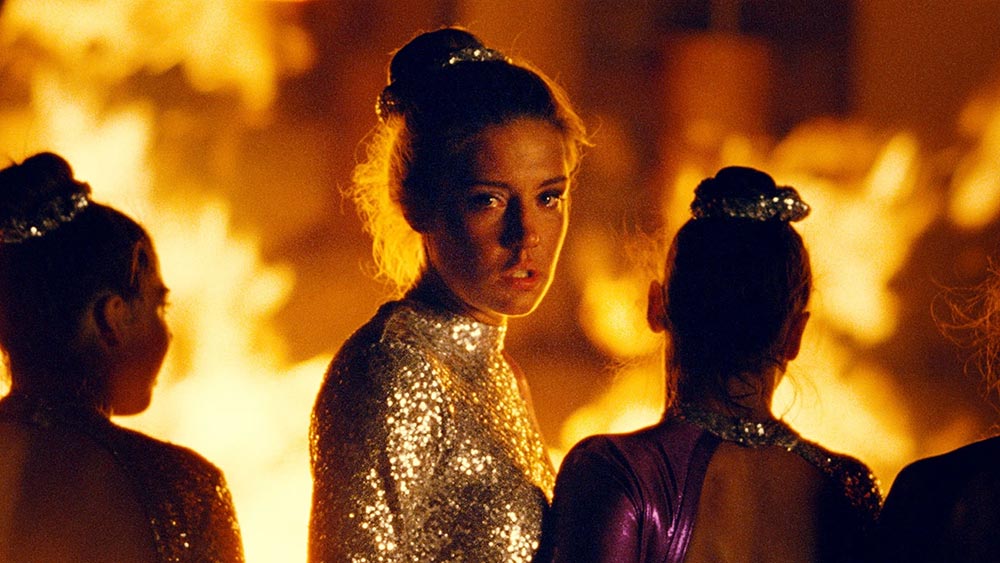 March 4th 2023
Scent is the sense most closely related to memory, as anyone who has been stopped in their tracks by a familiar perfume in an unfamiliar place can attest. Léa Mysius's second feature, The Five Devils (2022), follows the mystical story of a family whose long-suppressed secrets come to light through a child's unnaturally strong sense of smell.
Vicky (Sally Dramé) lives with her mother, Joanne (Adèle Exarchopoulos), and father, Jimmy (Moustapha Mbengue), in a small town at the foot of the Five Devils mountain range. The setting is hypnotically beautiful—snow-capped French mountaintops overlooking a placid lake—but The Shining (1980) comes to mind with an aerial shot of a car winding up the mountains on a single-lane road. When Jimmy's sister, Julia (Swala Emati), returns to town from prison, the family and the town are thrown into turmoil, though young Vicky has no idea why. Perhaps in order to cope with the racist torment from her classmates, Vicky has begun to catalog scents; at first, capturing the people she loves as they are (she has jars labeled Maman I–III), but once Julia arrives, Vicky's sensory gift overwhelms her, and she is able to travel through time via scent, visiting her mother and Julia as teenagers heading toward tragedy.
Exarchopoulos's Joanne is a loving but distant figure, harried yet vacant from her own family. She counts on Vicky to tether her to reality—sometimes literally. When Joanne takes her daily swims in the frigid lake beneath the Five Devils, Vicky's job is to make sure her mother gets out of the water before she freezes to death. But as we move in and out of time through Vicky's eyes, we see Joanne's history unfurling before us: her teen gymnast dreams of starting a life in the big city with her first love eventually curdling into a lifeguard job at the local pool with the small town's eyes always on her.
Dramé gives a wonderful, nuanced performance as Vicky, her wordless stare able to convey childlike wonder and regret, as well as grief beyond her years (she even has a wicked Kubrick stare). Vicky is able to see her parents in their prime, and understand—for better and for worse—how her birth changed their lives. The Five Devils interrogates the limits of forgiveness and the long shadow of the past; but at its core, it is a story about the bonds between mother and daughter.
The Five Devils screens this afternoon, March 4, and on March 8, at Film at Lincoln Center as part of Rendez-Vous With French Cinema. Director Léa Mysius will be in attendance for a Q&A.